Although the General Motors (NYSE:GM) IPO got a lot of attention when it began trading on November 18, the company also issued its Series B Convertible Junior Preferred shares (GM.P.B).
While the common shares don't pay a dividend, the Series B preferred comes with a $2.375 annual distribution – for a yield of about 4.75% (based on the November 23 close of about $50).
In the November 22 issue of Barron's, Barry Nelson of Advent Capital Management said, "The mandatory convertible preferred is hands-down a superior instrument to the GM common."
I'm not sure which is the "superior instrument" here, but if you're going to buy something with the word "mandatory" in it, it's probably a good idea to dig a bit deeper.
With a traditional convertible preferred, you have the option to convert your preferred stock into common stock, which is kind of like having a call option built into the investment. Of course there are no guarantees you won't lose money buying a preferred stock, nor any guarantee of dividends.
But when you own a mandatory convertible preferred, the shares must be converted into common stock on a specific date. And the conversion values are usually set in a way that sort of embeds a short call spread into the investment.
Short call spread against stock: A partial cap on potential gains
First, let's review what a short call spread against a long stock position looks like.
Let's say you own 100 shares of Amazon (NASDAQ:AMZN) which trades at around $165. You might decide to sell a 170 call against your stock and also buy a 180 call for a hypothetical net credit of $300. What would happen at expiration (click to enlarge)?
As the purple line on this chart shows, you'd essentially be capping potential gains at around the 170 strike of your short call. But if the stock goes higher than around $180, you could conceivably capture further gains – at least until the options expire.
Note however, that selling a short call spread does not protect against losses – and that the projections are theoretical and don't reflect potential high commissions of multi-leg options strategies. Also, complex options strategies have enhanced risk, and may not be suitable for all investors.
A mandatory convertible preferred stock has a similar structure. The GM preferreds have a "mandatory conversion date" of December 1, 2013. That's when you'd receive a specific number of GM's common shares for each share of preferred stock.
How many shares? That depends on where GM is trading in three years:
If GM is $33 or less, you get 1.5152 shares of the common stock per preferred share
If GM is $39.60 or above, you get 1.2626 shares of the common stock per preferred share
If GM is between $33 and $39.60, the number of common shares you get is $50 divided by the price of the common stock
This chart shows how much one share of the Series B preferred would theoretically be worth based on this conversion scenario: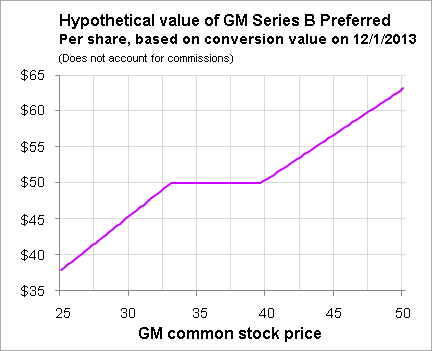 That looks a lot like owning a stock with a short call spread to me. In 2013, there would be a cap on gains if GM common stock is above $33, with further upside if GM is $39.60 or higher. If GM common stock is trading below $33, the converstion value of the preferred shares falls.
Premium now vs. premium later
Of course there are some differences. If you own a stock and sell an actual short call spread against it, you collect a premium in advance (less comissions, of course). There's no advance premium for buying the GM preferreds.
On the other hand, with an annual coupon of $2.375 per share you might end up collecting a total of almost $7.12 per preferred share if you hold the stock until the conversion date (assuming, of course, that GM can pay that distribution). So in a sense, you could view that as collecting a premium over time if those dividends are paid and you hold the stock until the coversion date
Here's a chart that compares the profit and loss of a hypothetical $10,000 investment in both the common stock and in the preferred stock – with the blue line representing potential dividends received on the preferred shares (but not reinvested). As you can see, both investments could lose you money, but if the dividends are paid, you could collect approximately $7.12 per preferred share over time (click to enlarge).
So does the potential for collecting almost $7.12 over three years provide adequate compensation for partially capping any unrealized gains?
That's for you to decide, but with a complex structure like this, you should carefully review the prospectus (and consult your tax advisor because it appears that these dividends may not qualify for the 15% dividend tax rate).
One more thing: They call these "junior" preferreds. I didn't get through the 200+ page prospectus far enough to learn what exactly they're junior to in the capital structure. But if GM has to go through bankruptcy again in the next three years… well, I don't even want to think about what the economy would be like if that happens.
Important Disclosure and Disclaimer:

Projections and tools' calculations do not take into consideration commissions, margin interest and other costs that will impact investment outcomes.
Options involve risk and are not suitable for all investors. Please read Characteristics and Risks of Standardized Options.
Multiple leg options strategies involve additional risks and multiple commissions, and may result in complex tax treatments. Please read the Spread Trading Disclosure.
Charts and examples are for hypothetical and illustrative purposes only, and should not be construed as recommendations, projections, or guarantees of performance.
Additional information and supporting documentation regarding figures, statistics, and products may be obtained by contacting Customer Service at customerservice@zeccotrading.com.