PepsiCo (NYSE:PEP) is paying a group of shareholders $3.8 billion for a 66% stake in Wimm-Bill-Dann Foods (NYSE:WBD), in a deal that it said gives the Russian juice and dairy producer an enterprise value of $5.4 billion. PepsiCo will offer to buy the remaining shares following completion of its controlling stake, in a deal that will move the U.S. beverage company closer to building a $30 billion nutrition business by 2020.
The price of $33 represents a 32 percent premium to the 30-day average trading price of Wimm-Bill-Dann's U.S.-listed shares. The deal will propel PepsiCo past Coca-Cola (NYSE:KO) as Russia's biggest juice maker. The two have aggressively been competing in this market space through acquisition with Coca-Cola buying Nidan, Russia's fourth-largest juice maker, earlier this year and PepsiCo picking up OAO Lebedyansky, the country's biggest juice maker, in 2008. The deal will raise PepsiCo's annual global revenues from nutritious and functional foods to nearly $13 billion from around $10 billion.
The deal is being spearheaded by former PepsiCo CEO Don Kendall,who made a name for himself by bringing the first taste of capitalism to the Soviet Union and its leader Nikita Krushchev. On 24 July 1959, the first American trade exhibition ever held in the Soviet Union was opened by Nikita S. Khrushchev, then the Soviet leader, and Richard M. Nixon, then the vice president of the United States. At one point, Mr. Nixon led Mr. Khrushchev to a booth set up at the exhibition by Pepsi-Cola, where the Soviet leader sampled the soft drink sold then with the ad slogan, "Be sociable, have a Pepsi."
The idea to have Mr. Khrushchev taste the capitalist beverage was suggested to Mr. Nixon by Kendall, who was only 38 at the time. He bucked the company's senior executives in being at the exhibition because they doubted anything could come of a commercial event in a Communist country. Six years later, Mr. Kendall became chief executive of Pepsi-Cola. In the 1970s, Mr. Kendall helped engineer a deal with Mr. Khrushchev's successors to barter cola syrup for vodka, making Pepsi-Cola the first capitalist product to be sold in the U.S.S.R.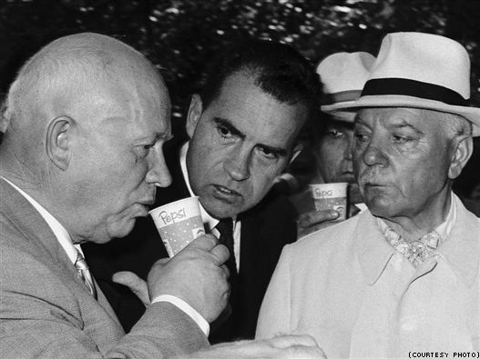 "He is Mr. Pepsi," current CEO Indra Nooyi said of Kendall. Kendall joined Nooyi in Russia this week to help secure Prime Minister Vladimir Putin's blessing for the deal. The $3.8 billion purchase makes PepsiCo Russia's biggest food and beverage company. PepsiCo had considered buying Wimm-Bill-Dann for years and was able to pursue a deal after Danone SA agreed to sell its 18 percent stake in Wimm-Bill-Dann in August. Danone divested the holding to address antitrust concerns in Russia after buying another dairy company in the country.
Including assumed debt, PepsiCo is paying 19.8 times earnings before interest, taxes, depreciation and amortization, according to data compiled by Bloomberg. The median multiple for similar deals since 2001 is 9.66 times EBITDA. Centerview Partners and Morgan Stanley served as financial advisers for PepsiCo, and Davis Polk & Wardwell LLP and Linklaters CIS provided legal counsel. J.P. Morgan provided financial advice for Wimm-Bill-Dann, and Latham & Watkins LLP acted as legal adviser. Wimm-Bill-Dann's Moscow-listed shares vaulted 40 percent on news of the acquisition. PepsiCo's stock was volatile but ended flat.
Disclosure: No positions