Portfolio diversification is a primary objective for most investors in any market environment. And it is a particular priority today for many that wish to participate in any further upside the aging bull market may provide in the coming months while also seeking to protect against downside risk. Normally for stock investors, true portfolio diversification is achieved through allocating to other vastly different and generally uncorrelated asset classes such as long-term Treasuries (NYSEARCA:TLT) and gold (NYSEARCA:GLD). But in 2014, a surprising new category has emerged from within the stock market itself to become an effective portfolio diversifier in the current environment. This category is the utilities sector (NYSEARCA:XLU), and it may now be worth another look following a recent pullback.
Utilities: A Far Greater Diversification Benefit Today Than Normal
The notion that utilities provide a diversification benefit to stock portfolios is certainly not a revolutionary idea. But it is the degree of diversification that they have provided thus far in 2014 that is notable. For example, over the last fifteen years from 1999 to 2013, the weekly returns correlation between the S&P 500 Index (NYSEARCA:SPY) and the Utilities Select Sector SPDR is +0.62. While this value for utilities is not as high as the readings in the +0.84 to +0.97 range for all other major market sectors, it is still a fairly high correlation over time. But in 2014, the correlation between the SPY and the XLU has separated notably, with a weekly returns correlation that has shrunk all the way to +0.21. In short, utilities have been moving on their own path in 2014 largely independent of the broader stock market.
Until very recently, utilities have proven particularly rewarding to own during periods when the broader stock market is falling. Throughout 2014, the stock market has posted negative weekly returns in 13 out of the 30 weeks so far this year. But in 8 of these 13 down weeks, the utilities sector has posted positive returns with an average gain of +1.42%. In other words, utilities have been up on a weekly basis roughly 62% of the time when the S&P 500 Index has fallen and has posted solid returns in the process. This diversification benefit was highlighted once again on Thursday, for while the broader market was down by -0.56% for the day, the XLU was up +1.15%.
Thus, for those seeking portfolio diversification while still remaining allocated in the stock market, utilities may be of particular interest. And following what has been a notable pullback in recent days, the sector has arrived at a number of technical support levels that may support a bounce. These include the 200-day moving average at $40.02, the previous dividend adjusted high of $39.53 from April 2013 and an RSI reading that entered into oversold territory that twice since the beginning of 2013 signaled that a reversal higher was imminent. Whether utilities can hold these support levels in the coming days will be worth monitoring.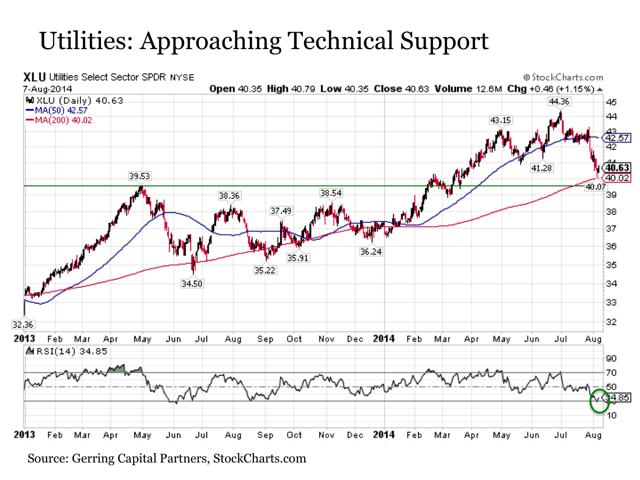 Individual Utilities Providing Additional Diversification Benefits
An examination of the individual names that make up the Utilities Select Sector SPDR reveals that many of the names in the index have been providing equivalent to greater portfolio diversification benefits so far in 2014. A select list of utilities from the index is shown below along with their weekly returns correlation to the S&P 500 Index year-to-date.
Duke Energy (NYSE:DUK): -0.08
NextEra Energy (NYSE:NEE): +0.25
Dominion Resources (NYSE:D): +0.25
Southern Company (NYSE:SO): +0.01
Sempra Energy (NYSE:SRE): +0.20
PPL Corporation (NYSE:PPL): +0.16
Edison International (NYSE:EIX): +0.15
Consolidated Edison (NYSE:ED): +0.15
Xcel Energy (NYSE:XEL): +0.29
Northeast Utilities (NU): +0.16
DTE Energy (NYSE:DTE): +0.21
CenterPoint Energy (NYSE:CNP): +0.13
Wisconsin Energy (NYSE:WEC): +0.16
CMS Energy (NYSE:CMS): +0.18
SCANA (NYSE:SCG): +0.20
AGL Resources (NYSE:GAS): +0.15
In short, the utilities listed above have also been moving in their own direction largely independent of the broader market for much of 2014.
The utilities shown above from the XLU are also notable because of their historical track record of increasing their dividends over time. The following table includes this information as well as their current dividend yield and price-to-earnings ratio.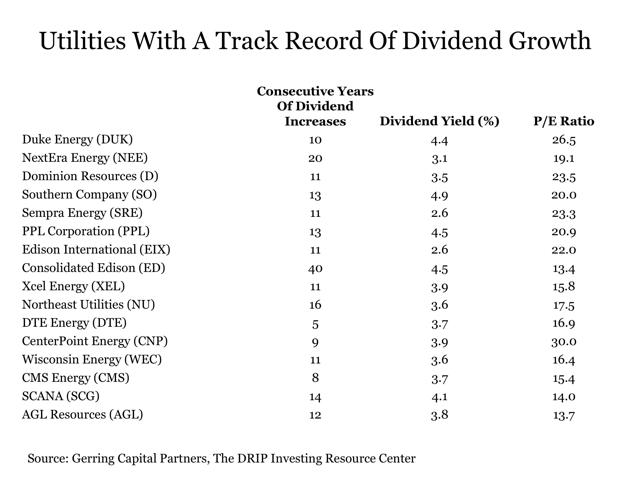 Another important point emerges about utilities when examining this risk. And it highlights the downside risk associated with utilities and most any other major investment category at present. Basically, the dividend yields provided by many utilities today are lower than the historical average. In addition, the valuation as measured by the price-to-earnings ratio is also higher than historically. This implies that utilities stocks are more expensive than normal today, which is an added potential downside risk that investors should monitor closely when establishing a position either in the sector itself or in a select group of names from within the sector.
Bottom Line
Utilities are providing a meaningful diversification benefit to stock investors thus far in 2014. This is true both at the sector level as well as among individual names within the sector. And following the recent pullback, utilities are trading at support levels that have helped inspire a bounce in prices in the past. But it should be noted that many utilities are trading at premium valuations relative to history, which presents an added downside risk that should not be overlooked in the portfolio management process.
Disclosure: This article is for information purposes only. There are risks involved with investing including loss of principal. Gerring Capital Partners makes no explicit or implicit guarantee with respect to performance or the outcome of any investment or projections made. There is no guarantee that the goals of the strategies discussed by Gerring Capital Partners will be met.
Disclosure: The author is long XLU, SO, PPL. The author wrote this article themselves, and it expresses their own opinions. The author is not receiving compensation for it (other than from Seeking Alpha). The author has no business relationship with any company whose stock is mentioned in this article.