Introduction
I believe that retired investors that choose to invest in dividend growth stocks in order to achieve a growing dividend income stream should follow a couple of important rules. For starters, they should attempt to identify the highest-quality dividend growth stocks they can find. However, they must also be careful not to fall into what I call the quality valuation trap. You can pay too much for even the best-of-breed companies, and paying too much adds a level of risk that can, and should, be avoided.
On the other hand, it is a fact that the majority of blue-chip dividend growth stocks are trading at high valuations today. Consequently, finding quality dividend growth stocks on sale is currently very challenging. But fortunately, not all high-quality blue-chip dividend growth stocks are expensive. I contend that International Business Machine (NYSE:IBM) represents a blue-chip dividend growth stock currently on sale. Therefore, I offer the following fundamental analysis for those dividend growth seekers looking for a bargain.
However, before I dig deeply into the underlying fundamentals of IBM, I would like to offer the following perspectives. Prudent investors recognize and understand that bargains are rarely found with popular stocks. Popularity will typically drive the price of a stock up, thereby taking it into overvaluation territory. Once this occurs, only the greater fools will be buyers. The greater fool investor is defined as one who is willing to pay more than a company is worth solely on the basis and hope that a greater fool than them will come along and pay more.
Moreover, going against the crowd is psychologically difficult to do. It takes courage to go against the grain. But as Zig Zigler so aptly put it: "Courage is on display every day, and only the courageous wring the most out of life." Conversely, regarding matters of investing, it's not enough just to be brave, you must also be smart. The smartest investors have legacies of being self-reliant people that are willing to do their own work and confident enough to make their own decisions based on what they discover.
Additionally, I want to be clear that I am not suggesting that investors should go against the crowd as a general investment strategy. Instead, I am recommending that investors only go against the crowd when they are confident that the crowd is improperly appraising the intrinsic value of a company. That requires some work, to include careful research and analysis. More succinctly stated, I believe investment decisions should be based on fact and not opinion, even when the opinion is widely held. IBM is clearly not getting any love from the stock market lately. However, I believe that the facts supported by the company's underlying fundamentals reveal that IBM is a blue-chip dividend growth stock that is currently on sale.
Learning From The Past
Like many investors and even many professional analysts are doing today, I once held a very jaundiced view of IBM. Just like today, it was a time when IBM's revenues and earnings were under pressure, requiring the company to remake itself in order to grow. However, what I failed to take into consideration was how many times this resourceful tech giant has remade its business to stay current over time.
For more than 100 years, IBM has, time and time again, proved willing and able to engage in its own self-inflicted creative destruction. And I submit that it is not an accident that IBM has been awarded more patents than any other tech company for 21 consecutive years. Follow this link to learn more about IBM and its legacy of innovation and change.
Revenues and Cash Flow: Recent History
The majority of IBM naysayers will point to its weakening revenues to support their bearish views of the company. However, there are different ways to look at revenues that I believe the IBM cynics are overlooking. As I previously mentioned, IBM has remade itself several times in the past. And as I will discuss in more detail later, the company is currently in a transition. Consequently, it is reducing low-margin low-growth parts of its business and striving to grow higher-margin, faster-growing parts.
In order to put this into focus, I offer the following F.U.N. graph (Fundamental Underlying Numbers) depicting IBM's cash flow per share (cflps) and its revenue per share (revps) since fiscal year 2000. I have highlighted the per-share numbers for fiscal years 2000, 2001 and 2002 to illustrate a prior time when both cash flows and revenues per share were temporarily falling. Clearly, both metrics subsequently returned to healthy growth over the following several years. This is simply illustrating that this is not the first time this has happened to IBM.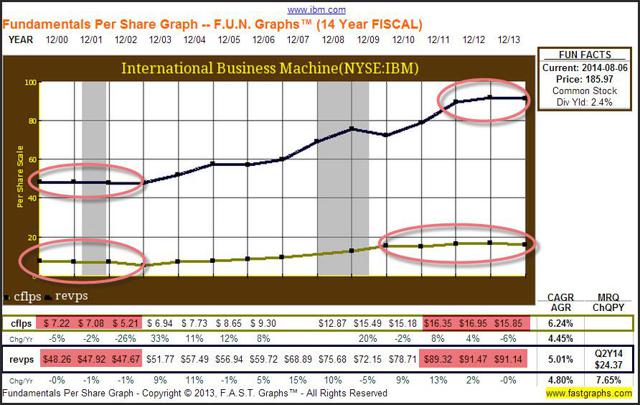 Click to enlarge
However, it should be clear that the above graph is reporting revenues per share. As I will report later, IBM has been aggressively buying back its stock. Therefore, IBM's current revenues are being allocated to fewer and fewer shares each year. Consequently, it's also useful to look at IBM's gross revenues, because this seems to be the source of all the negativity on the company.
Clearly, gross revenues have fallen in fiscal years 2012 at a minus 2% rate and at a minus 5% rate in 2013. I agree that those numbers are not comforting, but they are far from indicating an Armageddon scenario for IBM. Therefore, regardless of whether you are reviewing gross revenues or revenues per share, the numbers are not great, but they are not indicating financial disaster either.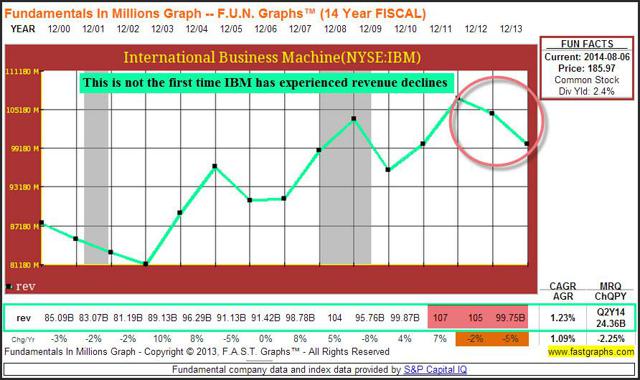 Click to enlarge
IBM Fundamentally Undervalued
IBM is once again a company in transition. Consequently, as I illustrated above, the company's revenues have recently been flat-to-weak, depending on whether you're looking at revenues per share or gross revenues. When listening to some pundits, you would think the company is going out of business. However, the weakness is only moderate, and nowhere near as severe as many antagonists would like us to believe. But even more importantly, IBM is managing these issues quite effectively, and I might add, profitably. The following excerpt from its recent earnings release summarizes IBM's current posture:
"Our second quarter and first half results reflect the stability of our overall business model, as we transform the company. Looking at the dynamics of our portfolio, we're continuing to drive double-digit growth in the parts of our business that address the emerging trends in enterprise IT. We had stability in our core franchises, where we continue to drive innovation."
IBM's Earnings and Price Correlation
The following earnings and price-correlated F.A.S.T. Graphs™ on IBM since 2006 reveal several interesting and important facts. First of all, we should notice that IBM has generated consistent above-average earnings growth of 12.7% per annum (the orange line). Next, we should notice that IBM's monthly closing stock price (the black line) has trended with earnings. On occasion, stock price has fallen below its earnings justified valuation, only to promptly return.
Since 2006, it is clear that the best times to invest in IBM were those times when the price was below the orange line. Not only were these the times were you could make the most money investing in IBM, these were also times when the current dividend yield was the highest, and simultaneously when the risk of investing in IBM was the lowest. This clearly contradicts the notion that in order to generate higher returns, you must be willing to take on higher risk.
But most importantly, based on recent history at least, the current valuation on IBM's stock indicates this to be one of those opportune times to invest. The price is low, the current dividend yield of 2.4% is significantly above the yield of the S&P 500, and it has increased every year along with earnings (the pink line and blue shaded area) over this time frame.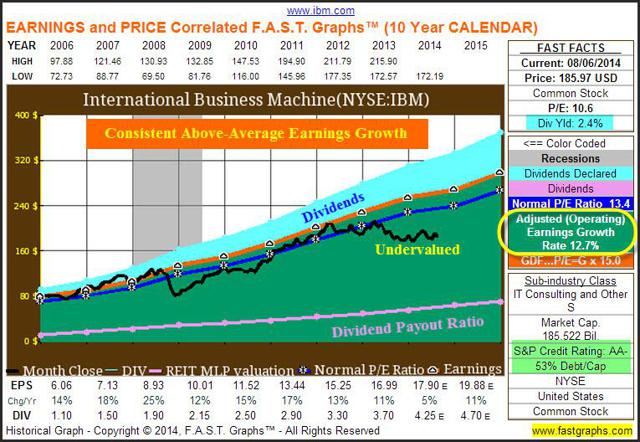 Click to enlarge
For disclosure, and in order to further support my conviction on IBM, I offer the following duplicate of the above earnings and price-correlated graph to include a green dot representing purchase. The purchase was made on October 18, 2013, and the cost basis is $173.62 (the gold line). Although stock price has only risen moderately, I am content because dividends and earnings both have continued to increase at a healthy pace.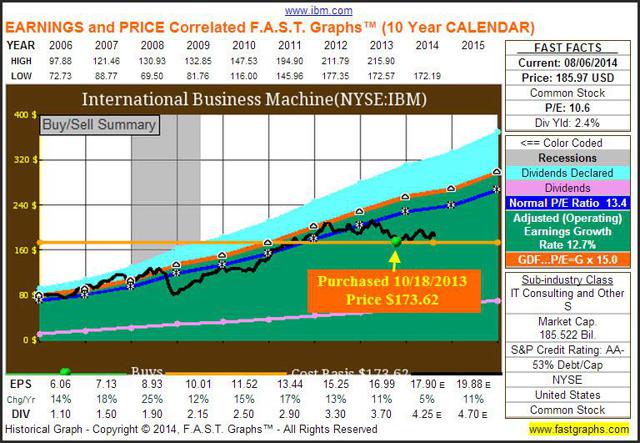 Click to enlarge
IBM Performance Since 2006
The following performance for IBM's shareholders since 2006 is offered for added perspective. Even though the share price is currently below intrinsic value, long-term IBM shareholders received capital appreciation that was almost twice the S&P 500. Even more significant to the retired investor is the fact that cumulative total dividends have also been much higher than the general market.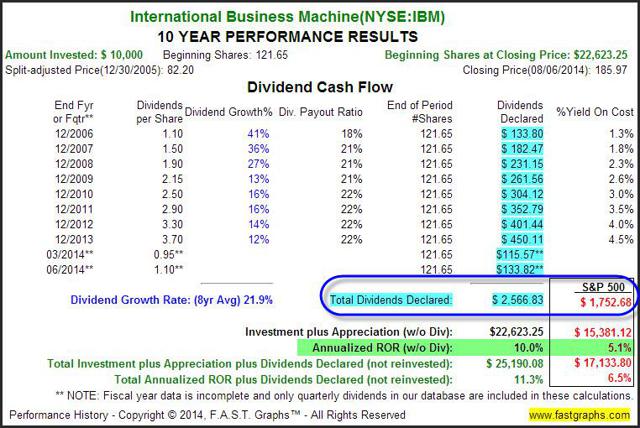 Click to enlarge
IBM Short-Term Underperformance Spells Opportunity
Conversely, it is also true that since the beginning of 2011, IBM has significantly underperformed the S&P 500, based on total return. Nevertheless, IBM's capital appreciation has been a respectable 6.8% per annum, and its total cumulative dividends did come in modestly greater than the S&P 500. But I follow a motto that says - measuring performance without simultaneously measuring valuation is a job half done.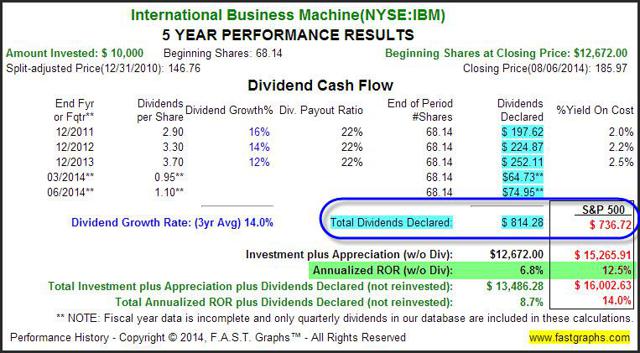 Click to enlarge
As the following two earnings and price-correlated graphs illustrate, since 2011, IBM increased its earnings at the annual rate of 11.5%, which was significantly higher than the 8.8% annual rate of growth of the S&P 500. This begs the question: How do you explain IBM's underperformance when earnings growth was so much stronger than the market's? It should be clear by reviewing the above earnings and price-correlated graph that IBM's recent underperformance is attributed to the market pricing its shares below intrinsic value. Personally, I believe that spells opportunity knocking.
Furthermore, the following earnings and price-correlated graphs illustrate that the shares of IBM are currently undervalued, while the share price of the S&P 500 have become moderately overvalued. This illustrates what I meant when I said that measuring performance without simultaneously measuring valuation is a job half done. In other words, I see IBM as a low-risk attractive investment, whereas the market appears a bit extended. I believe these examples represent quintessential illustrations supporting Ben Graham's thesis "in the short run the market is a voting machine, but in the long run it's a weighing machine."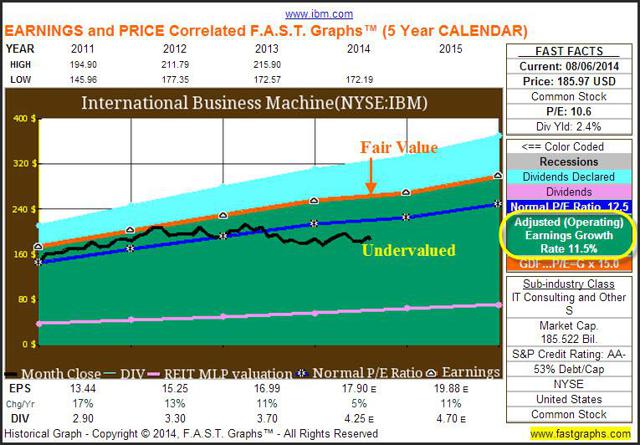 Click to enlarge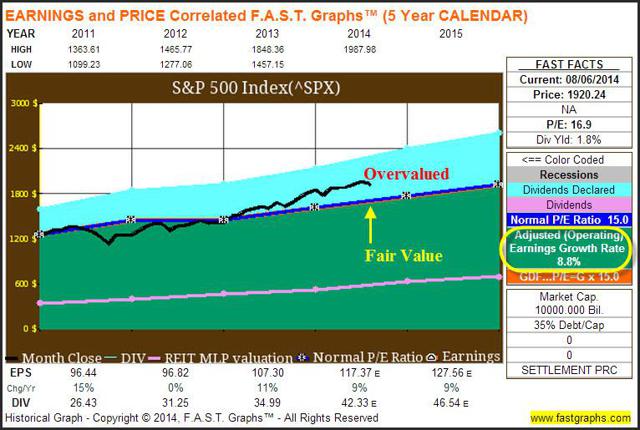 Click to enlarge
IBM's Path to Profitability - A Fundamental Review
Even though revenues have been weak-to-flat as it goes through its current transition, I consider it unfair to say that the company is not growing. With the exception of the Great Recession, both assets per share (atps) and book value, also known as common equity per share (ceps), have both been advancing nicely. Note: MRQ = most recent quarter.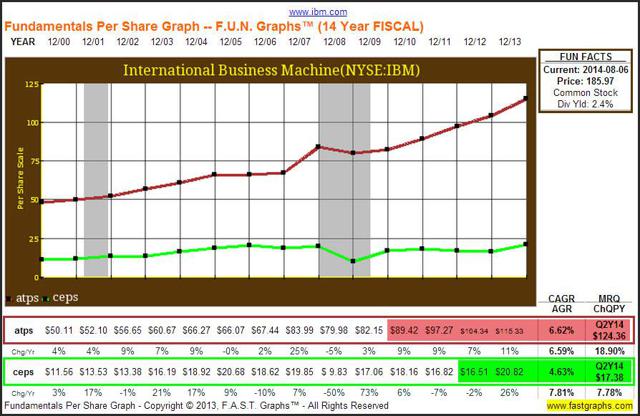 Click to enlarge
Furthermore, IBM continues to earn very healthy returns on equity (roe) and returns on invested capital (roi), as illustrated below. Although admittedly, both were down in fiscal 2013, both of these important profitability metrics remain at healthier levels than most companies. For added color on the importance of these metrics, I suggest you read the excellent article on IBM by fellow Seeking Alpha contributor Ibex Investor.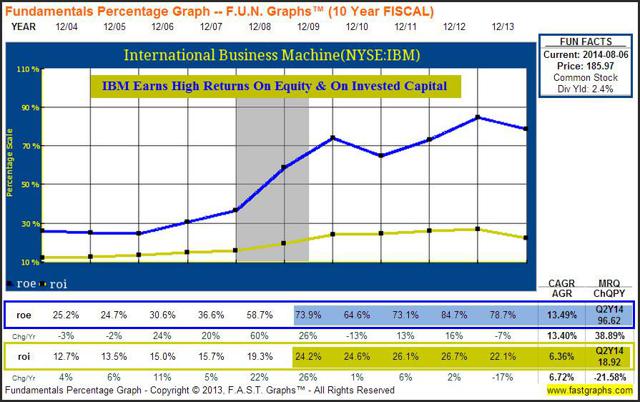 Click to enlarge
IBM Levered Free Cash Flow
The following F.U.N. Graph reports IBM's levered free cash flow per share (lfcflps). In their recent prepared remarks for their 2nd-quarter fiscal 2014 filing, IBM's management explained its recent drop in cash flow as follows:
"Moving on to cash flow in the quarter, we generated $3 billion of free cash flow, which was up $300 million, year to year. Through the first half, our free cash flow of $3.6 billion was down $800 million, year to year. This performance was impacted by the significant increase in cash taxes in 2014, which I talked about earlier this year. Without the impact of cash tax payments, our free cash flow was up $400 million, year to year."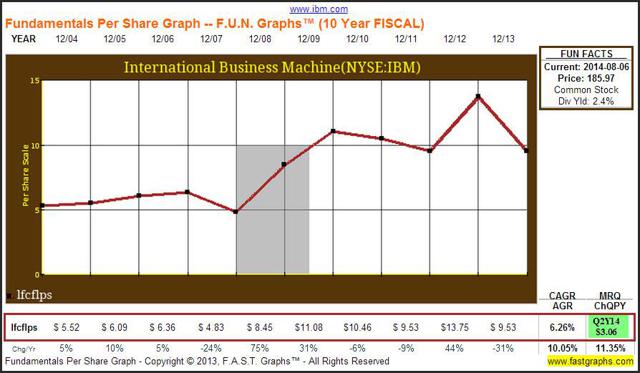 Click to enlarge
IBM's Debt Situation
IBM's recent increase in total debt (dt) has been a major area of concern focused on by the IBM naysayers. However, since both the devil and the angels are in the details, let's take a closer look. When you consider the cost of debt today in relation to the returns IBM generates on its capital and equity, taking on more debt in today's environment is not necessarily a bad thing, especially when considering the level of cash on its balance sheet (see below).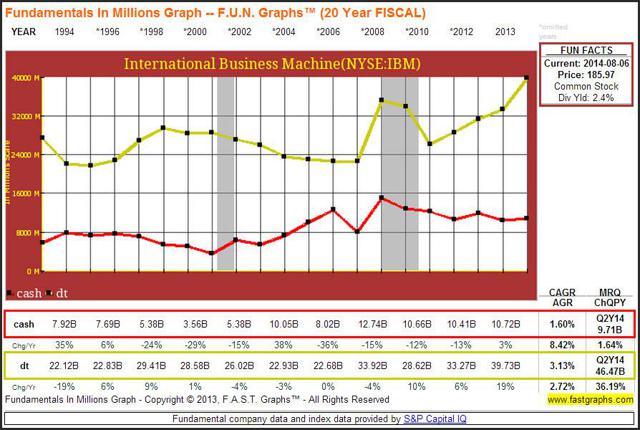 Click to enlarge
Here's what IBM's management had to say about its balance sheet and debt in its most recent filing:
"Balance Sheet Summary

Turning to the balance sheet, we ended the quarter with a cash balance of $9.7billion. Total debt was $46½ billion, which includes over $29 billion to support our financing business. The leverage in our financing business remains at seven to one. Our non-financing debt was $17.1 billion and our non-financing debt-to-cap was 56 percent. As I mentioned last quarter, given the skew of free cash flow, we expect our debt-to-cap to be in the 50s through the third quarter, and roughly flat year to year at the end of the year. We continue to have the financial flexibility to support our business over the long term, as we transition to the new areas of enterprise IT."
Debt Ratios
The bottom line on IBM's debt is notwithstanding its recent increase; both of its important debt ratios, the current ratio (NYSE:CR) and its quick ratio (qr), remain aligned with historical norms. Consequently, IBM possesses the resources to remain an ongoing concern that is capable of covering its short-term obligations.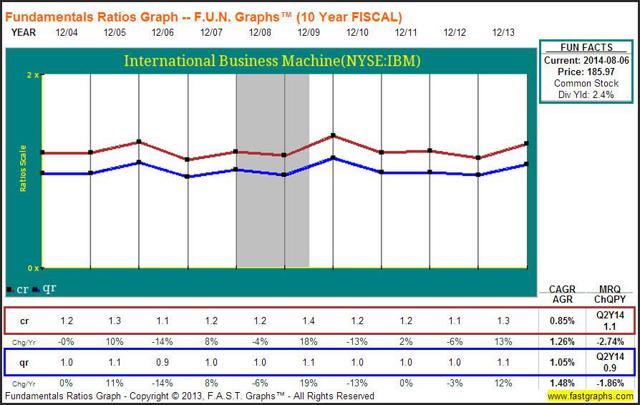 Click to enlarge
More on IBM's Profitability
In addition to the high returns IBM generates on assets and capital referenced above, the company's profit margin story is very strong. Gross profit margin (GPM) is healthy and increasing, and flows through to its net profit margin (NPM). As it so succinctly put it in its most recent filing:
"We expanded margins, and we grew earnings per share."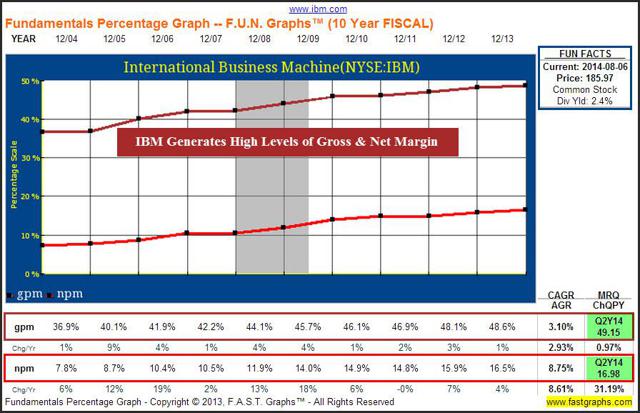 Click to enlarge
IBM's Commitment to Shareholders
Many IBM naysayers also take glee in pointing out that IBM has only been able to grow earnings because of its aggressive share buyback program. Although there is some truth to those concerns, I consider IBM's share reduction program a strong positive for shareholders. For one thing, I strongly support a company buying back shares when its stock valuation is low. I consider this an excellent use of capital, and as IBM management reported in their recent filing, the average cost per share of their buyback program has been very attractive:
"We returned $13.9 billion to shareholders. Of that, $11.8 billion was in gross share repurchases, and at the end of June we had $3.1 billion remaining in our buyback authorization. In June we reached a milestone. We finished the month with fewer than 1 billion shares outstanding. Let me put this in perspective. We started our share repurchase program in 1995 when we had more than 2 billion shares outstanding. So we have reduced our share count by more than 50 percent, and the average price we've paid from the start in 1995 through June 30 of this year is less than $100 per share."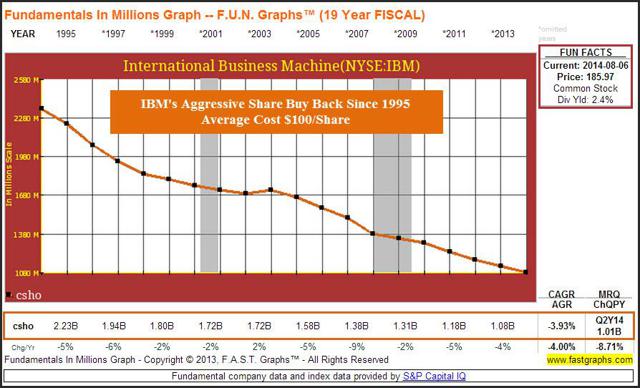 Click to enlarge
Generous Dividend Policy
With fewer shares outstanding, IBM's management has been able to be very generous in paying dividends to shareholders. Not only has the dividend grown at an above-average rate, consistent with their share buyback program, they have raised their dividend for 19 consecutive years, as reported below:
"We took our dividend up 16 percent in April, and through June we paid out $2.1 billion this year. This is the nineteenth consecutive year that we raised our dividend, and the eleventh year in a row of double-digit increases."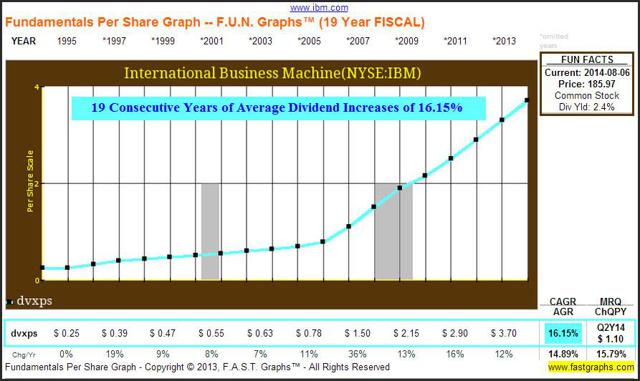 Click to enlarge
IBM Management Looking to the Future
Throughout this article, I have referred to the fact that IBM's management understands the necessity to adapt its business model as the technology landscape changes. The following 4 slides were presented by IBM's CFO at that time on May 10th 2010, clearly illustrating that IBM's management was focused on the future and cognizant of its necessity to transform and adapt its business model.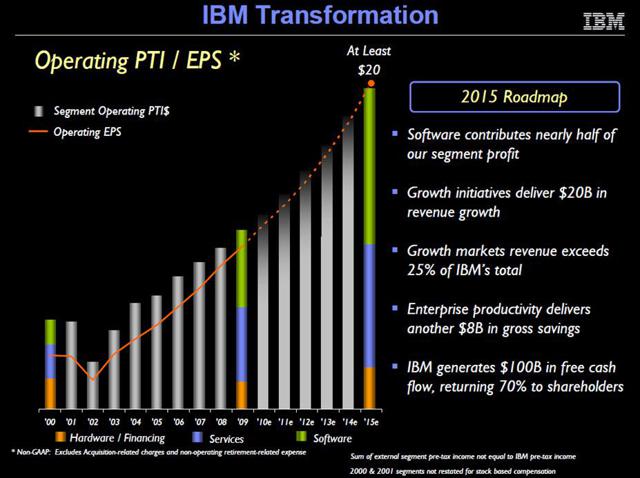 Click to enlarge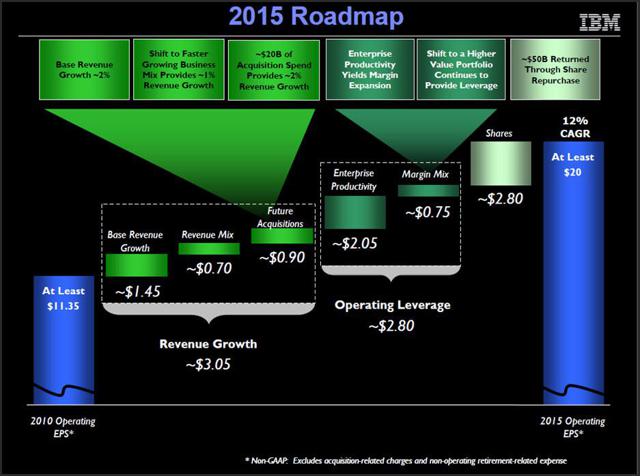 Click to enlarge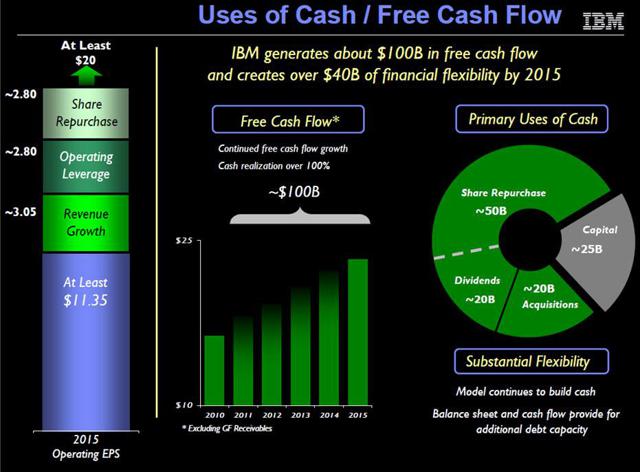 Click to enlarge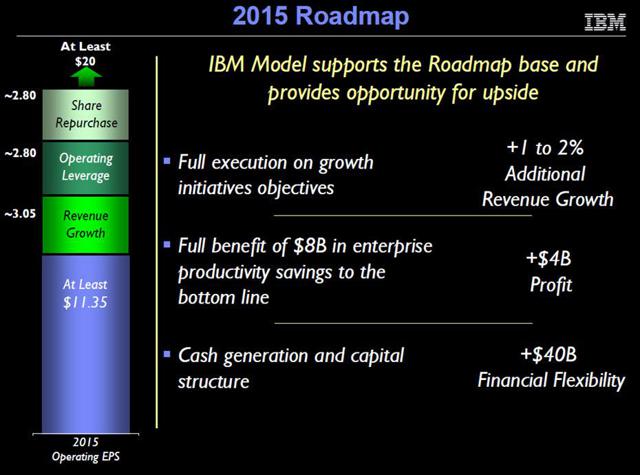 Click to enlarge
The following excerpt from its 2013 annual report provides further evidence of IBM management's focus on the future and the necessity to transform the company. Follow this link if you would like to further review its most recent annual report.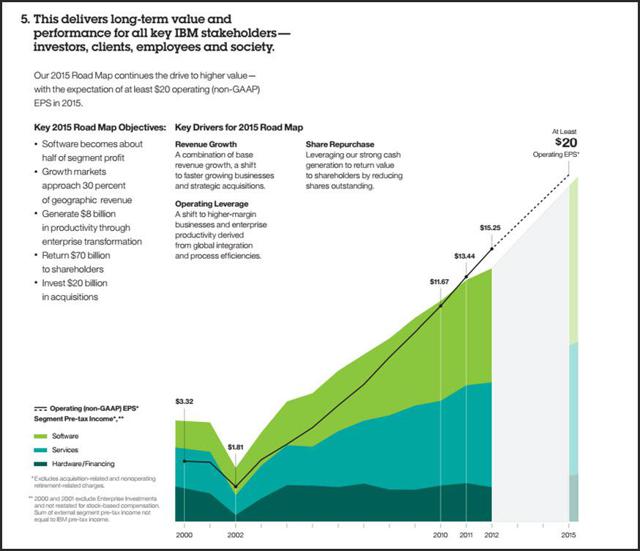 Click to enlarge
Leading Analysts Continue to Believe in IBM
From the following "Estimated Earnings and Return Calculator", we discover that there are 29 analysts reporting to S&P Capital IQ that expect 5% earnings growth for this fiscal year, followed by 11% for the next fiscal year. It should be noted that both of these earnings estimates are below company guidance, and therefore, might be considered conservative in that regard. There are 6 analysts reporting to S&P Capital IQ who suggest a long-term average growth rate of 9.6%.
Personally, I tend to refrain from looking beyond the current fiscal year and the next fiscal year earnings estimates when making my own decisions. On the other hand, I do find it useful to at least know what the longer-term expectations are. However, I put more credence on the closer years than I do the years farther out. Not only are there typically more analysts making up the consensus, but it's obviously easier to calculate a forecast for closer years than it is for years farther out. Nevertheless, whether looking near or far, IBM appears to be available at a bargain valuation.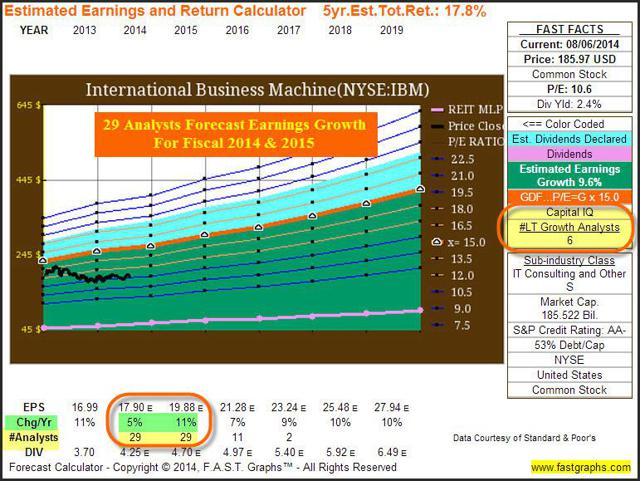 Click to enlarge
Summary and Conclusions
There is clearly a lot of negative sentiment about IBM, as reflected by the current low valuation of its stock price. However, as I have attempted to illustrate with this article, all this negative sentiment is not supported by the company's fundamentals. For over 100 years, IBM has been acknowledged for its focus on innovation and on its ability to transform its business model as the technology landscape evolved. Consequently, I, for one, am not willing to write this company off.
Certainly there is the risk that it will not be successful with its current transformation. On the other hand, that could be said about every company that currently operates in the technology landscape. But it should also be clear that this great American technology blue-chip has the legacy, the resources and a clear understanding that its industry is in a constant state of evolution and change. As a result, the company has proven that it is both willing and capable of changing in order to remain current and profitable.
In closing, with investing in common stocks, bargains are rarely found without a reason. Sometimes a low valuation is justified, and sometimes it's not. Therefore, it's imperative that the scrutinizing investor conduct the necessary research to make that distinction. In the case of IBM, there are reasons given for its current low valuation. However, I believe those reasons are unjustified, as I presented in this article. Consequently, I believe that IBM represents a true bargain in a stock market where bargains are currently hard to come by. But most importantly, I intend to be long IBM for many years to come, because I believe that the true rewards will manifest in the long run. In the short run, market sentiment often overrules fundamentals, but inevitably not for long.
Disclaimer: The opinions in this document are for informational and educational purposes only and should not be construed as a recommendation to buy or sell the stocks mentioned or to solicit transactions or clients. Past performance of the companies discussed may not continue and the companies may not achieve the earnings growth as predicted. The information in this document is believed to be accurate, but under no circumstances should a person act upon the information contained within. We do not recommend that anyone act upon any investment information without first consulting an investment advisor as to the suitability of such investments for his specific situation.
Disclosure: The author is long IBM. The author wrote this article themselves, and it expresses their own opinions. The author is not receiving compensation for it (other than from Seeking Alpha). The author has no business relationship with any company whose stock is mentioned in this article.