Every week, we include in this report a list of the highest quality and lowest quality stocks as defined by four key factors:
Relative Value;
Operating Momentum;
Analyst Revision Momentum; and
Fundamental Quality.
At the end of each month, we take roughly 1/3 of the stocks on this list to construct our various long/short and long-only model portfolios based on real trade data.
But as you can see from this example, there are several other ways to use this data.
This week, 63 stocks make the "high-quality" list, up from 60 last week, with 6 additions and 3 deletions. 26 stocks make the "low-quality" list, down from 30 last week, with 3 additions and 7 deletions. The most interesting new "high-quality" name to appear is Polaris Industries, Inc. (PII), a $2.5b market cap manufacturer of all-terrain vehicles, snowmobiles and motorcycles based in Medina, Minnesota.
click to enlarge images

Click to enlarge
According to a May 2010 presentation, 84% of Polaris' sales is generated in North America, with 65% of the total coming from off-road vehicles like ATVs and side-by-sides, 20% from parts, garments and accessories, 12% from snowmobiles and 3% from on-road vehicles. It has a non-union workforce of 3000, and sells through 1500 dealers in North America and 1000 internationally.
On a trailing 12-month basis over at least the last six quarters, gross margins have been expanding with SG&A growing less, helping EBITDA margins expand. With trailing 12-month sales growth hitting 13.9% for the quarter ended September 30 after six consecutive quarters of declines, ROIC and cash flow growth is poised to accelerate. The company is trading at 16.4x the calendar 2011 EPS estimate of $4.66, has net cash on its balance sheet and pays a $1.60/share dividend for a current yield of 2.1%.
Operating assets have stayed relatively steady as EBITDA and operating cash flow have been steadily increasing driving superbly high and expanding operating asset turnover, and it is managing working capital extremely well. Revenue and earnings estimates for the calendar 2011 have surged more than 7% over the last three months. The company is targeting a nearly doubling in sales to $3b in 2014 with net income expansion to 8% from 6.5% from 2009.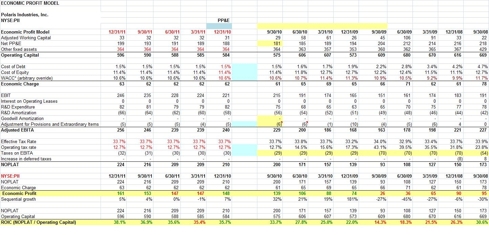 Click to enlarge
The stock already moved up more than 5x its March 9, 2009 low of $14.59 to $76.40 this past Friday, December 3, 2010, yet for the aforementioned data points there is still room for appreciation. The company is currently trading at 16.6x consensus NTM EPS of $4.60; if earnings estimates expand to the high end of the range to $5.05 and its NTM PE hits its 1yr peak of 17.3x, we could see an $87 stock price.
Using the same methodology, risk NTM risk could be $56. But we think it is more likely than not that estimates keep rising for the company due to renewed sales growth and steps to minimize operating assets. Recent volatility has been running roughly 8%/month, so some up/down ratio applied to this figure would be useful for setting shorter-term price and stop loss targets.
In our opinion, this company shows solid growth prospects at a reasonable price and has plenty of upside potential before it hit pure growth stock status.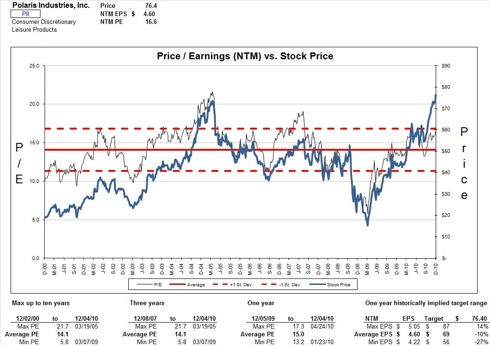 Click to enlarge
Disclosure: No positions