Toll Brothers Inc. (NYSE:TOL) recorded a profit of $39.5 million or 24 cents per share (excluding the benefit from an $11 million reversal of accruals that is no longer needed related to joint ventures) in the fourth quarter of its fiscal year ended October 31, 2010 compared with a loss of $111.4 million or 68 cents per share in the prior-year quarter.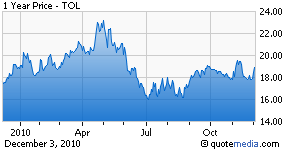 The profit overruled the Zacks Consensus Estimate of a loss of 8 cents per share. Revenues in the quarter dipped 17% to $402.6 million as home building deliveries fell 19% to 700 units. Operating loss narrowed to $38 million from $104.9 million a year ago.
Despite a fall in revenue, the company showed profit based on cost reductions and lower selling, general and administrative expenses (SG&A). Cost of revenues during the quarter slashed 27% to $367.2 million while SG&A declined 13% to $69.2 million during the quarter.
Toll Brothers' net signed contracts were 558 units, valued at $315.3 million, a decrease of 27% in terms of both units and value. The average price of net contracts signed was $565,000 compared with $563,000 in the fourth quarter of fiscal 2009.
The company's contract cancellation rate was 8.8% compared with 6.9% in the year-ago quarter. The average price per unit of cancellations was $554,000 compared with $546,000 in the fourth quarter of fiscal 2009.
For full year 2010, Toll Brothers reported a narrower loss of $3.4 million, or 2 cents per share compared with $755.8 million or $4.68 per share in the previous fiscal year. Revenues from home building operations dropped 15% to $1.49 billion as deliveries fell 11% to 2,642 units.
Net signed contracts during the fiscal year rose 13% to $1.47 billion while the same in terms of volume went up 6% to 2,605 units. The company ended the fiscal year with a backlog of $852.1 million and 1,494 units, a decrease of 3% in terms of value and 2% in terms of volume from the prior year.
Toll Brothers had cash, cash equivalents and marketable securities of $1.24 billion as of October 31, 2010 compared with $1.91 billion in the year-ago period. The company's net-debt-to-capital ratio was 13.6% as of the above date, compared with 7.4% at the end of the previous fiscal year.
The company expects home building deliveries to range within 2,100 units - 2,900 units in fiscal 2011. The average price per delivered home is expected between $540,000 and $565,000 for the fiscal year.
Toll Brothers, a Zacks #4 Rank (Sell) stock, is based in Horsham, Pennsylvania. The company engages in designing, building, marketing, and arranging finance detached and attached homes for single-families in luxury residential communities of U.S.