SandRidge Energy (NYSE:SD) reported weaker-than-expected oil production volumes for the second quarter and reduced its full-year oil production guidance. The development is disappointing given that during the quarter the company connected a record number of laterals (122) in its core Mid-Continent operation and reported a strong average 30-day IP rate of 412 boe/d which, according to the press release, is "30% above type curve."
Mid-Continent Production
Average daily production volume in the company's Mid-Continent operation grew to 56.3 Mboe/d during the quarter, 11% sequentially and 19% year-over-year.
Mid-Continent oil production increased to ~20.8 Mbo/d, ~8% sequentially.
The company commented that "power and weather disruptions late in the second quarter resulted in 250 Mboe of production deferment." This equates to ~2.7 Mboe/d on average during the quarter.
If one were to add the lost production volumes and assume that oil would have represented ~38% of those volumes, the "adjusted" Mid-Continent production would equate to 59.0 Mboe/d, including 21.9 Mbo/d of oil. On such "adjusted" basis, sequential growth rates would be ~17% for the Mid-Continent total production and ~14% for the Mid-Continent oil volumes.
These "adjusted" results still fall short of my estimate for the Mid-Continent production in Q2 of ~62 Mboe/d, including ~25 Mbo/d of oil. My estimate was based on the assumption of 110 new well connections and reflected very strong oil production test rates that the company posted for its wells turned in-line in Oklahoma during the March-May period (discussed in detail in my recent note). The differential to my estimate is particularly pronounced on the oil side.
While power and weather issues help to explain the lower than expected production volumes during the quarter, a case can be made that these are business-as-usual operating factors and should not be treated as extraordinary events.
The 8% actual sequential oil production growth rate for the quarter is particularly disappointing given that it follows a weak quarter. As a reminder, during the first quarter of this year SandRidge turned to sales only 71 wells in the Mid-Continent and posted a sequential oil production decline of ~2% over Q4 2013. As I discussed in detail in my earlier notes, IP rates during the first quarter were also less strong than during the second quarter.
With 122 laterals connected in Q2 and excellent reported 30-day IPs, one would expect a much stronger sequential increase in oil production volumes.
Guidance Revised Down
Total company production during Q2 was 69.8 Mboe per day, an 8% quarter-over-quarter growth on a pro forma basis.
Companywide oil production increased to 26.4 Mbo/d, a 7% quarter-over-quarter increase on a pro forma basis.
In addition to the power and weather effects in the Mid-Continent, the Q2 volumes were impacted by high water-cut wells in the Permian. According to the press release, a portion of the final area available for development in the company's Permian Trust "encountered high water saturations which is estimated to result in a total shortfall of 350 Mboe (95% liquids) for 2014."
As a result of these operational challenges, SandRidge revised its 2014 full-year oil production guidance down, from 12.0 MMbbls to 10.7-11.3 MMbbls. NGL guidance was also revised slightly down, from 3.7 MMbbls previously to the new guidance of 3.5-3.6 MMbbls.
The midpoint of the natural gas production guidance remains unchanged.
Of note, the combination of the 250 Mboe "deferred" production in the Mid-Continent and 350 Mboe lower well productivity in the Permian in 2014 does not fully explain the announced reduction in the oil production guidance. Assuming that oil would have been ~38% of the "deferred" Mid-continent volumes, the two factors add to ~400-420 Mbo, while the company's new guidance was reduced by 1,000 Mbo relative to its May 7 guidance. The 580-600 Mbo balance in the guidance reduction must mostly relate to a shortfall in the company's core Mid-Continent operation and represents a 5% decrease in oil volumes previously estimated for 2014.
The overall reduction of the pro forma production growth guidance from 26% to 21%, based on the midpoint, is, therefore, significant, as it consists almost entirely of oil volumes. Oil remains SandRidge's most valuable production component.
Heavy Outspending Continues
SandRidge's net debt during the second quarter increased by $260 million as the company continued to spend far in excess of its internal cash flow. During the second quarter, total capital expenditures were $391 million, compared to Adjusted Operating Cash Flow of $187 million and Adjusted EBITDA of 210 million.
Based on SandRidge's plan to drill 460 gross wells in the Mid-Continent in 2014, the company may actually accelerate its drilling pace in the area through the rest of the year (193 wells were connected during the first half). Given the expected lower natural gas price realizations that may impact the company's cash flow in the next two quarters and the expiration of Repsol's drilling carries, I estimate that the rate of outspend will not shrink materially in the next two quarters.
Using the Q2 run-rate, SandRidge's annualized outspend was ~$850 million, based on my estimate (I include the company's estimated drilling carries and subtract the portion of estimated trust drilling spending that does not accrete to the company's interest). The run-rate capex equated to ~2.2x the company's run-rate operating cash flow, one of the highest outspend ratios in the peer group. The company's cash on balance sheet ($919 million as of 6/30/2014) represents slightly over one year of outspend at the company's current pace.
The company's leverage ratio stood at 3.2x at the end of the second quarter, the level it was expected to reach only at the end of 2014 (slide below). Leverage will likely continue to creep up in the next two quarters. Given the very steep natural decline profile of the company's production, the company's credit metrics are again crossing over into uncomfortable territory.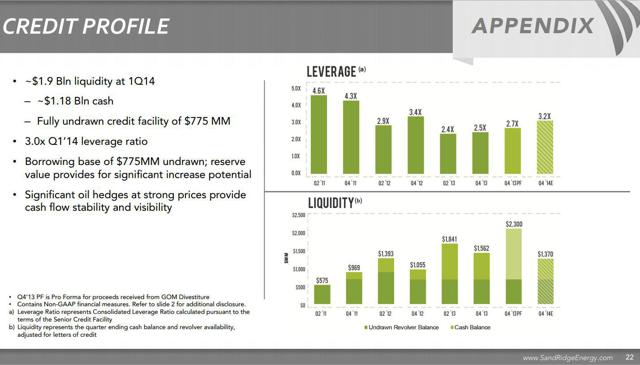 (Source: SandRidge Energy, June 2014)
"EBITDA on Steroids"
It is important to note that given the extremely front-loaded shape of decline curves in the Mississippian, SandRidge's EBITDA is strongly impacted by the level of current capital spending. The higher the drilling capex during the quarter, the greater the EBITDA.
With the company's capex exceeding its cash flow by a factor of two, its EBITDA is effectively an "EBITDA on steroids." If SandRidge elected to bring its capital spending in line with its cash flow, the company's EBITDA would be materially lower.
Implications For The Stock
SandRidge's full-year guidance was already at risk after the sequential production decline - as opposed to growth - the company posted during the first quarter of this year. However, I was expecting that the second quarter would bring the production back on track relative to the guidance, given that the company caught up in terms of its well completions schedule (45 wells were reported to come on-line in the Mid-Continent during the month of April) and ramped up its rig count to 31 rigs. I was particularly encouraged by the significant number of wells with very strong IP rates contributing to the quarter's results, as discussed in my latest SandRidge note. A "catch-up" quarter, unfortunately, failed to materialize to the degree I have expected.
Given that SandRidge's Q2 2014 was shaping up as a very strong quarter relative to several preceding quarters, both in terms of the number of wells connected and well quality, I was also expecting that the company would demonstrate its ability to substantially exceed its 20%-25% p.a. long-term production growth guidance in its core Mid-Continent operation. Instead, the quarter revealed that even the low end of this guidance cannot be taken for granted for the critically-important oil production component.
The most important question that I have to ask myself is whether the company's stubbornly low growth rate in the Mid-Continent, despite the break-neck drilling pace, is the reflection of a faster-than-modeled decline profile of Mississippian wells. I highlighted this hypothesis in my recent discussion of the SandRidge Mississippian Trust I (NYSE:SDT) Q2 results.
The Trust is a "production decline laboratory" for the Mississippian play, given that the production trajectory of the Trust's portfolio of ~160 wells is no longer obscured by the noise of new wells coming online. After a year of no new drilling, the Trust's oil volumes dropped by over 16% sequentially during the latest quarter, a staggering decline. Most importantly, the decline rate does not appear to flatten out fast enough and remains a lot more "exponential" than one might have expected.
Using this quarter's metrics and assuming $1.5 billion per annum capital spending, I have to think of SandRidge as a "maybe 20% oil grower" in its core operation.
While a slightly higher natural gas production growth rate may be achievable, challenging fundamentals are likely to be a headwind on the natural gas side of the business as SandRidge (and everyone else in the industry) is competing against 15-20 Bcf wells in the Marcellus and Utica.
A higher oil production growth rate is critical to the company's financial model, in my opinion. Under a sub-20% oil production growth scenario, cash flow is unlikely to attain the $1.5 billion annual capex level by 2016, as envisioned by the company's growth strategy. Leverage also becomes a difficult issue.
High Valuation Remains A Risk
At yesterday's closing price of $5.19 per share, SandRidge's Enterprise Value is ~$5.6 billion and its run-rate EBITDA, using the second quarter results, is $840 million. The stock is currently trading at 6.7x multiple of its run-rate EBITDA.
I cannot help contrasting SandRidge's valuation against some of its peers. SM Energy (NYSE:SM) comes to mind as an example. SM has Enterprise Value of ~$6.9 billion, which is comparable to SandRidge's (and would be almost the same if the comparison took place a month ago). SM's oil/gas production mix is not dissimilar to SandRidge's. While SM's current 15%-20% growth rate is slightly lower than SandRidge's, SM is being able to achieve its growth by spending close to internal cash flow. I estimate SM's outspend ratio in 2014 to be less than 1.25x. Moreover, SM's outspend is largely attributable to acreage capturing and evaluation activities in emerging plays. I would argue that SM's organic growth rate is in fact higher than SandRidge's organic growth rate.
SM's balance sheet also compares favorably to SandRidge's. SM's leverage ratio was 1.0x at the end of Q2 versus 3.2x for SandRidge.
So what is the multiple of Q2 run-rate EBITDA that SM is currently trading at? SM is trading at a ~4.0x multiple.
While every company's valuation is unique, the comparison shows that the question of whether SandRidge's current trading multiples are sustainable is not without merit.
Is The 30% Correction Enough Of A Penalty For A Bad Quarter?
At $5.19 per share, SandRidge stock is trading ~30% below the recent peak price of $7.34 per share achieved in June. The quarter's results may indicate that the worst may not be over yet for SandRidge's stock as the report raises fresh concerns regarding the viability of SandRidge's growth strategy.
SandRidge's high leverage would amplify any change in the market's perception of the company's growth outlook and capital productivity. Assuming, for illustrative purposes, a contraction in the run-rate EBITDA multiple to 5.0x-6.0x range - which, as I mentioned, would still be at a premium to some of SandRidge's comparables - the implied reduction in SandRidge's equity valuation would be $600-$1,430 million. Even at the low end, the risk of such additional reduction is quite material to the current stock price.
Disclaimer: Opinions expressed herein by the author are not an investment recommendation and are not meant to be relied upon in investment decisions. The author is not acting in an investment advisor capacity. This is not an investment research report. The author's opinions expressed herein address only select aspects of potential investment in securities of the companies mentioned and cannot be a substitute for comprehensive investment analysis. Any analysis presented herein is illustrative in nature, limited in scope, based on an incomplete set of information, and has limitations to its accuracy. The author recommends that potential and existing investors conduct thorough investment research of their own, including detailed review of the companies' SEC filings, and consult a qualified investment advisor. The information upon which this material is based was obtained from sources believed to be reliable, but has not been independently verified. Therefore, the author cannot guarantee its accuracy. Any opinions or estimates constitute the author's best judgment as of the date of publication, and are subject to change without notice.
Disclosure: The author has no positions in any stocks mentioned, and no plans to initiate any positions within the next 72 hours. The author wrote this article themselves, and it expresses their own opinions. The author is not receiving compensation for it (other than from Seeking Alpha). The author has no business relationship with any company whose stock is mentioned in this article.