The market has struggled of late, yet Tesla (NASDAQ: TSLA) is in full gait. The electric carmaker has the right stuff to defy market doldrums you see. It has high demand for its products, high hopes for its opportunity and real results to show for it all. So no matter what Russia or the Fed may drop in the way of investors, this stock won't stumble, at least not for long. That's why I suggest investors who don't already hold it add it to their list of buys for the day when the market does crash en masse. It would only mark a buying opportunity for TSLA in my view.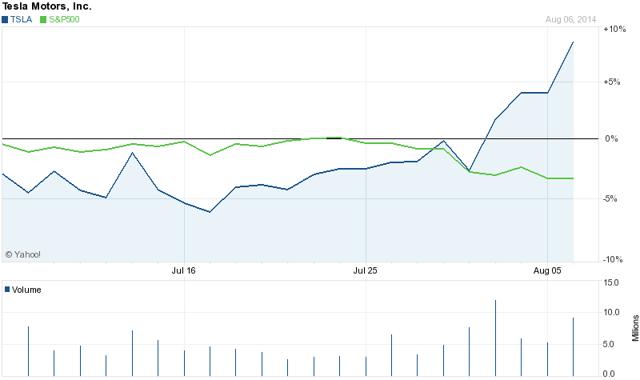 1-Month Chart Comparison TSLA & S&P 500
So what's going on here? As the market has tanked on the latest Russian scare, Tesla shares have soared. It's not what TSLA is supposed to do in such a scenario, given its beta coefficient of 1.37. A beta figure that far above 1.0 should have TSLA shares exaggerating the move of the S&P 500 Index downward. But as you can see in the chart above, that is not at all the case, and it's because of TSLA's alpha. So, as the market fills with panic, and as financial market assessors like your author here suggest investors unload passive stakes in stocks, Tesla shares are soaring. That is because Tesla has the right stuff to counter this macro-fueled firestorm. It is therefore a favored choice of stock-pickers and alpha seekers in this very choosy investment environment.
The company's recent earnings report provided much of the evidence of Tesla's fire resistance. First of all, the company blew out earnings, beating the Wall Street consensus estimate handily. Tesla earned $0.11 a share, versus expectations for just $0.04. Revenue rose 55% on a non-GAAP basis, to $858 million. Factory production was up 16% sequentially, to 8,763 vehicles. The production pace is now up to 800 vehicles a week. Deliveries rose 17% sequentially, ahead of guidance, to 7,579 for the quarter. They were excellent results, offering investors hard evidence of growth and defense against the beta fire burning the market.
Tesla's winning fire-proof formula obviously hinges on its forward opportunity, and fortunately for shareholders that opportunity is vast and is being addressed. Tesla's greatest constraint last quarter was production capacity, as demand far outpaced the company's ability to meet it. So, even as production and deliveries grew rapidly sequentially, average global delivery wait time increased. Orders continued to grow, and even in established markets in North America and Europe, order growth outpaced general automotive industry demand.
But Tesla is now entering China too and also markets with right-side vehicle steering or Right Hand Drive (RHD) markets. In doing so, Tesla is effectively doubling its addressable market. And the company is expanding its reach within markets, via its planned spring 2015 launch of the Model X, and eventually the Model 3 vehicle. It's also expanding reach by leasing vehicles and addressing fleet opportunities. So, the opportunity is there, and the fire resistance is reinforced.
Adding another layer of macro fire protection, the company is actively taking great strides toward fulfilling those opportunities as soon as possible. Tesla is expanding production capacity at its Fremont factory, so that it will be able to produce 1,000 vehicles a week in Q3 (from 800). Estimates have been revised lower for Q3 though, due to the time needed for the company to get new enhancements in place and to ramp up production of Model S and Model X vehicles. Still, the market took that in stride, since it's a necessity to get to higher production rates and to get more vehicles delivered. The company reassured that it will deliver 35,000 vehicles this year and reach a 100,000 vehicle annualized delivery rate by the end of next year. Part of getting there includes efforts by the company and its partners in developing its Gigafactory for the large scale production of vehicle batteries.
There is a lot at play here, and there could be delays; I would say that would be the most significant company specific risk that could undermine its fire protection. If production doesn't come online as smoothly as anticipated, the stock could face a future hurdle. But given that it's gotten down the learning curve already with the Model S, such a stumble is not anticipated. Anyway, long-term investors should not care about little bumps along the road.
I often hear Tesla called a momentum stock, and it may be, but what matters for momentum stocks in this environment are their individual earnings situations. You'll hear more about this from me in near-term articles, so consider following my column here. Can Tesla produce the earnings moving forward to justify its momentum; that'll be what today's market looks for when sifting through momentum names. Yes, Tesla trades at 80X the analysts' consensus estimate for 2015 earnings, but it will get there via 184% EPS growth in 2015; and that's after earning $1.11 in 2014 (consensus estimate). So, its opportunity is based off proven results and concrete demand. I cannot foresee patient long-term holders getting burnt given this fire-proof formula.
Disclosure: The author has no positions in any stocks mentioned, and no plans to initiate any positions within the next 72 hours. The author wrote this article themselves, and it expresses their own opinions. The author is not receiving compensation for it (other than from Seeking Alpha). The author has no business relationship with any company whose stock is mentioned in this article.