Western Asset Mortgage Capital Corp. (NYSE:WMC) is a primarily Agency mortgage REIT. However, it has expanded into non-Agency RMBS, Agency and non-Agency CMBS, and other securities and transactions. It is becoming more complex and perhaps more stable. The table below shows its portfolio composition as of June 30, 2014.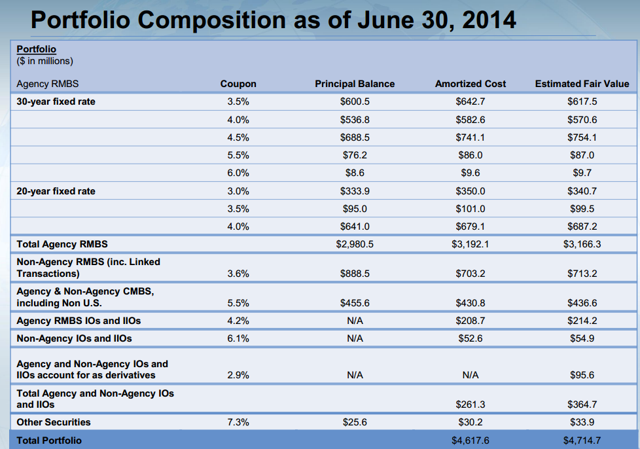 Click to enlarge
This portfolio led to Core Earnings plus Drop Income of $40.0 million (+$1.00 per share) in Q2 2014. If split up, the earnings were $0.75 Core Earnings per share and $0.25 Drop Income per share. These were more than enough to support the declared dividend of $0.67 per share (about an 18.7% annual dividend). WMC also generated a large increase in book value in Q2 2014 from $14.19 to $15.31 (+$1.12 per share). These two items amounted to a total economic return of about 12.6% (or 50%+ annualized). There are few people who wouldn't call this a great return. WMC says its "book value per share increased primarily as a result of a more diversified portfolio, which benefited from mortgage spread tightening during the quarter and was supplemented by dollar role income."
WMC's weighted average net interest spread for Q2 2014 was 2.69% (a 3.86% gross yield and a 1.17% cost of funds). This was up substantially from the average net interest rate of 1.8% for Q1 2014. WMC says, "the net yield increased due to a higher mix of non-agency RMBS and CMBS and a lower cost of funds." The average CPR (constant prepayment rate) was slightly higher at 4.9% compared to 3.8% in Q1 2014. The fair value of the portfolio was approximately $4.7B as of June 30, 2014. The leverage was approximately 6.5x as of June 30, 2014. Including TBA positions the leverage was approximately 7.5x.
Is WMC hedged enough for safety. It would appear so. The table below describes WMC's current hedging.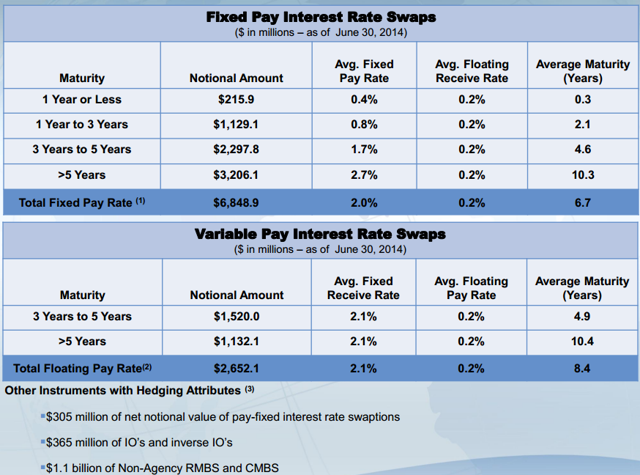 Click to enlarge
Remember WMC's portfolio estimated fair value was only $4.7147B as of June 30, 2014. Therefore the above table indicates that its portfolio is more than well hedged. If there were any doubt at this point the table below of the net duration should alleviate any worries.

Click to enlarge
With a duration of 0.27 (excluding non-agency RMBS), WMC is probably one of the safest primarily Agency mortgage REITs on the market. This should make investors feel good. WMC's greater diversification into non-Agency RMBS and CMBS should add further to that feeling of safety. These securities are much less susceptible to loss of book value due to rising interest rates.
It is a little worrisome that WMC may not be as experienced in this new area as they are in others; but their actions all seem logical and highly professional. Investors should like these moves. WMC says it further "expects to start investing in residential mortgage whole loans in the near future." I really like what I have seen this quarter. WMC still carries too high a percentage of 30-year fixed rate Agency RMBS as a proportion of the Agency RMBS part of its portfolio for my liking; but its extension risk issues have improved quarter over quarter; and I like this very much. It makes WMC much more of a buy in my mind.
The two year chart of WMC provides some technical direction for a trade.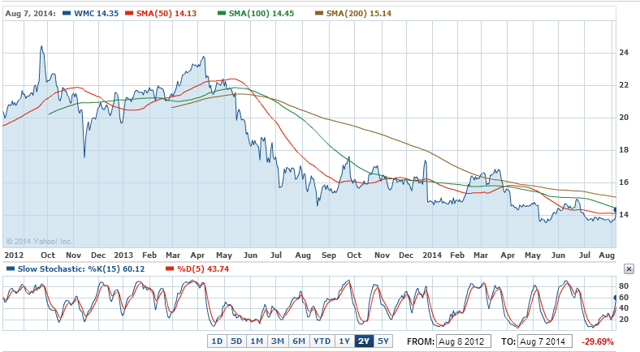 Click to enlarge
The slow stochastic sub chart shows that WMC is neither overbought nor oversold. The main chart shows that WMC has been consolidating sideways for the last few months. With the earnings announcement on August 7, 2014, the stock moved up nicely. This was likely due to the appreciation in book value of +$1.12 per common share. It may also have been partially due to the fantastic Core Earnings and Dollar Roll Income results WMC reported. There was very little I did not like about this report.
As I said earlier I am still concerned about the large amount of 30 year fixed rate Agency RMBS WMC has; but I am much happier after WMC's Q2 2014 diversification into other investment assets. Plus WMC does appear to be well protected by hedges. With an approximate 18.7% annual dividend, WMC is a buy; and those who follow me know that this is an improvement in my outlook on the company. The answer to the title question appears to be that there were no big problems with WMC's Q2 2014 report. There were only great results.
NOTE: Some of the above fundamental fiscal data is from Yahoo Finance.
Good Luck Trading.
Disclosure: The author has no positions in any stocks mentioned, but may initiate a long position in WMC over the next 72 hours. The author wrote this article themselves, and it expresses their own opinions. The author is not receiving compensation for it (other than from Seeking Alpha). The author has no business relationship with any company whose stock is mentioned in this article.