Air Lease's (NYSE:AL) Q2 report was ahead of expectations as the company continues to expand its fleet. Q2 revenue increased 23% to $256 million as opposed to analyst estimates for an 18% increase. EPS increased 42% to $0.58, which was $0.05 ahead of consensus. The company delivered 13 new aircraft to eight customers during the quarter and sold two aircraft, bringing the total number to 207 aircraft at the end of Q2.
Air Lease ended the second quarter with total debt of $6.3 billion, compared to $5.9 billion as of December 31, 2013. The company also managed to increase the unsecured debt to $5 billion compared to $4.3 billion at the end of Q4 2013, bringing the unsecured debt as a percentage of total debt to 79.4%. The fixed rate debt as a percentage of total debt increased to 65.6% from 62% in Q4 2013. These trends are indicative of less risk for the company and more financial flexibility going forward. The composite interest rate also decreased by 1 basis point to 3.59%.
This affects my long thesis in a positive way and I am raising my base case price target from $44 to $46.50 and my bullish case price target from $53 to $56. This is based on higher EPS expectations for the full year (see table below) and the same valuation target (2014 P/E of 19 for the base case scenario and P/E of 23 in the bull case scenario). The basis for the higher EPS in 2014 is the strong momentum in Air Lease's business and the fact that the company delivers 40% to 45% of its net income in the first quarter, and the current estimates call for almost the same level of earnings in the second half of the year as in the first half. Previous and expected growth rates warrant a higher valuation, and I believe that Air Lease is undervalued given the circumstances. The potential upside is between 32% and 58% based on Thursday's closing price. The downside should be very limited, as Air Lease should get support at current levels or slightly lower based on the long-term P/E range.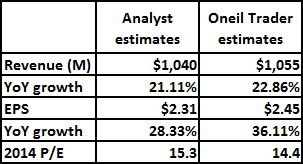 Source: Yahoo! Finance, Author's estimates
Disclosure: The author has no positions in any stocks mentioned, but may initiate a long position in AL over the next 72 hours. The author wrote this article themselves, and it expresses their own opinions. The author is not receiving compensation for it (other than from Seeking Alpha). The author has no business relationship with any company whose stock is mentioned in this article.