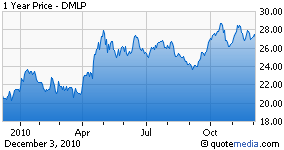 Units of buy-recommended Dorchester Minerals (NASDAQ:DMLP) offer an attractive distribution yield of 5.8% despite rising stock price and depressed natural gas price. Third quarter results filed as Form 10-Q with the Securities and Exchange Commission on November 5 indicate higher than estimated volume, mostly in royalty production where DMLP has no responsibility to pay operating expense. Growing royalty volumes offset normal decline in mature net profits interest production.
Properties with the most potential for growth are carried in the Minerals NPI, which turns the total volume trend up. DMLP is positioned to gain future revenue from active industry trends that now include the Granite Wash formation of the Texas Panhandle. Disclosed with the distribution declaration on October 14, limited partners received $2.4 million in bonuses from operators who want to drill on DMLP's Granite Wash lands. Because the timing of lease bonuses varies widely, future payments are not included in near-term cash flow estimates.
Happily for investors, stock prices are trending upward for DMLP and five other buy recommendations along with all of the income and small cap stocks in our coverage.
Originally published on November 12. 2010.