In this 2012 Walgreen (WAG) article titled "Walgreen Dividend Yield 3.6%, Up 66 Basis Points" I explained why Walgreen had been purchased on weakness. Today, August 6, 2014, Walgreen again experienced stock weakness. Is this another opportunity to use weakness to add, or establish, a position?
In the 2012 article, I mentioned that the dividend had been increased to 27.5 cents per share. Today Walgreen increased the dividend to 33.75 cents per share. The long-term dividend payout ratio is pegged at 30% to 35%. The current dividend yield is 2.28%.
A $3 billion share repurchase program was announced. The size of the plan amounts to spending $3.13 per outstanding share as of May 31, 2014. The completion date is scheduled for year-end FY 2016.
See the chart below to learn what happened to the market capitalization since the June 19, 2012 article. It would appear that the Alliance Boots combination helped create real wealth.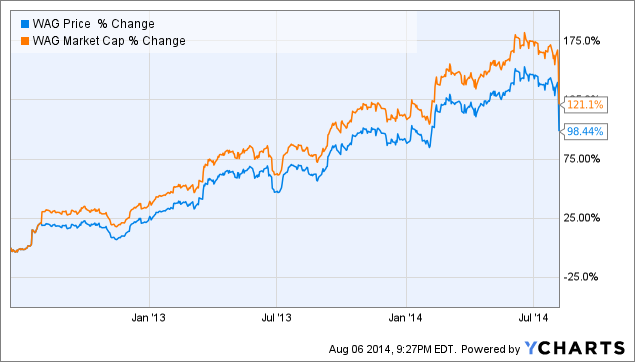 Some investors may have been disappointed that Walgreen did not decide to try an inversion. Long-term shareholders could view this as a positive development. Had an inversion taken place, then all Walgreen shareholders with taxable holdings would have enjoyed a tax bill, even if they did not sell a share. The US Treasury may have reaped a tax windfall had Walgreen gone the inversion route. Assuming a market capitalization increase of $30 billion, taxed at 20% would have resulted in a $6 billion tax obligation.
Not pursing an inversion transaction is viewed positively. Eventually Congress will address and revise the tax code; it could be sooner than later. By not doing an inversion transaction Walgreen avoids the expense and political fallout and risks. A secondary benefit is that shareholders are not saddled with a tax liability.
The current dividend yield is less attractive in absolute terms and compared to the 10-year yield than when the last article was published. This makes the investment call more of a challenge. During today's conference call, an analyst pounded the table for Walgreen to accelerate its share repurchases (my take on the question/comment). Why an analyst would encourage a firm to increase leverage and risk a credit downgrade that would lead to higher interest expense and less financial flexibility does not make sense to me. The funds could be better allocated to reducing debt and interest expense. The savings would drop straight to the bottom line. Should Congress lower the tax rate. Then the benefit of using debt is reduced. Besides, it would be preferable that owners' monies were returned to owners (stockholders) rather than departing owners (stock sellers).
At this time, Walgreen is viewed neutrally with a slight positive bias. The dividend yield of 2.28% is not attractive enough. However, should the $3 billion allocated to share repurchase be used to pay a special quarterly or annual dividend, then the dividend yield could approach 4.0% and that would be an attractive entry point.
Disclosure: The author is long WAG. The author wrote this article themselves, and it expresses their own opinions. The author is not receiving compensation for it (other than from Seeking Alpha). The author has no business relationship with any company whose stock is mentioned in this article.