Overview
Over the past several months, investors have looked to Frontier Markets to attempt to capture similar gains that emerging markets have given over the past few years. As such, those that were willing to take on the risk and get exposure to Frontier Markets have been rewarded handsomely over the past 18 months. But how do the next 18 months look?
What are Frontier Markets?
Although there is no formal definition for what a frontier market is, one might compare it to an emerging market by saying that frontier markets are "pre-emerging" in that sense that they are economically even less developed than emerging markets. The countries that are considered "frontier" countries are seen in the below graph.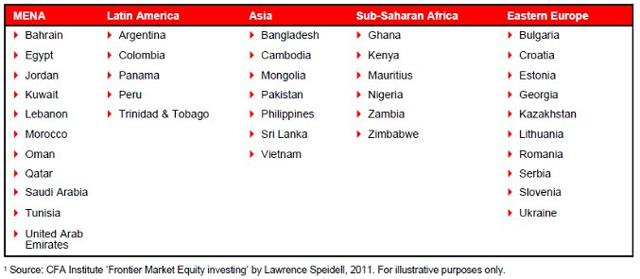 Performance
The benchmark index for frontier markets, the MSCI Frontier Markets Index, is up over 50% since the start of 2013, while the MSCI Emerging Markets Index remains flat. Compare these two indexes to the world, as measured by the MSCI World Index's 32% price move, and we can see just how impressive the performance of frontier markets has been.
In terms of the performance for specific countries, since the start of 2013, Pakistan is up 88%, Bulgaria is up 91%, and Nigeria has risen 47%. Looking at the data from EPFR Global, as presented by the Wall Street Journal, we see that frontier markets have seen capital inflows of more than $1.5 billion since the start of this year. As well, since the beginning of 2013, these same funds have garnered over $5.6 billion.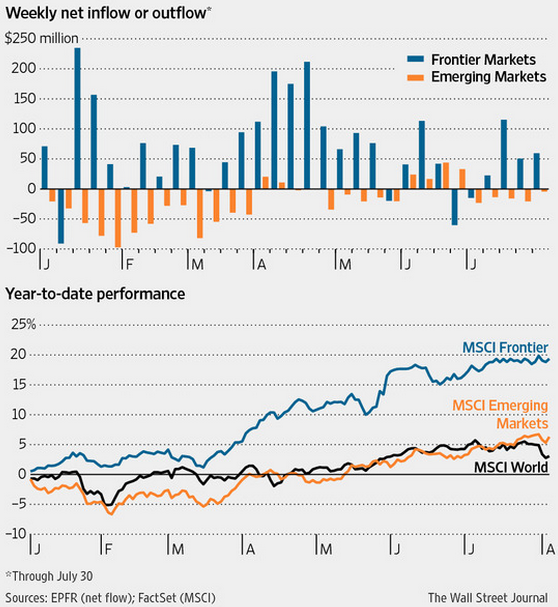 Why Invest in Frontier Markets?
In a world with constant concerns over growth, investors are looking for bargain deals that will yield large returns. It appears that most asset classes, especially in developed economies, are fully valued if not overvalued, and if you are looking to ride a highly profitable trend up, you need not look any further than frontier markets. However, do not get confused here. If you want to get exposure to frontier markets, you do not have to unwind your positions in emerging markets. Frontier markets are a separate asset class altogether, and will only allow for increased diversification. So why should you invest?
Decreased Volatility
Frontier markets are often labeled as a risky place to put your cash due to political and economic risks. However, recent data released by LR Global, an asset management firm with a focus on frontier markets, shows that the volatility in frontier markets is less than that of even developed markets (see below). The reason for this low volatility in comparison to other markets is that frontier markets are not as heavily exposed to global financial systems, and therefore do not see the same type of outflows that emerging markets might see in times of panic. This isn't to say that equities in frontier markets are without volatility, but on a relative basis the volatility of frontier markets has been lower than both of its developed and emerging market counterparts.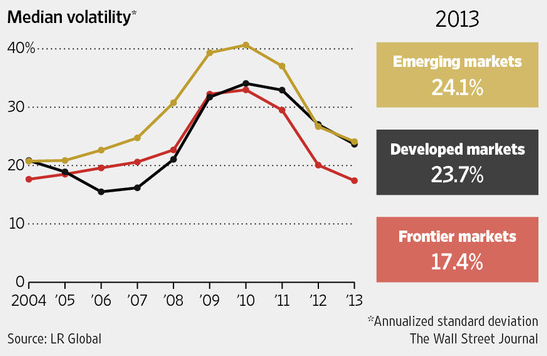 Diversification
Secondly, there is a very low correlation between individual frontier market stocks and the economies of the countries that comprise the frontier market index. This is because most of the frontier countries are tied to their local economy, and are not as exposed to other equity markets. As such, when you blend all these low correlations together into an index, you unknowingly have created a well-diversified portfolio, which of course exhibits a lower volatility. Compare this to emerging markets again, where the economies and individual stocks seem to all be heavily correlated due to the fact they are all strongly tied to the flow of cash investment. Using an example to illustrate this point, as investors pull cash out of emerging markets, all the nations will exhibit similar impacts, whereas the frontier markets do not all behave the same, and the result would not be as wide-spread (some countries are less dependent on foreign funds and are not as correlated to happenings throughout the world). Summarizing this data, frontier markets in both the past and the future will continue to offer strong upside even for a conservative investor.
Growth
Frontier markets in the past have grown the fastest of any market, and it looks like this trend will continue in the future. The reasons for such growth can be found in two prominent reasons: demographics and income growth. The demographics of frontier markets are prime to foster growth. The population is young and the populations are growing, this will allow for strong economic growth in the long-term. Additionally, we are seeing a growing average income in frontier markets, which will help open the way for new technologies to only further accelerate growth.
How to Get Exposure
I do not recommend investing in frontier markets directly. Not only is this expensive, but it is dangerous. I would rather advise that people looking to get exposure to this sector consider investing in various mutual funds or ETFs that focus on the sector. Some good ways to get exposure are through the below ETFs:

The iShares MSCI Frontier 100 Index Fund is the most popular as far as frontier market ETFs go, with substantially more assets than EMFM and FRN. As well, looking on a performance basis, FM appears to take the spotlight.

So if you are looking to get exposure to frontier market equities, Fidelity's Frontier 100 Index is the best place to start as it has outperformed the other ETFs in its class, as well as the S&P 500 over the past year.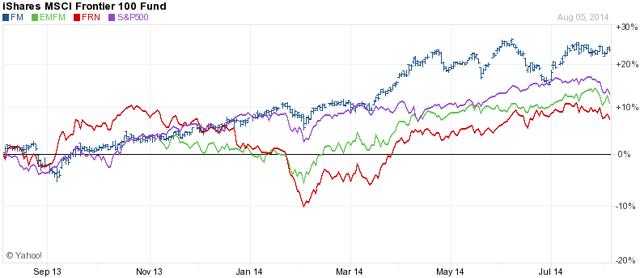 Risks
I feel it is important to note that there are of course some risks to putting your money in frontier markets, as with any investment. Of course, there is always a risk in politics with changing policies and leadership. As well, as you can imagine, frontier markets offer limited liquidity. As these economies are in the process of developing, they are often thinly traded and often present liquidity risks that need to be carefully considered. However, as these markets mature, we should see these issues improving. Lastly, many fund managers are skeptical about the returns exhibited from these markets, as some feel the current rate of returns are unsustainable and the opportunities for growth are now limited (this is false). All of these elements must be considered before you decide where to allocate your money.
Conclusion
I think this incredible run for frontier markets is only the start. These frontier markets are only on the brink of unlocking their full growth potential. To me, the Frontier market is an easy way to snap up some cheap stocks with great long-term growth prospects. After looking at the overhyped volatility, growth prospects, and diversification offered by frontier markets, I am excited to slowly gain exposure to frontier stocks not only for the returns that come with them, but for the hedge against US equities. Whatever your reason for investing, either for total return or diversification, you cannot go wrong with exposure to frontier markets.
Disclosure: The author has no positions in any stocks mentioned, and no plans to initiate any positions within the next 72 hours. The author wrote this article themselves, and it expresses their own opinions. The author is not receiving compensation for it (other than from Seeking Alpha). The author has no business relationship with any company whose stock is mentioned in this article.