The last 12 hours or so have seen the markets whipsawed by geopolitical events and plans by the US to assist Iraq with air strikes in order to weaken ISIL and give defense forces in the region a chance to fend off the radical group. Markets originally sold off as the fear was that the move could destabilize the area and draw the US military into a ground war. With the bombing that took place this morning it appears that the US is utilizing unconventional forces (special forces) on the ground and air support. We doubt that ground forces are sent in and think that this will remain more of a humanitarian effort than a pure military effort.
If ISIL does not pull back their offensive against the Iraqi Kurds, then we would expect the bombing to intensify over the weekend. Our hope would be that the US takes care of the military targets on their radar while the market is closed for a few days so that the news can be digested and the markets react intelligently come Monday morning.
Chart of the Day:
Investors are buying up US treasuries as the flight to safety trade has picked up this week with sanctions being lobbed back and forth between Russia and the west as well as the ongoing issues in Iraq.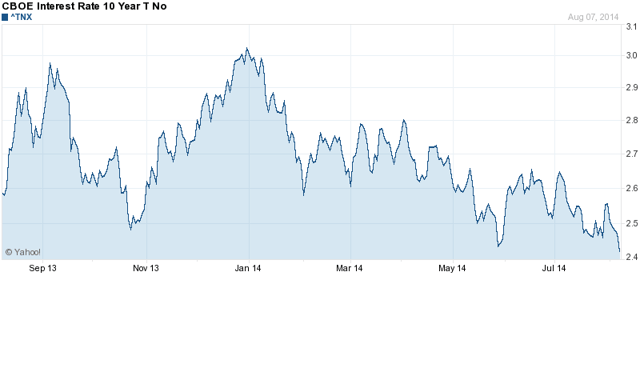 Source: Yahoo Finance
We have economic news today, and it is as follows:
Productivity - Prelim (8:30 a.m. EST): Est: 1.4% Act: 2.5%
Unit Labor Costs (8:30 a.m. EST): Est: 2.0% Act: 0.6%
Wholesale Inventories (10:00 a.m. EST): Est: 0.4% Act: 0.3%
The Asian markets are lower today:
All Ordinaries -- down 1.34%
Shanghai Composite -- up 0.31%
Nikkei 225 -- down 2.98%
NZSE 50 -- down 0.83%
Seoul Composite -- down 1.14%
In Europe, the markets are lower this morning:
CAC 40 -- down 0.01%
DAX -- down 0.27%
FTSE 100 -- down 0.49%
OSE -- down 0.26%
Virus Outbreaks Impacting Stocks
With the Ebola virus and the current outbreak in West Africa now garnering attention in the mainstream media, many traders are looking for ways to potentially profit with small biotech names. We have previously discussed BioCryst Pharmaceuticals (NASDAQ:BCRX) and their drug which has shown promise in similar diseases but the market is focused on Tekmira Pharmaceuticals (TKMR), a Canadian biotech company which has been working with the US Department of Defense on an effective treatment. The US Food & Drug Administration, or FDA, moved to allow Tekmira's drug to be used by those infected by the virus by reclassifying the trials the company has been doing to a status of "partial hold".
BioCryst Pharmaceuticals has benefited from rulings such as this in the past with their influenza drugs that are not yet on the market, so this is not really anything new. Another name with exposure to Ebola is Sarepta Therapeutics (NASDAQ:SRPT) which has a drug which demonstrated promise but lost support from the Department of Defense when their budget was cut. If the outbreak continues to spread then we could see the FDA move to allow Sarepta's experimental drug into the market and possibly help cure some of those affected by the disease in Africa.
Tekmira is up another 17% today as investors cheer news that the FDA is going to allow the company to sell its Ebola drug which is still in trials.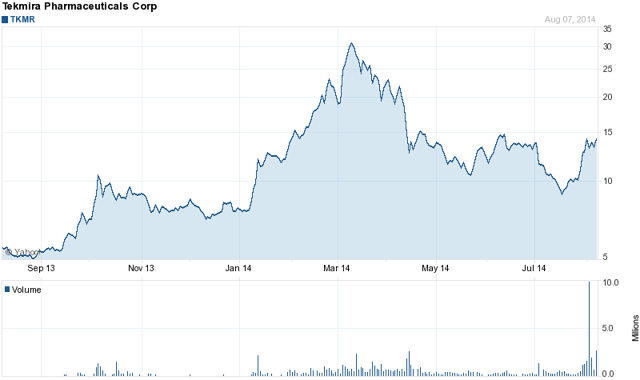 Source: Yahoo Finance
Mobile Gaming
We have been Zynga (NASDAQ:ZNGA) bears for some time now, and have not even looked at the stock for a trade since when Facebook (NASDAQ:FB) was holding its IPO. That was a disaster, but so too was Zynga's online gambling foray which was supposed to transform the company into a cash generating machine. That of course never materialized and is part of the reason why investors have shied away from this name since mid March.
While this quarter was pretty disappointing, there could be light at the end of the tunnel as Zynga has some decent titles in the pipeline which could boost the company's operating results in future quarters. The big titles which have been pushed back have some nice tie-ins and could result in new blockbuster franchises, but the company wants to make sure that those games do not have any wrinkles prior to launch. We are not bullish of this name right now, but we are no longer bearish after today.
Multi-Level Selling
The multi-level marketing companies, namely Herbalife (NYSE:HLF) and NuSkin (NYSE:NUS), have been very volatile over the last year. While each of these companies has their own issues, the fact of the matter is that regulatory issues are plaguing both and front and center when it comes to topics which worry investors.
There are multiple steps on these stock charts and most of them have been to the downside lately, especially with NuSkin.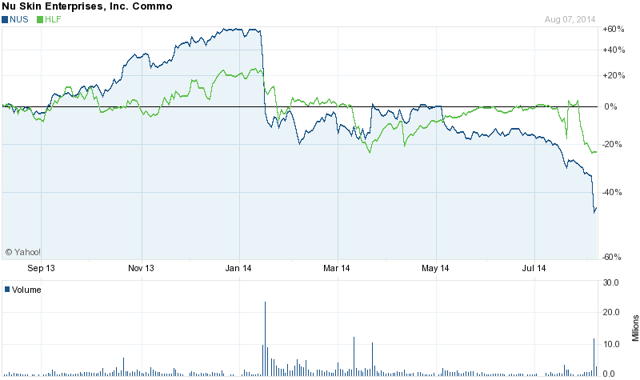 Source: Yahoo Finance
Ackman is like a hangnail for Herbalife shareholders because everyone knows he is there with a huge short position but he keeps holding presentations and issuing press releases which have a tendency to pull shares down. He is present and even with the huge rally over the past year has been able to maintain his large short position.
The regulatory issues that NuSkin saw raised in regards to its China business set off concerns among investors and since then the shares have been poor performers. With all of the issues facing the industry, coupled with recent earnings weakness, we find it hard to get excited about these names. Yes there is the chance that the shorts get squeezed again and force shares higher, but sitting back and waiting for a market event such as that is hardly a winning strategy. Right now these are "tradable" stocks, not investable ones.
Disclosure: The author has no positions in any stocks mentioned, and no plans to initiate any positions within the next 72 hours. The author wrote this article themselves, and it expresses their own opinions. The author is not receiving compensation for it (other than from Seeking Alpha). The author has no business relationship with any company whose stock is mentioned in this article.