The market has moved into "risk-off" mode over the last six weeks. High-beta areas like small cap stocks have significantly underperformed the market, as investors are engaging in "flight to safety" behavior, which can be seen by the action in 10-year treasury yields, which are pushing 14-month lows.
The energy sector has been under pressure and has given up some 5% of its market value over the past money, underperforming the S&P 500 by about two percent. E&P plays have been harder, as both oil & natural gas prices have staged pullbacks over the past 30 days.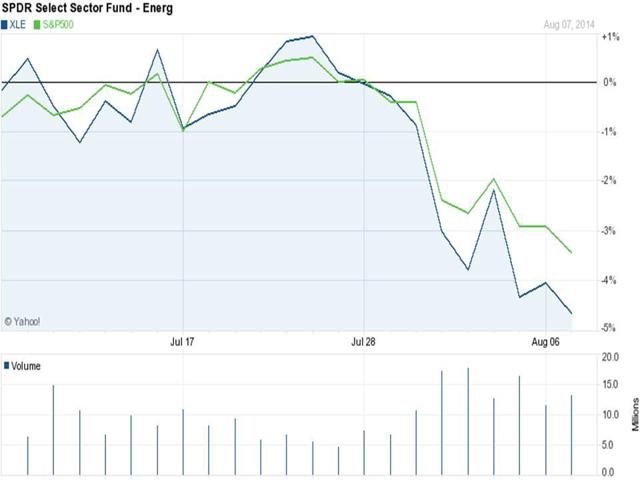 I think this pullback is offering some solid entry points for longer-term investors. I had added to my long exposure by initiating just out-of-the-money bull put spreads on a couple of E&P plays (highlighted below) that have pulled pack nicely recently. The recent volatility in the market has boosted option premiums, and I find this strategy is a good way to pick up a nice income stream or lower entry points on stocks I already like at current levels.
I am back in with Oasis Petroleum (NYSE:OAS) after taking some nice profits earlier in the year on this mid-cap Bakken producer. The stock has declined some 20% recently from highs near $58 a share. At just over $46 a share now, it is significant below the $64 a share median price target the 30 analysts that currently cover the company have on the stock. Global Hunter recently upgraded the stock to a "Buy".
It is also a cheap long-term entry point, given Oasis's considerable production growth. Revenues are tracking to a 35% year-over-year increase in 2014. Analysts believe another ~25% gain is in the cards for 2015. The stock has a five-year projected PEG of under 1 (.81), and is priced at less than 12 times next year's consensus earnings, a considerable discount to the overall market multiple.
Finally, if a major or mid-major energy concern is looking to make a big splash in this fast-growing energy-producing area of the country, they should have Oasis high on its list, as the company sports an enterprise of approximately $7 billion.
Devon Energy (NYSE:DVN) was my favorite mid-major to begin 2014, as it continues to transform itself into more of a pure-play North America-focused exploration and production concern. The company is seeing big production growth from its properties in the Permian and Eagle Ford shale regions. Unfortunately, the shares were "called" from me earlier in the year as the stock hit $80 towards the back-end of the second quarter.
With its recent 10% decline from those highs, I have initiated just out-of-the-money bull put spreads on this favorite name. Earnings are tracking towards a ~35% year-over-year gain in 2014, and are projected to grow another 10% to 15% in 2015. With the recent decline, the shares go for a little over 11 times next year's projected earnings and the stock is quite a bit under the $89 a share median price target the 27 analysts that cover the company currently have on Devon.
I think the market could continue to be "challenged" for a few months while some recent geopolitical events play out and the market adjusts to the end of the Federal Reserve's last easing program ending in October. I think slowly gaining long exposure via bull put spreads on some of these attractive E&P plays that have declined in the downturn is a good strategy here. Purely equity investors should consider accumulating these two attractive energy concerns in small increments on every dip in an increasingly volatile market.
Disclosure: The author is long DVN, OAS. The author wrote this article themselves, and it expresses their own opinions. The author is not receiving compensation for it (other than from Seeking Alpha). The author has no business relationship with any company whose stock is mentioned in this article.