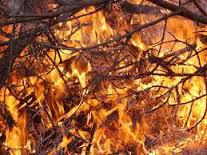 Picture: Kindling burning. Source: timberkitsets.co.nz
I happen to be a big fan of RetailMeNot, Inc. (NASDAQ:SALE). The digital coupon marketplace which connects brands with consumers in search of discount prices has personally saved me thousands of dollars. RetailMeNot actually found me based on prior purchases I had made. I first thought it was some kind of spam site, but I gave the coupons a chance and have been a religious customer ever since. Heading into its Q2 earnings, I thought the stock was overvalued and could potentially sell off. I took a modest short position, just in case. The day before the earnings release, I read an article about Goldman Sachs' (NYSE:GS) top 25 small-cap buys, giving the stock a price target of $44 per share - that only emboldened my short play. After Goldman raised the price target for Twitter, Inc. (NYSE:TWTR) to $63 post-earnings (33x run-rate revenue), its valuations for momentum stocks were starting to appear a bit frothy to me.
After the earnings release on Monday, the stock fell nearly 20%. The skinny was that [i] Q2 revenue of $59.5 million was just shy of the $60 million the Street was expecting, [ii] earnings of $4.3 million were down 16% year-over-year and [iii] earnings per share ("eps") of $0.08 was well short of the $0.17 per share expected. Later on that night I came across a Barron's article which stated Goldman was reporting that the company's non-GAAP eps of $0.18 actually beat the $0.17 eps estimate by a penny. My first thought was, "Why is Goldman still pumping this stock?" Internet chatter implied that the market was comparing GAAP results to non-GAAP expectations and that the price drop would reverse itself the next day. Below is the company's five day stock chart:
Click to enlarge
The stock began Monday at $25.30 and closed Tuesday at $18.15 (down 28%) in reaction to Q2 earnings. It ended Thursday at $17.15, down 32% since the earnings release ... so much for a reversal.
The Folly Of GAAP And Non-GAAP Reporting
The next day on the article, RetailMeNot Is A Firesale, I tried to explain how the $0.17 eps expectations and the $0.08 eps results were driving the market decline. I received blow back from one commenter immediately:
Commenter 1: The opening summary compares the actual GAAP earnings to the non-GAAP estimate. That would be Apples/Oranges. Was that intentional given the author's short position?

Shock Exchange: No. The estimates are usually posted on Yahoo! but were taken down last night. I got the estimates from the link I provided from thestreet.com ... Apparently, that was the rub last night. Some analysts felt that compared to the non-GAAP numbers, RetailMeNot's Q2 didn't look so bad. Some also thought the stock would rebound this morning. However, that is not the case.

Commenter 1: And you need to "pick one" also. The silly part is you comparing an apple to an orange. It is misinformation and you should now be able to recognize it and correct it.

Shock Exchange: thestreet.com and the entire market are reacting to it as we speak. The stock sold off based on these numbers last night. I understand Goldman was running around trying to tell people to focus on something called "non-GAAP" numbers. If you think someone is actually going to buy into something called "non-GAAP" at this point, then you should go long. You could make a lot of money. I'll stay short though and continue to collect my "silly profits."
Wednesday on the article, Avoid RetailMeNot Until It Weans Itself Off Google Or Finds A Proven Business Model, another commenter attributed the stock's fall to "misinformation" about eps results:
Commenter 2: I read your article referenced above and found no discussion or mention that the media or anyone was reporting inaccurate earnings. The moment the company released their financial report the share price fell to $19 even before anyone could read the report. The abandon ship bell was sounded across the market stating that the company had missed earnings ("EPS") consensus. Moreover, no one bothered to correct their misinformation, leading to conflicting and confusing interpretations.
I tried to get the commenter off the "misinformation angle" and to focus on the company's fundamentals, like revenue and earnings growth. I never received a reply back:
Shock Exchange: You keep mentioning that the stock has not recovered due to misinformation. What do you think the company is worth and why?
The confusion still remains as a recent article compares the $0.08 results to the $0.17 eps expectations. I first came across this new (new to me at least) process of reporting GAAP and non-GAAP numbers on the earnings call for Micron Technology (NASDAQ:MU). I thought it was pure folly. I figured that, "These two reporting metrics are dangerous. It is confusing and one day somebody is going to get caught up in their shorts over this." Well that day came to pass during RetailMeNot's earnings release. However, that is not the real reason the stock plummeted and has yet to recover.
Real Reason For RetailMeNot's Share Price Decline
Over-Reliance On Google Search
Prior to the earnings release there were questions over RetailMeNot's ability to generate web traffic, and whether its revenue would decline because of it. A large part of RetailMeNot's business model revolves around generating web traffic via valued placement within Google search engines (NASDAQ:GOOG), (NASDAQ:GOOGL). Such "organic search" generates over 60% of the company's web traffic. With the launch of Panda 4.0 Google changed its algorithms to reduce spam and attract leads to higher quality sites. The company's page rankings and web traffic dropped after that. An article by Sramana Mitra, a Seeking Alpha contributor, explained this issue extremely well:
Within two days of the launch of the update, reports revealed that RetailMeNot lost 30% of their traffic. Stifel's analyst Jordan Rohan says that the update has led to RetailMeNot seeing a 10% decline in overall traffic. RetailMeNot is not significantly worried about this change and believes that the numbers for the loss of traffic are overstated. Google needs to keep changing their search logic to continue to deliver strong search performance, and RetailMeNot would just need to update their site to make sure it is able to meet Google's algorithm change requirement.
On the earnings conference call, management admitted that [i] organic search rankings were indeed impacted mid-quarter, [ii] the company has only seen a partial recovery in organic search ranking and [iii] the company is not back to the growth levels it was seeing in Q1 2014. In the following video, CNBC's Jim Cramer also explained how RetailMeNot was negatively affected by Panda 4.0 and was trying to play "catch up" with the change in Google search algorithms.
Financial Results Unbecoming Of A Growth Company
The following chart illustrates the company's historical financial results: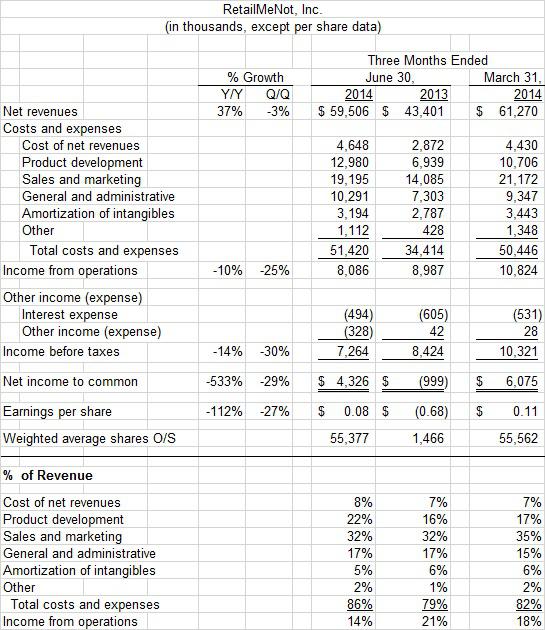 Revenue was up 37% annually and flat sequentially.
Net income of $4.3 million was down 16%, compared to the $5.1 million achieved in Q2 2013; the $1.0 million net loss to common shareholders for Q2 2013 was net of $6.1 million preferred dividends. It was also down 29% versus Q1 2014 results.
Operating expenses as a percentage of revenue were 86%, 79% and 82% for Q2 2014, Q1 2013 and Q1 2014, respectively. While revenue growth was flat, operating expenses ticked up.
These financial results are unbecoming of a growth stock and do not justify the $1.4 billion market capitalization attributed to the company going into earnings.
Question Marks Over RetailMeNot's Change In Strategy
As it attempts to wean itself off of Google search algorithms, RetailMeNot's strategy is to diversify more to mobile, email and direct revenue sources. Its core competency lies in generating web traffic through organic search, which coincidentally, has high conversion rates and strong monetization. On my previous article I questioned management's competency in mobile, email or direct and the costs of changing the strategy:
RetailMeNot will have to spend upfront in marketing and product development costs, with the hope that web traffic and monetization will come. This sounds like more of a lag effect to me - "Build it this quarter and they may come next quarter" - which is not good for quarterly financial results.
Lastly, the company's cost of revenue and product development costs were a combined 30% of revenue, up from the 23% - 24% incurred in previous quarters. I would expect this trend to continue going forward. RetailMeNot currently trades at $17 per share and has a market capitalization of $922 million. This equates to about 3.8x run-rate revenue of $240 million (Q1 2014 + Q2 2014 annualized). Given the company's flat revenue and potentially lower operating margins, I think the stock has further room to fall.
Conclusion
Understanding a company's earnings and appropriate valuation is hard enough already. The goal of analysts should be to take complicated information and make it more clear, not obfuscate it further. That said, Non-GAAP and GAAP results versus expectations can obfuscate things and cause confusion for the market. RetailMeNot's Q2 2014 earnings release is an example of that. However, the company's flat revenue, declining earnings and unproven business strategy are the reasons the stock has turned into kindling.
Disclosure: The author is short SALE. The author wrote this article themselves, and it expresses their own opinions. The author is not receiving compensation for it (other than from Seeking Alpha). The author has no business relationship with any company whose stock is mentioned in this article.