The November employment report dealt a catastrophic blow to nascent optimism about a recovery in the job market. In the twelve months ending in November, the unemployment rate fell by just 0.2 percentage points, from 10.0% to 9.8%. When accounting for discouraged and underemployed workers, the unemployment rate is 17.0%, again down only 0.2% from November 2009. Estimates of the empirical relationship between output and employment suggests that cumulative annualized GDP growth of 3.4% would be required over the next two years to take the unemployment rate below 8%. For the unemployment rate to hit 6.5% – the rate on inauguration day 2009 – the economy would have to grow by nearly 5% annually over the next two years. Given current forecasts, it is a virtual certainty that unemployment will remain above one or both of these politically sensitive levels in November 2012.
The lack of employment growth is startling given corporate profits growth. Year-over-year, the net income of companies in the S&P 500 grew by 23.8%, excluding financials. Rather than putting this money to work in the form of employment growth or investment spending, companies have instead build up massive cash reserves. Moody's estimates large corporations have $1 trillion of excess cash on balance sheet. Data from the Fed show that U.S. nonfinancial businesses hold over $2.4 trillion in cash in aggregate (cash and cash equivalents in B. 102 and B. 103). This sort of cash hoarding is unprecedented, especially considering that nonfinancial businesses do not need the cash to reduce debt levels. Corporate leverage is running at its 35-year average (see market-based debt-to-equities in B. 102).
The argument that corporations won't hire or invest due to a lack of household demand is specious. Causality seems to run in the opposite direction. Household spending has held up remarkably well given the employment situation. Prior to the employment report, confidence of a turnaround was high due to the 6% rise in retail sales – the fastest growth since the business cycle peak in 2007. Personal consumption expenditures contributed 80% of the real growth in the third quarter of 2010 (2% of the overall 2.5% growth rate) and is the only component of real GDP to have returned to its previous peak (aside from government spending). It seems consumption and final demand have surprised at every turn since the summer.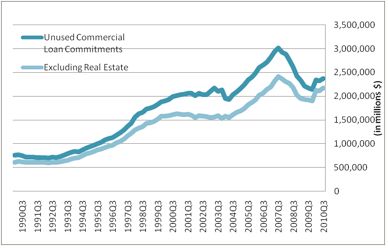 Another argument forwarded by some is that corporations are hoarding cash because they can no longer secure emergency credit facilities from banks. In the past, businesses would rely on revolving lines of credit and loan commitments from banks for emergency liquidity. With these lines of credit now less available and more expensive, businesses have had to rely instead on larger cash buffers to manage liquidity risk. Recent data from the FDIC provide some support for this thesis. Total outstanding commercial loan commitments have fallen by $636 billion since the third quarter of 2007. However, once stripping out unused credit facilities for commercial real estate projects, aggregate unused loan commitments to commercial borrowers have declined by just $238 billion since 2007. This explains less than half of the increase in cash balances.
If the problem is not inadequate household spending or a reduction in liquidity facilities, why are businesses holding cash instead of hiring or making new investments? The best explanation is that the uncertainty created by current fiscal and regulatory policies has sapped business confidence. The current budget deficit of 9% of GDP is the second largest in peacetime history next to the 10% deficit recorded in 2009. While a significant portion of that deficit is cyclical, the structural component could be as much as 6% of GDP. In current dollars, this equates to $885 billion of required deficit reduction. How much increased taxation will be required to close this deficit? Will taxes on capital income – corporate income, capital gains, dividends, and noncorporate business income taxed at the individual level – be raised? What will be the impact on consumption and investment?
To appreciate how uncertainty about future tax policy reduces investment, GDP, and employment today, consider two examples: (1) a small business with an 8% cost of capital whose income flows through to its owners and is taxed at the individual level; and (2) a corporation with a 6% cost of capital that distributes all of its earnings to shareholders in the form of dividends. As rational agents, these businesses only make investments when the expected after-tax return on the investment exceeds the business' cost of capital (the opportunity cost of allocating discretionary capital to fund a risky project). Under the President's proposal, the top tax rates on individual income would rise from 37.9% (including Medicare surtax) to 43.4%. At the same time, if current policy is not extended, the top tax rate on corporate income distributed as dividends would rise from 44.75% to 62.2% (income is first taxed at the 35% corporate rate and then again at the dividend tax rate when distributed to shareholders).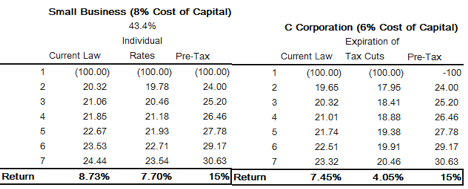 Imagine an investment that costs $100 today but offers expected cash flows over 7 years that amount to a 15% annualized pre-tax return. Under current law, the after-tax return on the small business investment would be 8.73% (after accounting for annual deductions using straight-line depreciation), which would exceed the firm's 8% cost-of-capital. If the firm were confident taxes would stay at the current level, the investment would be made, GDP would increase by $100 and the firm would hire whatever labor is necessary to complement the expansion in productive capacity. But if the effective tax rate were 43.4%, the after-tax return would fall to 7.7%, which would be short of the required 8% to move forward. If the business believes tax rates are more likely to increase than remain the same, the investment is not made, GDP is $100 smaller today than it otherwise would have been, and additional workers are not hired.
Similarly, the shareholders in a corporation with the same investment opportunity would earn 7.45% under current tax rates, but only 4.05% if dividends are taxed at the new ordinary income rate of 43.4% (the higher tax rate plus the new 3.8% Medicare tax surcharge). As before, if the managers believe the tax rates are more likely than not to increase, the expected returns fall short of what's required, the investment is not made, the economy remains $100 smaller, and no new workers are hired. It is important to note that economic uncertainty increases effective discount rates, which raises required returns and the cost of capital. Thus, even if economic uncertainty is a significant driver of subdued investment, adding policy uncertainty in the form of higher potential taxes can only make matters worse by reducing expected after-tax returns.
These examples examine the impact of only the fiscal policy uncertainty. To this one must add the more difficult to quantify impact of the 240 rulemakings needed to implement the Dodd-Frank legislation and incremental employment costs added by the new health care bill. Banks' uncertainty about future financing costs, capital requirements, liquidity rules, and permissible investments all get capitalized into the rates on loans charged to businesses. Similarly, the potential for higher costs attributable to the health care bill means the marginal product of new employment – the increase in revenue attributable to an additional hire – must be higher than would otherwise be necessary to justify adding to the payroll.
The narrative embraced by progressive commentators like Paul Krugman is that the labor market is weak because the initial stimulus was too small and Republican obstruction or political timidity prevented President Obama from seeking subsequent legislation to increase government outlays and stimulate the economy. This argument is premised on the notion that the government must spend when households and businesses cannot or will not. The problem with this line of reasoning is that it fails to appreciate that the rise in government spending and corresponding burden imposed on the private sector helps to explain why businesses will not spend or invest. Increasing government outlays above the record level of 25% of GDP recorded in 2009 would have resulted in countervailing declines in business spending as managers contemplated even larger required future tax increases.
Nonfinancial businesses are profitable, cash-rich, and well capitalized. The conditions are in place for an economic expansion led by business investment and exports. All that's required is for government to get out of the way by clarifying that taxes will not go up and that deficit reduction will be accomplished through spending reductions.