Qiagen's (NASDAQ:QGEN) second-quarter 2014 adjusted EPS came in at 14 cents, a huge improvement from the year-ago loss of 22 cents, and adjusted net sales came in at $331.2 million, up 4% at CER. However, investors should note that the second-quarter 2013 loss was an unusual event and the year-over-year improvement is absolutely insignificant. The fact of the matter is that Qiagen's EPS is still hovering around the five-year trend line. In my original article, I said that unless there is a noticeable reversal in this trend, I wouldn't recommend buying the stock, and I continue to hold my opinion after the second-quarter earnings.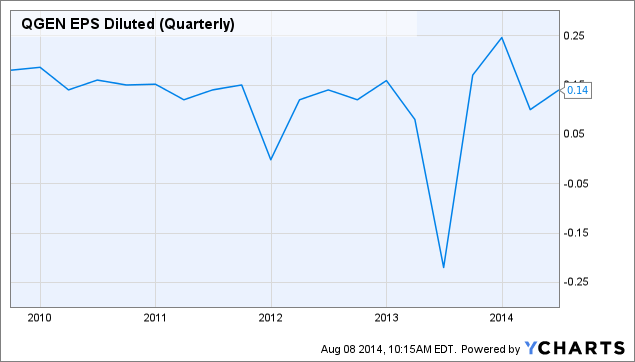 QGEN EPS Diluted (Quarterly) data by YCharts
Qiagen's H1 2014 adjusted net sales rose approximately 8% at CER excluding U.S. HPV tests, which as I noted in my original article, has been slowing with a contracting U.S. HPV market with lower ASP. Qiagen's CEO Peer M. Schatz said, "Qiagen achieved solid increases in adjusted net sales and earnings in the second quarter of 2014 while moving ahead to accelerate innovation and growth. We are reaffirming full-year expectations set after having delivered on our targets for the first half of 2014." However, I'm not prepared to buy the claim of Qiagen's CEO in the absence of visible earnings growth.
However, a few days ago Qiagen signed up a deal with AstraZeneca (NYSE:AZN) to develop a diagnostic test using simple blood samples to identify patients who will benefit from AstraZeneca's lung cancer pill Iressa, which will be built on Qiagen's FDA-approved therascreen EGFR test and is planned to run on Rotor-Gene Q, member of the QIAsymphony family of automated instruments. I feel the deal could be slightly positive from investors' point of view, since Qiagen's QIAsymphony revenue could increase as a result of the deal. However, I would like to see the incremental revenue is converted into profit before recommending investing in the company. For more insight, read my original analysis.
Disclosure: The author has no positions in any stocks mentioned, and no plans to initiate any positions within the next 72 hours. The author wrote this article themselves, and it expresses their own opinions. The author is not receiving compensation for it (other than from Seeking Alpha). The author has no business relationship with any company whose stock is mentioned in this article.