DryShips (NASDAQ:DRYS) is not really a favorite of investors. And let me tell you right off the bat: I think that this is a good thing. If value was apparent to every investor doing half-hearted research, the possibility of earning alpha would seriously be diminished.
When it comes to contrarian investing I often look at companies that are disliked by many investors -- preferably due to some misconceptions that make investors run for the hills.
And DryShips clearly is such an investment. The dry bulk shipping company has had a hard time over the last couple of years and suffered from an environment characterized by overcapacity, a collapse in international trade after the financial crisis hit in 2008 and declining shipping rates.
Low shipping rates exist for some time and signal to the market, that the dry bulk shipping sector is far from a recovery. Investors also predominantly concentrate on the Baltic Dry Index, which is a proxy for shipping rates and can be understood as a sentiment barometer for the dry bulk shipping industry.
The Baltic Dry Index currently quotes at 759 and appears to have just left oversold territory behind. For comparison purposes, the Baltic Dry Index was quoting at 2,000 and above in 2009 when investors overcame their financial crisis hangover.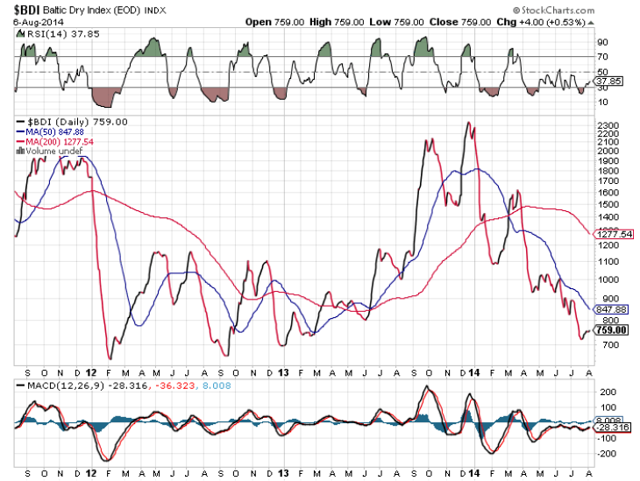 (Source: StockCharts.com)
The problem with DryShips is probably, that investors largely focus on depressed shipping rates as indicated by the Baltic Dry Index, although the company also has exposure to the tanker business as well as a highly attractive equity stake in Ocean Rig UDW Inc. (NASDAQ:ORIG).
I have previously pointed out, that the market seriously errs in valuing DryShips: DryShips' nearly 60% stake in Ocean Rig alone is worth around $1.35 billion which is larger than DryShips' entire market capitalization of $1.24 billion. Meaning: Investors can still buy DryShips and literally get the dry bulk shipping and tanker business for free. A massive margin of safety while investors retain all the upside from a turnaround in the dry bulk segment.
Turnaround in the dry bulk business
While many investors are put off by DryShips' exposure to the dry bulk business and its exposure to spot rates, I think dry bulk is an attractive business segment, that ultimately has the potential to justify even higher valuations.
Just because the dry bulk business is not doing well now does not mean that this is always going to be the case. In fact, I believe shipping volumes of coal, iron ore and other dry bulk goods can reasonably increase as China finds its way back to higher growth.
The fundamentals of the dry bulk business certainly will only look better in the future with increasing seaborne trade and lower vessel supply: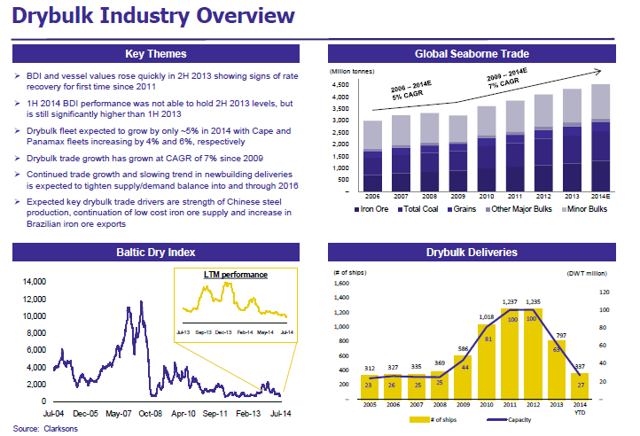 (Source: DryShips' Second Quarter Earnings Presentation)
China will bounce back
The Chinese economy is still in the process of rectifying its real estate excesses and exhibits growth rates in the neighborhood of 7%. This is quite a bit below the 10%-11% that we saw a while ago, but economies, just like companies, go through adjustment processes and should be able to return to higher growth rates once the economy has been reorganized. When will this happen?
Good question, but I am not here to make predictions as to when markets or stocks rebound. The thesis above has already highlighted, that investors can snatch up DryShips as a massive discount to intrinsic value as the market practically assigns a value of '0' to DryShips' tanker and dry bulk segments. Investors can understand a rebounding dry bulk business as an 'added benefit' to an investment in DryShips.
Chart situation
DryShips' shares have not had a good run over the last couple of weeks. Shares have contracted quite a bit: Over the last month alone they have lost about 9% of value, but have started to recover after the company released very encouraging second quarter results on August 6, 2014.
Revenues and EBITDA increased strongly year-over-year and beat analyst expectations handsomely.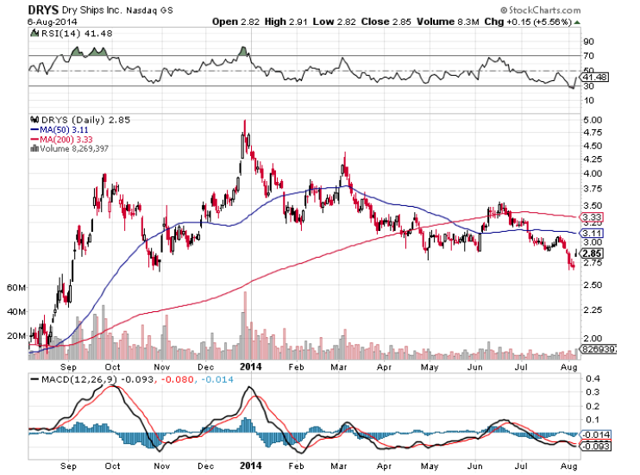 Conclusion
Just assume the arithmetic and you'll see why DryShips is a promising bargain: DryShips' 60% Ocean Rig stake is worth more than the entire market capitalization of DryShips, implying that investors can still get DryShips' tanker and dry bulk business for nothing.
In addition, DryShips' shares have undeservedly fallen from around $3.50 in June to $2.70 just before the company released solid second quarter earnings, which highlighted strong revenue and EBITDA momentum. Strong Buy.
Disclosure: The author has no positions in any stocks mentioned, and no plans to initiate any positions within the next 72 hours. The author wrote this article themselves, and it expresses their own opinions. The author is not receiving compensation for it (other than from Seeking Alpha). The author has no business relationship with any company whose stock is mentioned in this article.