By Todd Shriber & Tom Lydon
China and India are Asia's largest and third-largest economies, respectively. As such, the pair often occupy important positions in a host of emerging markets exchange traded funds.
However, only the First Trust ISE Chindia Index Fund (NYSEARCA:FNI) is devoted to just Chinese and Indian stocks. It is a combination that has, for the most part, served FNI well this year.
FNI, which debuted seven years ago, tracks the ISE Chindia Index. That index, and therefore the ETF, is not the typical emerging markets equity index. The top 25 Chinese and Indian stocks based on liquidity requirements and market value are selected, with the top three ranked stocks in each country weighted at 7% each, according to First Trust.
The next three stocks from each country weighted at 4% each, followed by the next group of three from each nation weighted at 2% apiece. That does not mean China and India are equally represented in the ETF. FNI holds 50 stocks, of which roughly 80% are Chinese stocks.
The bulk of FNI's India exposure is found at the upper end of the fund, with five of the ETF's top-10 and seven of its top-12 holdings being Indian stocks. That structure restrained FNI's responsiveness to the rally election-induced rally in India shares.
Although the ETF surged about 20% from early February through early March, FNI was held back by the sluggishness in Chinese stocks and languished for much of the second quarter.
However, Chinese stocks are now taking their turn leading emerging markets ETFs higher, explaining why FNI is up 9.3% over the past 90 days. Nearly 69% of the ETF's combined weight is allocated to technology and consumer discretionary names, giving FNI ample exposure to high-flying Chinese Internet stocks. Baidu (NASDAQ:BIDU), Qihoo 360 (NYSE:QIHU) and the legendary Vipshop Holdings (NYSE:VIP) combine for 19.6% of FNI's weight.
FNI has some drawbacks. For example, the ETF's index methodology allows it to hold luxury handbag maker Michael Kors (NYSE:KORS), because the company incorporates in Hong Kong. That stock has plunged 16.5% over the past 90 days amid concerns about prolific discounting.
Analysts believe margins at Michael Kors are under pressure, after the company forecast fiscal second-quarter EPS of 85-87 cents on sales of $950-$960 million. Analysts are expecting 89 cents on sales of $959.5 million.
Michael Kors is FNI's sixth-largest holding at a weight of 5.4%. Due to its heavy exposure to Chinese internet stocks, FNI is also pricey compared to traditional China ETFs, which are currently deeply discounted compared to the broader emerging markets universe.
FNI sports a P/E of 19.6. By comparison, stocks in Hong Kong trade at 12 times earnings, while China's A-shares go for about 10 times earnings.
First Trust ISE Chindia Index Fund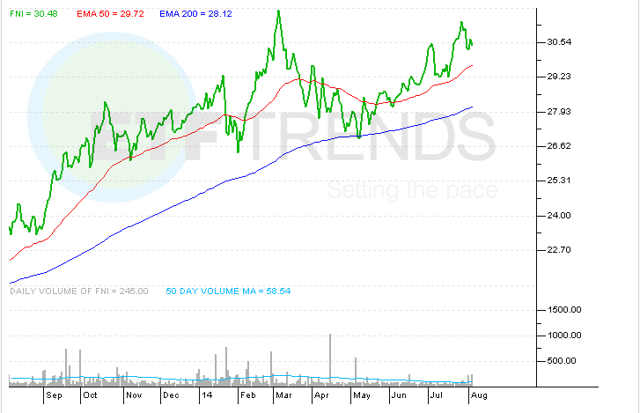 Disclosure: The author has no positions in any stocks mentioned, and no plans to initiate any positions within the next 72 hours. The author wrote this article themselves, and it expresses their own opinions. The author is not receiving compensation for it. The author has no business relationship with any company whose stock is mentioned in this article.