Sonoco Products Co. (NYSE:SON) has provided an update on its 2010 and 2011 EPS guidance, along with an exposition of key strategic initiatives for the future and share buyback intention. Fourth quarter EPS is now expected to be at the lower end of its previously announced range of 57 cents to 61 cents while fiscal 2010 guidance remains in a band of $2.32 to $2.36. Sonoco initiated fiscal 2011 EPS forecast in a range of $2.52 to $2.62.
Fourth Quarter and Fiscal 2010 Preview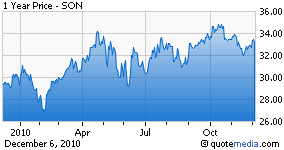 Even though Sonoco maintained its fourth quarter EPS guidance range of 57 cents to 61 cents, given the 4-cent per share impact from higher paper costs and fire related loss at its molded wood plug operation, the company expects the fourth quarter EPS to be skewed toward the lower end of the guidance.
For fiscal 2010, the guidance remains at $2.32 to $2.36. This excludes an expected pre-tax charge of $49 million related to Sonoco's recently completed debt tender. In November, Sonoco paid $293 million for the tender to retire bonds of a total face value of $244 million.
Sonoco estimates sales from its new products (those commercialized for two years or less) to be near $175 million in 2010. Over the past 5 years, Sonoco's sales from new products have generated revenues of more than $100 million per year. Excluding acquisitions, the Sonoco Plastics business is expected to record organic growth of about $65 million in 2010.
Share Repurchase
Sonoco plans to repurchase 2 million shares of its common stock by the end of the first quarter of 2011. The shares will be repurchased under a previous 5 million share repurchase program authorized by the board way back in April 2006.
Under this authorization, the company had last repurchased shares in the third quarter of 2007 and there had been a lull in buyback ever since. As of December 1, 2010, Sonoco had 101.1 million of shares outstanding. Sonoco had cash and cash equivalents of $168.7 million as of September 26, 2010.
Sonoco has however, rewarded shareholders through dividends. In 2010 the company paid out $110 million in the form of dividends. Sonoco has paid quarterly dividends since 1925 and increased dividends for 27 consecutive years while currently providing a payout that is more than 40% higher than the S&P 500.
Looking into 2011
For fiscal 2011, Sonoco expects EPS to lie in the range of $2.52 to $2.62. The mid-point of the range suggests a growth of 10% from the mid point of the year-ago estimated range. Sonoco expects a negative impact from foreign exchange and a higher income tax of 5 cents per share and 2 cents per share, respectively, to be somewhat offset by a positive 2 cents per share boost from the share repurchase.
Further, increased profitability from operations is expected to add 25 cents to 35 cents per share in 2011. Sonoco has factored in a 3 -cent per share increase in operating profits from Sonoco's acquisition of Associated Packaging Technologies in 2010.
Productivity improvements are expected to more than offset inflation, thereby adding 6 cents per share as well as positive volume growth. The guidance, however, assumes no significant change in year-over-year pension expense, reflecting a voluntary cash contribution of about $85 million that is expected to be made in late 2010 or early 2011.
Sonoco plans to commercialize several breakthrough products in 2011. Rigid plastic containers and several new private-label products are seen as near-term drivers for growth. Including the APT acquisition, net sales for the plastics business is estimated at $600 million in 2011.
2014: A Sneak Preview
The company remains committed to meet its growth goals of increasing sales to $5.5 billion to $6.0 billion by the end of 2014 and boost operating margin from the current 9.4% to 11%. Sonoco expects organic growth to be accretive to sales by about $300 million; international sales growth to contribute $300 million; new product sales to add about $350 million; and acquisitions to add between $500 million and $1 billion.
Our Take
We believe Sonoco is well positioned to deliver solid growth driven by Associated Packaging's material formulations and rotary thermoforming technology. Moreover, Sonoco's development of multilayer barrier polypropylene food containers is expected to pick up pace following the acquisition.
The main driver behind Sonoco's sales to retail markets is new product introduction. To meet its growth goals, the company expects new product sales to be about $200 million per year. The company has introduced a number of award-winning packaging innovations in the last couple of years. We believe that these products will provide strong long-term sales potential for Sonoco Products.
The company has also implemented various restructuring initiatives to align its manufacturing capacity and fixed cost structure with current market conditions to reap higher profits. However, volatile raw material prices remain a concern. We currently have a Zacks #3 Rank (short-term Hold recommendation) on the stock.
Hartsville, South Carolina-based Sonoco is a global manufacturer of consumer and industrial packaging products. The company has more than 300 operations in 35 countries throughout North and South America, Europe, Australia and Asia. It operates through four reportable segments: Tubes and Cores/Paper, Consumer Packaging, Packaging Services and All Other Sonoco segment.