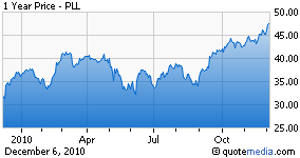 Click to enlargePall Corporation (NYSE:PLL) is slated to report its first quarter fiscal 2011 earnings on December 9, 2010, after market close. The current Zacks Consensus Earnings Estimate for the first quarter is 50 cents per share, representing a year-over-year growth of 25%. Pall surpassed the earnings estimate in the two preceding quarters. However, earnings in the second quarter of fiscal 2010 came in below the estimate following an in-line first quarter. The trailing four-quarter average surprise was 5.95%.
Fourth Quarter Fiscal 2010 Recap
Pall Corporation's fourth quarter 2010 earnings per share from continuing operations were 72 cents, an increase of 26.3% from 57 cents in the fourth quarter of fiscal 2009 and above the Zacks Consensus Estimate of 64 cents.
Total sales for the quarter were $678.6 million, up 4.1% year over year. Foreign currency translation triggered the rise in reported sales by $28.6 million or 5.1% in 4Q10. For fiscal 2010, total sales were $2.4 billion, up 3.1% year over year.
Overall orders during the quarter increased by 19% year over year, driven by increased order from both Life Science and Industrial segments.
Pall Corporation expects FY11 pro forma earnings per share in the range of $2.35 to $2.55, which includes a $0.03 headwind from foreign currency translation. The company expects local currency sales growth in mid-to-high single-digits for Life Sciences and Industrial.
Agreement of Analysts
There have been no change in estimates for Pall over the past week and month.
Magnitude of Estimate Revisions
Estimates for the first quarter of fiscal 2011 have remained static at 50 cents over the last 60 days due to a lack of estimate revisions by the analysts following the stock. Estimates for fiscal 2011 remained unchanged at $2.46 over the last 30 days, but inched up by 1 cent over the last 60 days.
Our Take and Recommendation
Currently, we have a 'Neutral' recommendation on the stock. Moreover, Pall Corporation holds a Zacks #2 Rank, which translates into a short-term 'Buy' rating. Pall is considered to be the largest player in the filtration/separations industry based on its revenue and an approximate 7% market share.
The company enjoys above-average financial returns and reasonable growth prospects as it leverages its highly engineered technology, reliable global distribution, high share in market niches, long and close working histories with customers, few competitors and solid product quality supplemented with technical service.
Pall's Aeropower business derives significant benefit from the emerging markets, particularly in Asia. Key drivers include increasing passenger air miles flown, a ramp-up in US military budgets, new military and commercial aircraft, and demand for new aircraft and mobile construction equipment. In the long run, Pall will likely benefit from several secular trends, such as global infrastructure growth, increasing demand for water filtration systems and continued steady growth in the medical and pharmaceutical markets.
However, changes in product mix and product pricing may impact the company's operating results, particularly with the expansion of the systems business, in which the company experiences significantly longer sales cycles with less predictable revenue and no certainty of future revenue streams from related consumable product offerings and services.
Pall Corporation, based in New York, was incorporated in July 1946. Along with its subsidiaries, Pall Corporation is a leading supplier of filtration, separation and purification technologies.
Disclosure: No position