American Airlines (NASDAQ:AAL) has been seeing increased traffic of late, with the airline industry undoubtedly being an expanding industry. As investors keep a close eye on the airline industry, the question is: Which stock is the best option to invest in among the wide array that the industry has to offer?
The numbers back up expectations that American Airlines will earn more than $6 in 2015. The stock continues to trade at less than seven times analysts' estimates of $6.16 for 2015. Even so, the definition of the term "best" may differ according to investor preferences. While some may be concerned with the short-term benefits associated with a stock, others might want to invest in something long term. Let's take a look at whether or not American Airlines is the best option to invest in, keeping in mind the current situation of the American airline industry.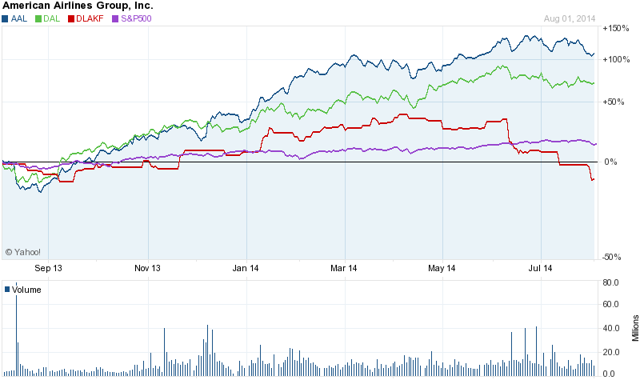 Click to enlarge
It's true that the company had to face a rough patch in its operations after it entered bankruptcy in 2011. However, the new American Airlines -- which was formed via a merger with US Airways -- has been a huge success. A dividend of 10 cents per share has been announced and this is the first cash dividend paid by the company since 1980. The airline's board has also announced that the $0.10/share quarterly payout is part of a capital deployment plan that includes more than $2.8b in debt and aircraft lease prepayments. The one-billion-share repurchase program will be completed by the end of 2015. The news is promising for shareholders, which in turn has led to an increase in the company's allure.
American Airlines will make supporting contributions of $600M to its defined benefit plans this year, above the $120M required contribution. In terms of revenue generation, the company has been doing tremendously well. Total revenue rose 76% to $11.36 billion. On a combined basis, revenue was up 10.2%. Since the merger made this company the world's largest airline in terms of traffic, the trend in increasing traffic generally means that the revenues for the company will continue increasing in the future -- thus making it a highly profitable investment. The company's liquidity as well as its profitability has increased since the merger, thus revealing that this trend will continue and the company will continue performing better. For investors, this is all that matters as increased profitability for the firm can lead to increased profitability for investors.
By comparison, United Airlines (NYSE:UAL) has been reporting only half as much growth as American Airlines. This clearly leaves United Airlines out of the race to be the "best" airline to invest in, keeping in mind the importance that investors attach to the growth of a company. When compared to American Airlines, UAL lacks a strong network control and also fails to reduce inefficiencies in its overall operations -- making it a less profitable airline to invest in.
During the quarter, American Airlines passenger revenue per available seat mile rose 5.90% on a combined basis, while its load factor -- or the lot of seats filled -- fell to 84.3% from 85.3%.There are, however, other airlines that compete with American Airlines in terms of growth. While the RASM growth for both Delta Air Lines (NYSE:DAL) and American Airlines is at 6%, Southwest Airlines (NYSE:LUV) is at 8% in this regard. However, this is where the question of whether Southwest Airlines should be considered as the best option to invest in comes in.
American Airlines has recently been involved in a merger and numerous extra costs have been associated with it. Furthermore, the company has just managed to escape bankruptcy. Given these circumstances, it can be predicted that the company will soon outperform all of its peers because of the additional advantage that it has now in terms of size. Being the largest airline in the world in terms of traffic, it is only a matter of time before it manages to outperform its peers in terms of revenues and profits.
Second-quarter pretax margins were 12.8% vs. 7.4% a year earlier, on a combined basis. In short, it is safe to conclude that American Airlines is the best option to invest in with regard to the airline industry. It has far more potential to grow than any other airline, and with the merger it now has the additional advantage of attracting the customer base of an entire other airline. With the passage of time, its financial position will show significant improvement, and investors who invest in the airline will enjoy the benefits.
Disclosure: The author has no positions in any stocks mentioned, and no plans to initiate any positions within the next 72 hours. The author wrote this article themselves, and it expresses their own opinions. The author is not receiving compensation for it (other than from Seeking Alpha). The author has no business relationship with any company whose stock is mentioned in this article.