DexCom (NASDAQ:DXCM) reported its earnings for the second quarter ended June 30, 2014. The company's total revenue grew to $58.8 million for the second quarter of 2014, an increase of 64% from the same quarter in 2013. However, the company hasn't been profitable yet, and reported a net loss of $6.0 million, or $0.08 per share in the second quarter this year, compared to a net loss of $10.1 million, or $0.14 per share in the second quarter of 2013.
My original bull thesis for DexCom was based on the general expectation that the continuous glucose monitoring market in the United States will grow at an impressive CAGR of around 14.2% during 2010-2015. However, with 2015 knocking at the door, DexCom failed to make profit even in this quarter, for which I feel really upset. When I first recommended DexCom a year ago, it was trading at $22. The stock surged to almost $50 earlier this year before a massive pullback began.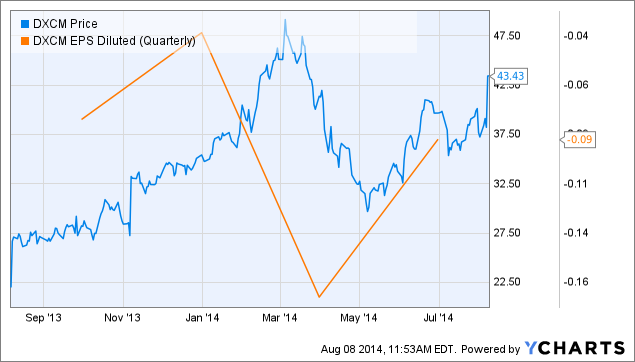 DXCM data by YCharts
According to GlobalData, global type 1 diabetes therapeutics market is forecast to grow at 6.1% annually for the next seven years to reach $4.4 billion by 2017. I believe that DexCom will be able to tap close to 10% of the projected type 1 diabetes therapeutics market. If that really happens, the company will generate approximately $440 million in sales by 2017. At a net margin of 20%, the company will earn $88 million in after-tax profits, which will result in an estimated EPS of $1.20 in 2017. At the current price, DexCom is trading at 36x estimated 2017 EPS. I feel that the stock is fully valued at the current price.
Disclosure: The author has no positions in any stocks mentioned, and no plans to initiate any positions within the next 72 hours. The author wrote this article themselves, and it expresses their own opinions. The author is not receiving compensation for it (other than from Seeking Alpha). The author has no business relationship with any company whose stock is mentioned in this article.