Sales of the anti-obesity pill Belviq from Arena Pharmaceuticals (NASDAQ:ARNA) continue to buck the seasonality of the weight loss sector with a 3.6% week over week gain. While 3.6% may not seem impressive, investors must consider that the second half of the year typically sees sales of weight loss drugs tapering off and actually declining. The 3.6% gain this week is a big step considering that the average gain over the last 8 weeks has been just 1.2%.
The main purpose of tracking scripts is to try to assess the level of revenue that Arena will earn from its share of overall net sales. With the quarterly report having given us some new data, it was once again time to assess adjustments made in the scripts. The 5% adjustment to IMS scripts last quarter resulted in an estimated $4.05 million in revenue for Arena going into the call. Actual revenue was about $3.5 million, thus demonstrating that the 5% adjustment was too strong. The main reason that there was a "disconnect" between estimates and actual numbers boils down to free trial scripts during the second quarter. The free trials increased 200% according to marketing partner Eisai. For the current quarter I am shifting to no adjustment in IMS numbers. As time progresses, the percentage of free trials as a part of total scripts should decrease. With that adjustment made, Belviq sales according to IMS Health (orange line) are still tracking with the $100 million in gross sales line (green line on the chart). I had previously stated that I anticipate that over the next couple of weeks I expect the orange line in the chart to break above the green line. When no longer doing an adjustment to the numbers (because the revenue does not match up), that break may take an additional 2 weeks. I estimate that sales can be between $110 million and $120 million for 2014.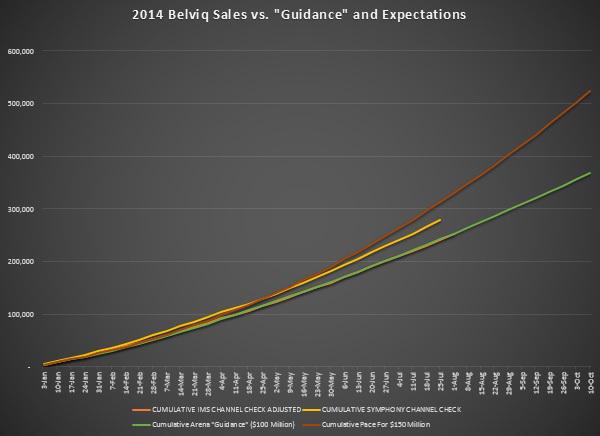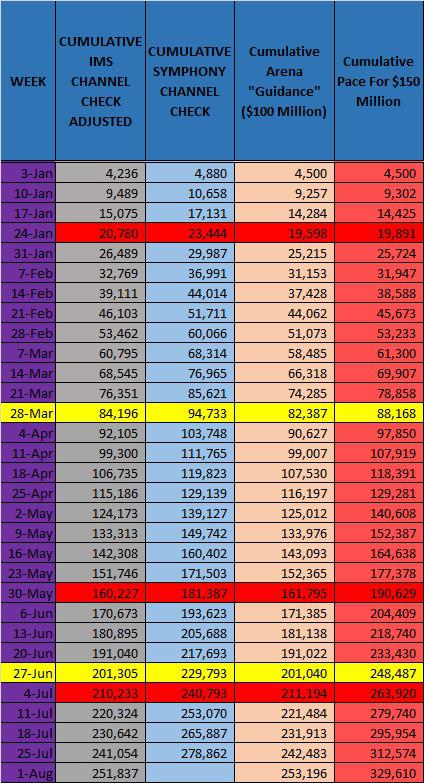 Chart Source - Spencer Osborne
As I have stated, the important metric is trying to assess revenue. With this week's numbers we now have estimated gross sales this year eclipsing $50 million. This happened in the 30th week of the year and is a key number in that Arena's "guidance" pointed to gross sales of $100 million. That means that in the final 22 weeks we will want to see at least $50 million in sales. This is attainable because the current annualized pace is now approaching $112 million. Simply stated, if there was no week over week growth for the remainder of the year, the gross sales for the final 22 weeks would come in at $47 million. Very modest growth can see the final 22 weeks deliver $50 million. Modest growth can bring $55 million, and good growth can bringing $60 million and up. You can see why I anticipate overall 2014 sales to be between $110 and $120 million.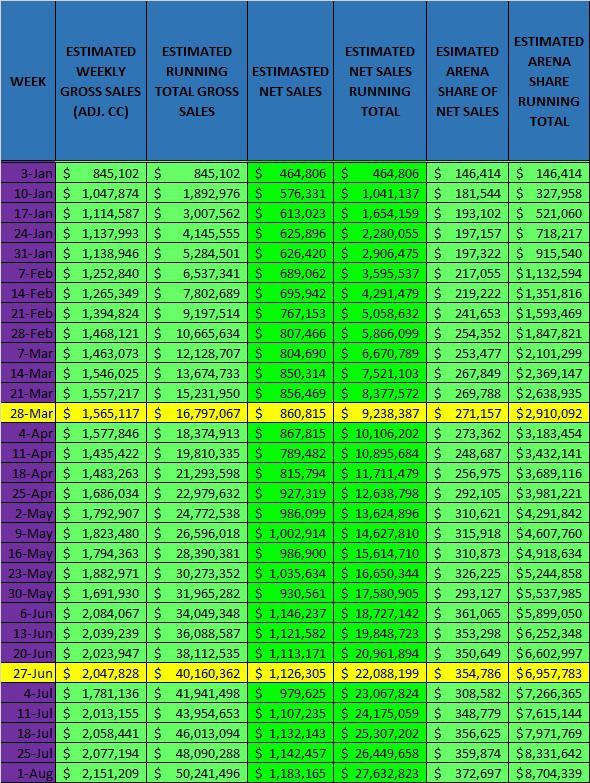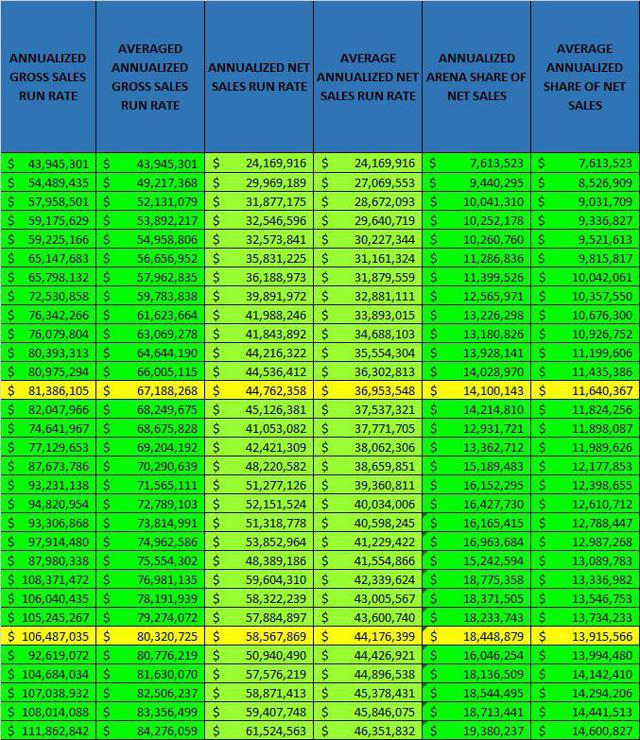 Chart Source - Spencer Osborne
In looking at the quarter over quarter and year over year aspect of sales we can note that despite seasonality, the growth is doing well. Last quarter the growth in scripts was an impressive 43%. A big portion of that growth was free trials initiated by the onset of television ads. The revenue growth was not as strong, but that should be expected. What we want to watch for is whether or not the free trials are converting patients to a paying status. I cover refill data for my readers on a regular basis (typically Wednesdays), but there is a certain subjective nature to it that needs to be understood. As things stand, the most recent week was 32% better than the corresponding week last quarter, and 240% better than the corresponding week from a year ago. The quarter over quarter performance has been dipping a bit from the numbers we saw last quarter, but that should be anticipated. At the moment the overall increase in scripts Q3 vs Q2 is 39%. This number has been decreasing each week in the quarter.
Chart Source - Spencer Osborne
Regarding refills, I am seeing the data remain fairly consistent, which is a positive. It would tend to indicate that the investment in free trials is holding its value. I will say that the numbers are a bit softer than in the past, but not so much that I would raise any caution flags. On the contrary, I would have expected a certain amount of softening in the numbers given the large up-tick in free trials. Watching refills is going to become more and more critical in the weeks ahead. This is particularly true given the desire to see free trials convert to paying patients.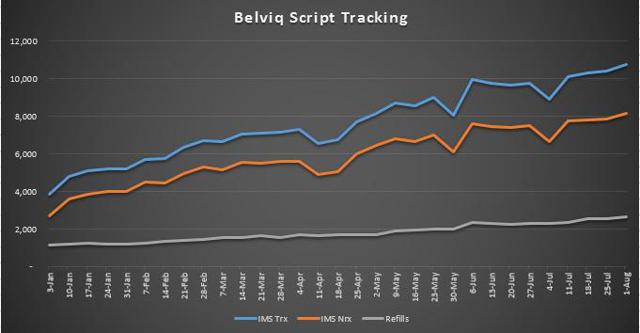 Summary
Arena's stock has had a very challenging couple of months. The fundamental story of this company is looking to revenue from Belviq to help develop and drive the pipeline. Arena sold off a good chunk of its investment in Taigen and has announced that the stock sales continue. The company has about $219 million in cash and cash equivalents, which can stave off a need for raising capital for about a year. The company used $24 million in the most recent quarter and needs to continue research and development spending. In my opinion this company should maintain a minimum balance of $100 million. While sales of Belviq are progressing, they are not yet at a level (or even close) that can sustain the operations of Arena. The fact that Arena is able to buck the seasonality trend is impressive. The company should be able to have IMS Health tabulated script sales surpass competitor Vivus (NASDAQ:VVUS) at some point in the next month. That being said, a new competitor in Orexigen (NASDAQ:OREX) with Contrave could garner approval in the next month as well.
Catalysts in the near term will include surpassing Vivus in IMS scripts, eclipsing what has been a script ceiling at 11,000, and clearly showing a trajectory that gets the 2014 sales comfortably above $100 million. Potential pitfalls include the potential approval and subsequent launch of Contrave with a sales force of 900 reps dedicated to the launch and able to give doctors physical samples, and a holiday week that will likely show negative week over week numbers just 5 weeks from now.
From many standpoints it would appear that Arena is at a bottom. That being said, there is nothing in the next month or so that is on the radar to drive the equity up either. One thing to consider is that this is pharma, so big moves can happen suddenly. Stay Tuned!
Disclosure: The author is long ARNA. The author wrote this article themselves, and it expresses their own opinions. The author is not receiving compensation for it (other than from Seeking Alpha). The author has no business relationship with any company whose stock is mentioned in this article.
Additional disclosure: I have no position in Vivus or Orexigen