With a lot of the big names on the market overbought these days, finding decent value is tricky, let alone a value play that offers a nice dividend yield. Yet after years of struggling with debt and the economic downturn, Ford Motor Company (NYSE:F) has quietly come out the other end offering both.
The company itself will need no introduction, and is one of the most enduring brands in American history. The focus, rather, will be on what Ford looks like in the 21st century, what its recent earnings statements tell us, and what we can expect from them in the future.
Ford and Ford Motor Credit
The majority of Ford's revenue, naturally, comes from the sale of vehicles. That's always been true and it will always be true, and Ford's position in the US market has remained roughly flat, just north of 15% market share, over the past several years.
There's another story on Ford's books though, and that is their wholly-owned subsidiary, Ford Motor Credit Company LLC, which offers financial services. Primarily, of course, that means financing the cars themselves.
Whether traditional retail deals or leases, Ford Motor Credit has done very well for itself, and while the automotive sector itself has only about a 3.8% operating margin as of FY2013, Ford Motor Credit has an impressive 22.1% operating margin. They may only be 5% of the company's revenue, but Ford Motor Credit is about 24% of the company's pre-tax income.
The best news is that while US sales remain flat, the credit segment is growing a bit. They accounted for 36% of all US Ford retail financing in FY2011, 38% by FY2012, and finally 40% in FY2013. It's always nice when your best margin business is also among your fastest growing.
The US car market
Any discussion of the US car market is going to have to tackle the elephant in the room: even as overall economic metrics improve, car sales are not back to pre-recession levels.
Recent economic troubles have had a lasting impact on younger Americans, and they are loathe to look into buying second cars the way previous generations used to. Assuming that parsimony continues, the era of the multi-car household could be over, and the US car market may never fully recover. Unless Ford can increase its market share, and so far they're not having much luck, their US revenues will probably not grow appreciably.
Asia and Africa
It may sound funny when we're talking about a company as traditionally US-centric as Ford, but growth on the automotive sales side of the business is likely going to come from overseas. In this regard, Ford is well-positioned.
Unlike it's relatively flat market share in saturated markets like the US, Canada, and Europe, Ford has managed to grow its marketshare in markets that are themselves growing. They went from a 8.4% share in South Africa in 2011 to 10.3% today, and in China, the largest growth market of all, they started at a paltry 2.7% in 2011, got to 4.1% in 2013, and kept growing to 4.6% as of Q2 of 2014.
China, Africa, and the ASEAN nations are all going to be major growth markets for the worldwide automobile industry for the foreseeable future, and Ford has shown some encouraging early success in increasing their presence there.
Managing the debt
The story of Ford over the last decade-plus has been that of their sizeable debt, and ongoing efforts to get it under control. In this regard again, we have good news.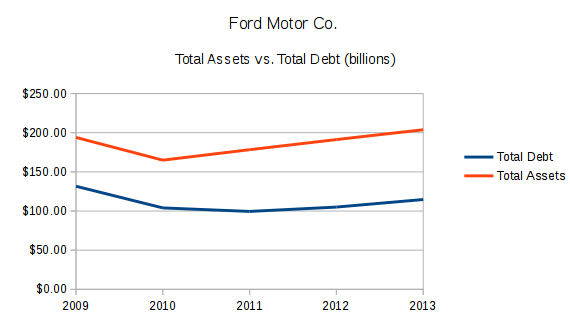 Consistently strong earnings, including $7.1 billion in FY2013 and an estimate of over $5 billion in FY2014 have gotten the company's debt back down to manageable levels, and the gap between total assets and total debt is slowly growing again.
Automotive company debt is not the money pit it once was, and Ford's bond offerings are trading at significantly lower yields than their initial coupon percentages, reflecting the growing confidence in their ability to keep handling payments.
Recent years' earnings have been offset by the separation costs associated with reducing the company's payrolls, which in the long-run will allow them to keep costs down and keep profits trending upward. The FY2014 price/earnings ratio is about 12.5, and the FY2015 ratio is even lower at 8.7. That's cheap, and it's not the end of the good news.
Growing dividends
In late 2006, Ford had to suspend their dividend to manage their debt and expense problems. Having weathered that storm, they resumed paying $0.05 per share quarterly dividends in 2012.
Things have been going well since then, and Ford bumped the dividend up to $0.10 per share quarterly in 2013, and $0.125 quarterly in 2014.
That's already the highest dividend Ford has paid since 2001, and earnings can easily support a continued trend upward. The current yield is already a respectable 3.0%, and if they keep increasing it intermittently, which they can certainly afford to, it will enhance shareholder value considerably.
Conclusion
Ford Motor Company has turned the corner since 2011, and continues to refine itself as both a very profitable company and a good dividend payer.
Whether you're a value investor looking for a reliable earner or just looking for a big company with a sustainable, growing dividend yield, Ford definitely deserves to be on your list.
Disclosure: The author has no positions in any stocks mentioned, and no plans to initiate any positions within the next 72 hours. The author wrote this article themselves, and it expresses their own opinions. The author is not receiving compensation for it (other than from Seeking Alpha). The author has no business relationship with any company whose stock is mentioned in this article.