ConocoPhillips (NYSE:COP) is the third biggest oil and gas company in the U.S. and has its headquarters located in Houston, Texas. After the spin-off of its midstream and downstream business into a new company named Phillips 66 (NYSE:PSX) ConocoPhillips is now a pure exploration and production company.
Production and margin growth
Compared to other oil and gas majors, ConocoPhillips is the only one with appreciable growth in both production and revenues (adjusted for PSX spin-off) over the last couple of years.
The company aims to reach an average of 3-5% in production growth as well as 3-5% in margin growth in the next couple of years. ConocoPhillips plans to achieve this by concentrating on high-margin projects that will push cash-margins on their production and expanding its portfolio.
ConocoPhillips offers an outstanding replacement ratio of 179% (2013), meaning for each barrel produced, the company found almost 2 new barrels of oil equivalents it could add to its reserves. This number is unmatched, other majors often struggle with keeping a replacement ratio of 100% (thus meaning their reserves are actually shrinking) as I laid out in this article.
95% of capital spending (averaging $16 billion) in the next years will be on projects offering at least $30/barrel with more than 40% of capital allocated towards projects offering a margin above $40 per barrel (North American Unconventional and LNG).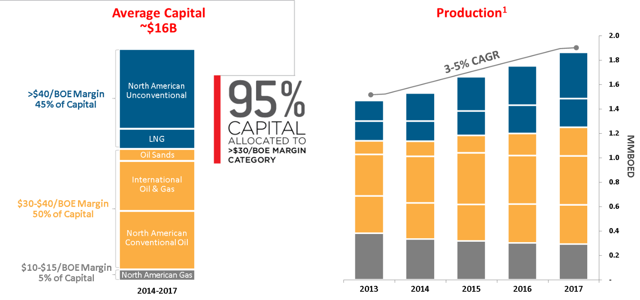 North American Unconventional
The first of these expansion plans is North American Unconventional, towards which ConocoPhillips plans to allocate about $5.5 billion per year. This will increase production from current 170 MBOED to 370 MBOED in 2017. Most of this production growth will be in Eagle Ford, where ConocoPhillips is the producer with the lowest cost of supply.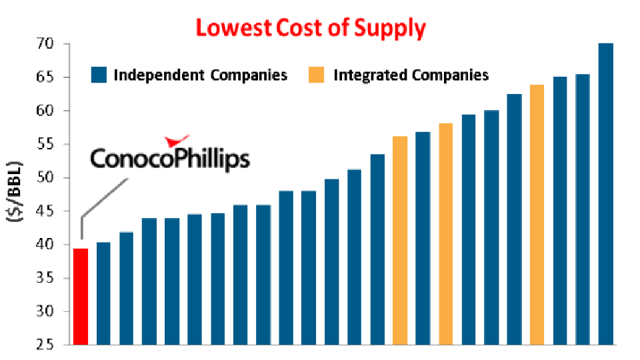 Other unconventional operations take place in Bakken fields and Permian Basin.
LNG
Another high-margin area ConocoPhillips plans to expand into is LNG. The company plans to spend an average amount of $1.5 billion on LNG projects over the next years, pushing production from 150 MBOED to 240 MBOED in 2017. Cash margins are expected to average over $40/barrel. The company has projects in Australia (Darwin LNG and APLNG), Qatar and Alaska (AKLNG and Kenai).
Oil Sands
ConocoPhillip's oil sand projects are another growth generator. The company plans to allocate $800 million per year into its Canadian oil sand portfolio, this will push production from current 110 MBOED to 240 MBOED in 2017. Although not as high-margin as Unconventional and LNG, these operations still generate more than $30 per barrel.
Small amounts of growth are expected in international oil and gas (mainly North Sea and Southeast Asia) and North American conventional.
Financial Effects
This growth in both production as well as profitability will result in considerable cash flow and earnings growth. ConocoPhillips expects to grow cash flow from operations from $15.8 billion in 2013 to $20-23 billion in 2017. This growth in cash flow will allow further growth in production via new projects and also growth in cash returned to shareholders. ConocoPhillips emphasizes its commitment to paying a steadily rising dividend, which currently yields at 3.4%.
Conclusion
ConocoPhillip's strong portfolio with projects in high-margin segments offers great growth prospects both in production and profitability. This operational improvements will result in market-beating returns for shareholders (including the dividend currently yielding at three and a half percent). I might start buying ConocoPhillips in the next couple of days since it recently decreased almost 10% in price.
Disclosure: The author has no positions in any stocks mentioned, but may initiate a long position in COP over the next 72 hours. The author wrote this article themselves, and it expresses their own opinions. The author is not receiving compensation for it (other than from Seeking Alpha). The author has no business relationship with any company whose stock is mentioned in this article.