We just learned that Silver Wheaton (NYSE:SLW) is acquiring a 1.5% NSR royalty on Chesapeake Gold's (OTCQX:CHPGF) flagship Metates Project in Mexico. The terms are as follows:
Silver Wheaton is paying $9 million to Chesapeake Gold in exchange for a 1.5% NSR royalty on the Metates Project.
Chesapeake Gold has the option to buy back 2/3 of the royalty in the next 5 years for $9 million
The Metates Project, as I outline in my article on Chesapeake Gold contains an enormous gold and silver deposit with 20 million ounces of gold and over half a billion ounces of silver. Once in production it should be able to produce over a million ounces of gold equivalents at its peak, and it should produce over 600,000 ounces of gold equivalents for the first 19 years of production.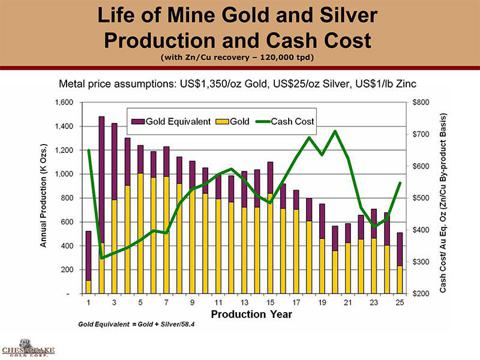 (Source: Chesapeake Gold)
This would make Silver Wheaton's 1.5% share roughly 15,000 gold equivalent ounces, or 9,000 gold equivalent ounces longer-term. Given current metal prices this seems like a steal for Silver Wheaton. However, investors should note that the Metates Project requires over $4 billion in initial capex in order to begin producing. Chesapeake Gold has a $145 million valuation and about 1% of this in cash/equivalents after it receives the $9 million from Silver Wheaton. So financing this project is not going to be easy, and in all likelihood the project is not going to be built for many years, although a rising gold price will certainly interest JV partners and it could lead to a potential takeout by a major gold producer.
This deal is out of character for Silver Wheaton. As I mention in my January article Silver Wheaton has been a streaming company. A streaming agreement, as opposed to a royalty agreement, entitles the buyer to buy a certain amount of metal at an agreed upon price. This is opposed to a royalty, which entitles the buyer to an agreed upon amount of money depending on the kind of agreement. In this case, a 1.5% NSR royalty entitles Silver Wheaton to the right to the revenues of 1.5% of Chesapeake Gold's production at Metates minus the cost of refining, which is minimal.
The deal is ultimately bullish for Silver Wheaton, especially if you are bullish of precious metals. This royalty has the potential to generate more cash-flow per year for 2 decades or longer than the company paid for the royalty. But keep in mind that its value is in its optionality because with metal prices depressed, the Metates Project will not be built any time soon. Investors should note that Silver Wheaton trades at nearly $27/share, which is about 20% higher than my initial recommendation price, although the silver price has only risen marginally. Therefore I would wait for a pullback before adding shares.
Disclosure: The author is long SLW. The author wrote this article themselves, and it expresses their own opinions. The author is not receiving compensation for it (other than from Seeking Alpha). The author has no business relationship with any company whose stock is mentioned in this article.
Editor's Note: This article discusses one or more securities that do not trade on a major U.S. exchange. Please be aware of the risks associated with these stocks.