With a lot of attention upon Iraq right now due to the US providing air support to the Iraqi Kurds, the Ukraine/Russia headlines have for the time being taken a back seat. This is just days after those exact headlines were driving the market lower, so we fully expect this issue to resurface sooner rather than later.
Unless one is a long-term trader, it makes little sense to try and trade energy names such as BP (NYSE:BP) and Royal Dutch Shell (NYSE:RDS.A) (NYSE:RDS.B) as the headline risk is too great. We highly doubt that Russia or the EU enact sanctions which hurt either of their companies (Russia its state controlled oil companies and Europe their Big Oil names).
Chart of the Day:
Some are already speculating that oil could see another rise as the US bombs the insurgents in Iraq. The thinking is that Iraq's northern oil fields and infrastructure could be damaged as the insurgents retreat, utilizing the scorched earth policy that Iraq used in their retreat during the first Gulf War. Even though the insurgents practice a very conservative religion and shun most of the practices of western civilization, they are very astute capitalists and would probably leave without destroying any revenue generating assets with the thinking that they could later take them back.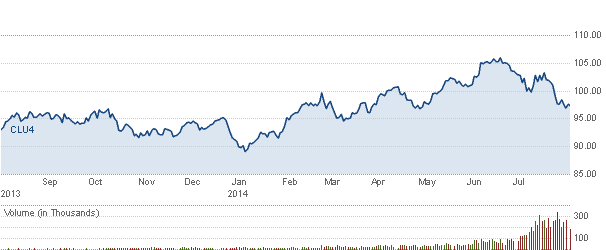 Source: CNBC
Commodity prices are as follows (at time of submission):
Gold: $1,312.90/ounce, up by $0.40/ounce
Silver: $19.975/ounce, down by $0.015/ounce
Oil: $97.37/barrel, up by $0.03/barrel
RBOB Gas: $2.7566/gallon, down by $0.0157/gallon
Natural Gas: $3.957/MMbtu, up by $0.081/MMbtu
Copper: $3.173/pound, down by $0.003/pound
Platinum: $1,479.60/ounce, down by $1.90/ounce
Rare Earths Ruling
China lost its appeal before the World Trade Organization regarding its management of the domestic rare earths industry. China was appealing a ruling which found in favor of the European Union, United States and Japan. The case will have little effect upon the market as many have been expecting this ruling for some time. This is not news to trade on, but rather news to file away and remember because it now means that China will have to go in another direction if they ever intend to limit supply in such a dramatic manner again.
Expect little change in rare earth miners and explorers today as they have already been impacted by lower prices and supply which outpaces demand. The recent history of the rare earth industry can best be viewed through the chart of Molycorp (MCP), which shows a sharp rise in the share price before a long and painful sell-off.
Solid Wattenberg Results
PDC Energy (NASDAQ:PDCE) reported strong production from their Wattenberg play which was caused by good horizontal drilling results. The company announced that they were going to increase their production guidance for full year 2014 to a range of 10.7-10.9 MMBoe, which is up from the previous guidance of 9.5-10.0 MMBoe for the year. For readers who follow this company, it will be important to pay attention in previous quarters that the new guidance will be reduced by 0.3 MMBoe as PDC Energy closes on the sale of its Marcellus shale production.
The recent sell-off should be short lived, especially with the bullish news pertaining to production for the rest of 2014.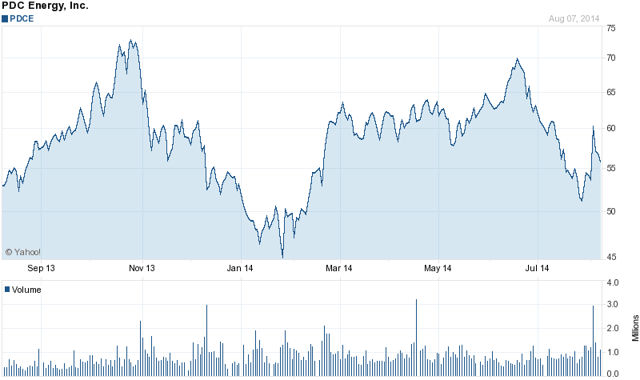 Source: Yahoo Finance
The company will have five rigs operating in the Wattenberg and two in the Utica moving forward which should help the company ramp up production in both areas. Importantly, this increase in activity and production is being done on the company's previously announced estimates for capital expenditures. With PDC adding around 13,000 net acres to its Utica acreage position we think that the company will continue to create shareholder value by proving up acreage that many analysts have raised questions about. While the Wattenberg is currently driving growth, it appears that the Utica is being set up to start kicking in to production growth in a significant manner over the next year.
Disclosure: The author is long PDCE. The author wrote this article themselves, and it expresses their own opinions. The author is not receiving compensation for it (other than from Seeking Alpha). The author has no business relationship with any company whose stock is mentioned in this article. BP has previously been recommended.