Ebix, Inc. (NASDAQ:EBIX) is a software and e-commerce provider to the insurance industry, with the goal of being the leading "back-end powerhouse" to the insurance world. EBIX has consistently grown Revenue, Earnings, and Cash Flow for several years up until 2012 as the company felt the effects of legal troubles and accusations of fraud by short sellers. I won't rehash the company's troubles in this article, I recommend reading the linked article by Seeking Alpha contributor Kiran Pande who gives a thorough presentation here of the EBIX "Drama" (portions of which I believe the company is past) and a Worst Case valuation that's above current levels.
Financial Position
I won't go into detail on the company's balance sheet other than to say it's a well-capitalized corporation with a net cash position. Debt taken on for acquisitions in prior years has been paid down and just this week the company announced a new $150mm (expandable to $200mm) Syndicated Secured Credit Facility that will be used to fund the $100mm buyback and acquisitions.
On the Income/Cash Flow statement side, we can see from the following graphics (taken from the Investor Presentation) that the company has maintained profitability and cash flow generation throughout a trying time.
Revenue - we observe steadily increasing revenue at EBIX, with the growth rate tapering slightly during 2013, which I believe can be attributed to the past year's distractions.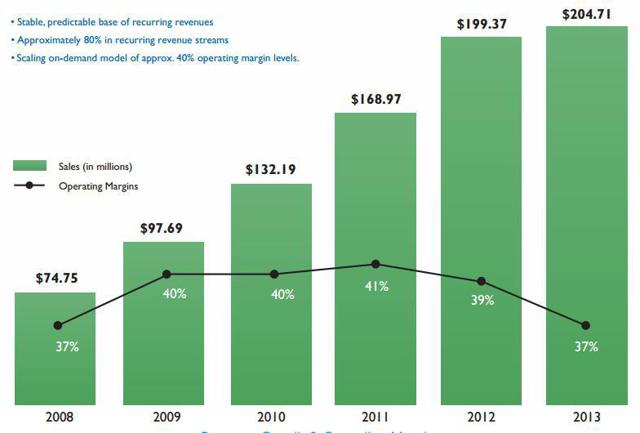 Earnings - Net Income and EPS had shown a very impressive trajectory through 2011, slowing in 2012, and declining slightly in 2013. 2013 EPS was impacted negatively primarily by securities litigation settlement ($0.11) and larger G&A ($0.08) / Income Tax ($0.09) expenses.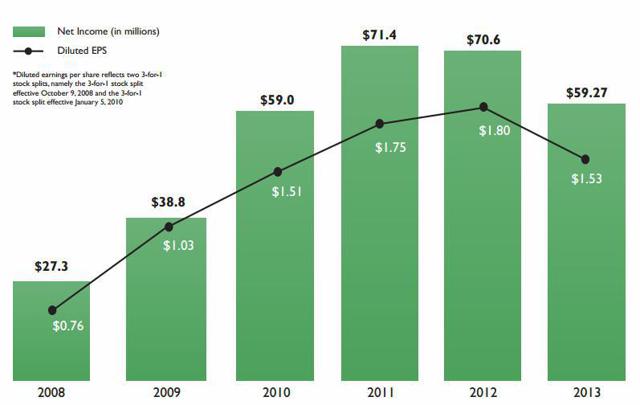 Cash Flow - On the cash flow side, results are again impacted by the litigation settlement and Income tax items noted above plus a payment of $10.8mm on payment of acquisition related earnout liabilities for prior year acquisitions.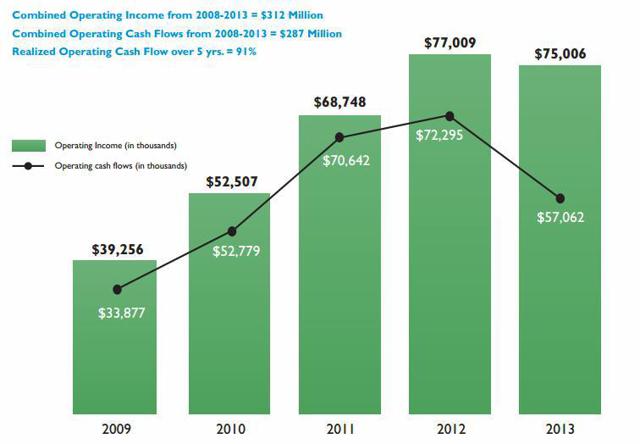 Earnings Growth
While 2013 was not a great year for EBIX in terms of growth, lucky for us investors we are not being asked to pay up for it right now. At a P/E of ~8 (on 2013's depressed earnings) and an EV/EBIT multiple of 6.3 this company is cheap in this market. Even taking into account the flat/down 2012/2013 results, EBIX has grown Net Income and EPS at a rate of ~15% over the last five years and I don't see any reason why results should not be better over the next five given the company's entrenched position with its customers, potential for further shifting of Insurance activity to Electronic platforms, and new product growth opportunities (see the Road Show Investor Presentation). Q1 2014 Operating Income was up slightly vs. Q1 2013 (before results deteriorated in Q2-Q3 of last year), which could signal that EBIX is back on track.
Upcoming Earnings
Q2 2014 earnings are scheduled to be released Friday, August 8th. We'll be looking for Operating Income in the 20mm range to confirm the bounce back from the 2013 stall in growth. If the positive news continues for EBIX, there is also the potential for a short squeeze with ~40% short interest.
Conclusion
While the latest news has been positive for EBIX it doesn't seem that Mr. Market has accurately reflected it in the stock price. I'm happy to add to my position at these levels and wait.
Disclosure: The author is long EBIX. The author wrote this article themselves, and it expresses their own opinions. The author is not receiving compensation for it (other than from Seeking Alpha). The author has no business relationship with any company whose stock is mentioned in this article.