According to a recent report by ComputerWorld, Microsoft (NYSE: MSFT) has lost $1.73 billion on its Surface tablets since launching the first one in October 2012.
While some of the numbers in the report are based off of ComputerWorld's own calculations (and therefore may be marginally off), I think you can get a pretty good feeling as to how Microsoft's venture into the tablet market is working out so far.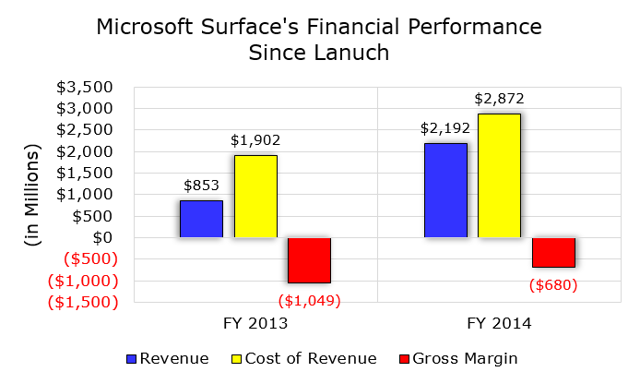 Data Source: ComputerWorld
Nearly $2 billion in the hole already, you'd think Microsoft would be running for the exit. In reality, however, it's just the opposite.
Microsoft Expands the Surface Pro 3's Reach
On August 6, only 2 days after ComputerWorld released its report, Microsoft announced in a press release that its latest tablet offering, the Surface Pro 3, is going to be available in 25 additional markets (on top of the U.S., Canada, and Japan) starting on August 28. These "additional markets" include most major countries across Europe and Asia, as well as Australia.
Ever since Microsoft first entered the tablet market back in 2012, it has been a train-wreck, plain and simple. So why is the company choosing to dive even deeper?
For Microsoft, it's make or break time. The new Surface Pro 3 (which was first released on June 20) improves on a lot of the flaws in previous versions, and is being aggressively promoted by Microsoft through prime-time commercials and a 5 year, $400 partnership with the NFL.
The 12-inch $799 tablet, which you can buy a $130 keyboard for, is being hailed by Microsoft as the "tablet that can replace your laptop," and while it's still early, CFO Amy Hood has commented that sales are outpacing earlier versions.
The Potential Is Still There
While Microsoft has gotten off to a rough start, the potential is still definitely there. The Surface Pro 3 is special in that it isn't even considered a plain tablet, it's considered a 2-in-1 (tablet and laptop).
These 2-in-1 devices, which include much larger screens, as does the Surface Pro 3, are the future of the tablet market says IDC, a leading research firm in the space. The firm anticipates a fundamental shift in the tablet market towards those with larger screens as phone screen sizes become larger.
Because of this, Microsoft, and its Windows operating system, is forecasted to increase its share of the tablet market from 3.50% in 2013 to 10.41% by 2018.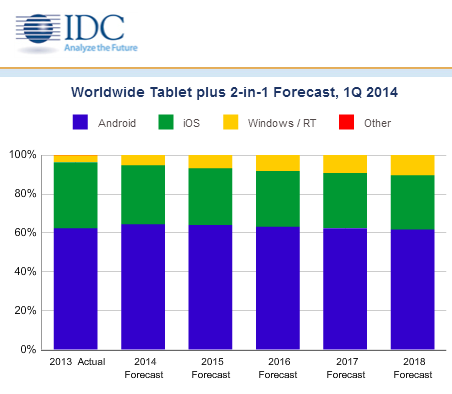 Image Source: IDC
This leaves Apple (NASDAQ: AAPL) and Google (NASDAQ: GOOG) on the wrong end of the deal, as they both are expected to lose market share as Microsoft finally establishes a foothold in the industry. What both of these companies are eventually going to have to do is follow Microsoft in offering 2-in-1's with much larger screen sizes.
The Takeaway
As ComputerWorld points out in its report, the losses the Surface segment have been generating aren't life or death for Microsoft (the Surface's FY 2014 gross margin accounted for only 3% of the company's overall gross margin). Still, the losses are weighting down the overall company unnecessarily.
This holiday season will be key for Microsoft. The company's recently released Surface Pro 3 plays right into the trends IDC sees fueling the next leg of growth for the tablet market, but at the end of the day sales need to be strong in order to justify going forward.
Even if sales come in light, however, Microsoft is not likely to abandon the Surface all together. As mentioned before, the company already is locked into a 5 year, $400 million agreement with the NFL.
I believe that Microsoft's Surface Pro 3 will find a niche between those looking for the convenience of a tablet and power of a laptop, and will ultimately allow Microsoft to gain a foothold in the industry, just as IDC predicts.
Therefore, I respect Microsoft's move to not abandon a key aspect of its overall growth strategy just because of a few early slip-ups. In the end, I believe Microsoft's persistence will pay of, coming at the marginal expense of Apple and Google.
Disclosure: The author is long AAPL. The author wrote this article themselves, and it expresses their own opinions. The author is not receiving compensation for it (other than from Seeking Alpha). The author has no business relationship with any company whose stock is mentioned in this article.