Title Insurers First American Financial (NYSE:FAF) and Fidelity National Financial (NYSE:FNF) are attractive candidates for options strategies directed at harvesting volatility premiums. With the real estate market going nowhere, and both names mentioned here and there as the foreclosure issue surfaced, they are trading at very attractive prices on the common valuation metrics. At the same time, implied volatility is high enough to afford ample premium for selling options. This article touches briefly on industry background and valuation metrics, then goes into a more detailed discussion of possible options strategies.
Industry Background
Title insurance protects the buyer against defects in the title of real estate. The underwriting process consists of a title search, the efficiency of which is dependent on the possession of data bases including the required information. As such, the largest players have a cost advantage and there are barriers to new entrants. The industry is quite profitable when real estate markets are active. The foreclosure issue touches the validity of titles, but will be manageable in its implications.
The industry has been subject to ongoing consolidation, with FAF and FNF as the largest remaining players. Both companies deployed excess cash flow into the acquisition of somewhat related businesses during flush times, and both have since retrenched back to their core operations.
The long term potential is favorable. During the current housing crisis, many would be sellers have been sitting on the sidelines, being unwilling to compete with foreclosures on a price basis. That would include those trading up, those desiring to downsize for retirement, and those who would like to move closer to work, etc. Pent up demand will eventually create a flood of transactions requiring title insurance.
Relevant Metrics
| | | |
| --- | --- | --- |
| Symbol | FAF | FNF |
| Price | 14.93 | 13.78 |
| P/B | 0.81 | 0.92 |
| P/E | 12.04 | 10.36 |
| P/S | 0.4 | 0.56 |
| Implied Volatility | 49.70% | 44.70% |
| Beta | n/a | 0.5 |
| 52 week range | 11.90 - 15.95 | 12.60 - 16.07 |
| Target price | 19 | 19 |
| Dividend yield | 1.61% | 5.19% |
Book value here provides margin of security, as does the relatively low P/E. With volatility as high as it is, an investor can obtain control of the shares and then sell calls in order to generate income. The downside risk is limited by the earnings and proximity to book value, and if the shares are controlled with options rather than bought outright, the strike of the calls purchased will limit downside exposure.
Two Options Trades
Buy to open 10 FAF Jul 16 2011 10.0 calls @ 5.30
Sell to open 10 FAF Apr 16 2011 15.0 calls @ 1.35
Buy to open 10 FNF Jun 18 2011 10.0 calls @ 4.00
Sell to open 10 FNF Mar 17 2011 15.0 calls @ .45
I prefer diagonal spreads (the expiration dates are not the same) with the long leg having a later expiration. It's always good to have time on your side, and the asymmetry creates optionality that can be helpful in dealing with adverse outcomes.
The prices shown are mid bid/ask as of Friday's close, rounded against the investor. FNF has a reasonable amount of open interest, while FAF is thinly traded.
Return Analysis
Here are snips from spreadsheets that compute the static, called away, break even point and adverse outcome returns as of the first expiration date. Commissions are included.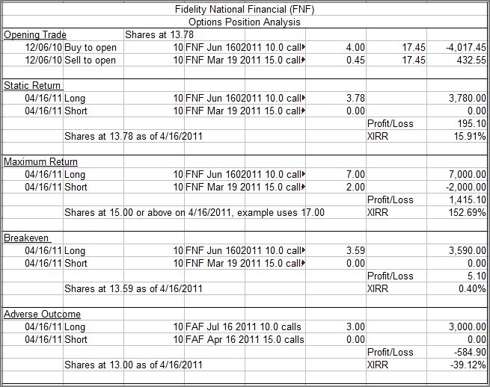 (Click to enlarge)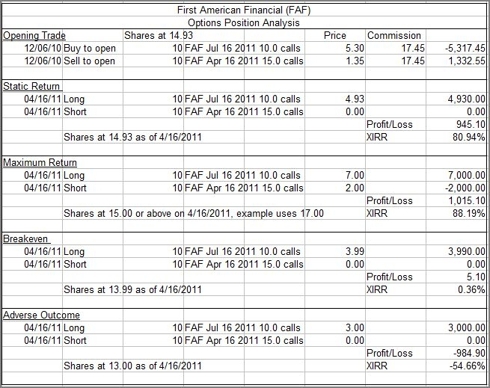 (Click to enlarge)

XIRR is the internal rate of return on a series of irregular cash flows. The spreadsheet presents a compounded and annualized return, which is appropriate for comparing strategies on a consistent basis where the investor expects to reinvest the proceeds in positions offering similar rates of return.
The adverse outcomes figures were arrived at by looking at the charts and weighing that together with the valuation metrics displayed above. Time values were disregarded for the remaining term of the 10.0 calls - the amounts involved are not large unless the share prices get down closer to the strike.
Risk/Reward
The upside on these situations is attractive: as such, risk/reward must focus on adverse outcomes. Looking at charts, there is definite support for FNF at the 13 level. FAF dipped down below 13 for a few days after the mini-crash in May but has picked up some support at around 14 recently.

(Click to enlarge)

It is advisable to plan defensive handling when undertaking an options position.
In these instances, and barring intervening bad news, if the underlying is in the 13 area as of the first expiration date, the sale of calls at 12.50, expiring June or July to coincide with the expiration of the long leg, would provide cash in hand more or less equal to the loss as of that date. With that in mind, the downside risk can be described as manageable, given the optionality around adjusting or extending the positions.

Disclosure: I have no positions in any stocks mentioned, but may initiate a long position in FNF, FAF over the next 72 hours. I intend to execute the trades shown during the coming week, subject to market conditions.