It is possible that Russia could be approaching a point of no return. As Russia's President Putin pursues his strategy of defiance, the Russia economy is in danger of entering a full-blown crisis. Almost daily, Putin and his fellow hardliners perplex observers with their wealth-destroying belligerence. With little regard for the long-term health of his economy, Putin is helping Russian ETFs plumb new depths of mediocrity.
Transferring Funds To Asian Banks
Now, it is reported that some larger Russian firms are busily transferring funds to Asian banks. Apparently, this is a measure designed to achieve some level of security and peace of mind. Whether one views a move like this as a simple hedge or an act of desperation, the flight to Asian banks is certainly a sign of instability.
Russian mobile phone giant Megafon (OTC:MFON) is one of the major Russian companies now hedging their bets. On June 31st, the firm revealed it had converted 40% of its reserves into Hong Kong dollars, while the rest would stay in rubles.
Singapore is another likely port of call for Russian firms looking to find safety. Analysts say Russian businesses consider Chinese banks relatively unlikely to cooperate with sanctions from the West.
Russian Stocks More Unpredictable, Volatile
As investors around the world marvel at Putin's erratic path, Russian stocks remain unmistakably unpredictable and volatile. The latest international sanctions against Russia have spurred fears that the Russian economy will face serious long-term harm. If Putin continues his aggressive stance, Russia could lose access to all official funding sources that deal in U.S dollars.
Other companies reportedly eying the purported safety of Asian banks: Novatek (NVATY) and Norilsk Nickel (OTCPK:NILSY). As Russia's second biggest natural gas refiner, Novatek is certainly sensitive to the dynamics of the evolving Russian economy. As companies like Megafon and Novatek find refuge in Hong Kong dollars, many other Russian firms could soon follow suit. Interestingly, Novatek is owned by Gennady Timchenko, one of the first major Russian oligarchs to face sanctions in response to the Ukraine situation.
Banks Hit Hard By Sanctions
On June 1, a number of major Russian banks were hit by new international sanctions. Affected parties are now greatly limited in their abilities to sell bonds or equity to EU nationals and organizations. This move was a sign that the West is serious about obstructing Putin's Ukraine agenda. If the fate of Russian ETFs is any guide, traders aren't optimistic this obstruction will end any time soon. For over two months, Russian-based ETFs have seen uninterrupted net outflows as investors tire of the uncertainty surrounding Russia.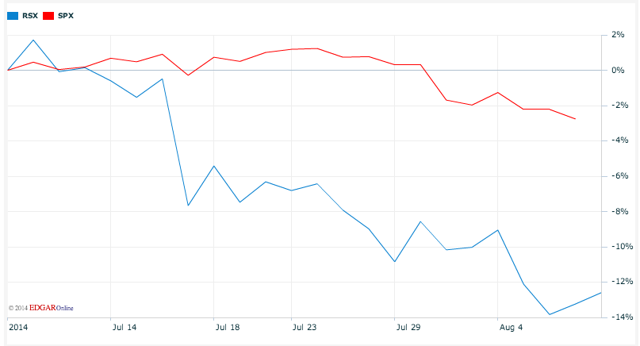 (Nasdaq.com)
Significant 1-Year Change
Only last year, funds like Market Vectors Russia ETF Trust (NYSEARCA:RSX) seemed like safe bets, despite lingering doubts about rule-of-law in Russia and the nation's murky accounting standards. During the first few months of the Ukrainian crisis, traders remained fairly optimistic about Russian stocks and Russia-based ETFs stayed healthy.
Today, investors are abandoning Russia decisively. The recent downing of Malaysian Airlines Flight MH17 not only increased tensions between Russia and Western governments. It also led to an immediate and widespread abandonment of Russian ETFs, resulting in the biggest weekly outflow in more than six months. This trend is part of the broader degeneration of business relations between Russia and the West.
When Vladimir Putin oversaw the annexation of Crimea last March, many commentators said that this represented the apex of renewed Russian aggression in Eastern Europe. Now, it is clearer than ever that Putin is highly unpredictable marching to the beat of his own drum. In the heat of the moment, many Russians have rallied behind Putin.
Conclusion For Investors
If the Russian government continues down its bellicose path, the resultant economic chaos could put a serious dent in Putin's popularity.
We are increasingly negative on the RSX ETF in particular, given no strong signs of a turnaround in Putin's policies, and suggest investors be so, as well.
We invite readers wishing to join the discussion on RSX to click the +FOLLOW button above the title of this article-- and those looking for the latest developments to click +Get real-time alerts.
Disclosure: The author has no positions in any stocks mentioned, and no plans to initiate any positions within the next 72 hours. The author wrote this article themselves, and it expresses their own opinions. The author is not receiving compensation for it (other than from Seeking Alpha). The author has no business relationship with any company whose stock is mentioned in this article.