By Bryan McCormick
I have mentioned the Reuters/Jefferies CRB Index in the past, comparing it with the S&P 500 in terms of their tendency to move together. The CRB is a broad commodities index that can give us a quick snapshot view of the health of items such as metals, foodstuffs and energy.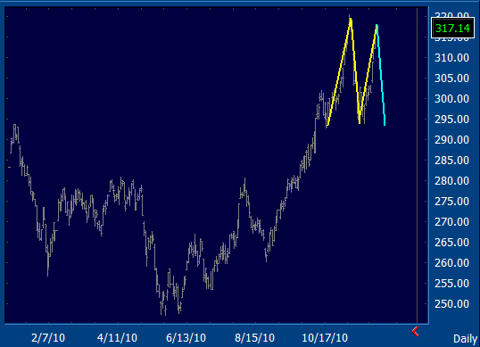 (Click to enlarge)
A potentially bearish double-top pattern is developing on the daily chart. I have drawn the first three legs of that potential top in yellow. As long as the index does not go above the recent high at the 320 area, the pattern has the possibility of forming.
In light blue, I have drawn in the potential first downside objective if double-top is triggered. That could see the index drop to the 292 area, close to the bottom of each of the yellow and blue lines.
If the index broke down below that level, a second objective down to the 260 area might be possible. That is presuming the pattern remains active and reaches full potential.
The key factor is the direction of U.S. dollar. Another issue is China, where tighter monetary policy could squeeze demand. If the greenback continues to appreciate, which could happen if the euro continues to fall, it would be bearish for commodity prices. A higher dollar is typically a negative for commodities because most markets price in U.S. dollars.
If the CRB index does break down, that would likely be a big negative for the S&P 500. Energy, materials, and the industrial sectors all tend to move together. In aggregate that could be a major drag on the S&P 500 because those sectors have also been the best performers year-to-date.

Disclosure: No position