I am bullish on Procter & Gamble (NYSE:PG). The company has as of late been focusing on productivity and innovation, which helped it deliver healthy results for Q4FY14. Despite the challenges faced in saturated developed markets and currency headwinds from emerging markets, PG successfully met both top-line and bottom-line guidance for the quarter. Moreover, with its improving FCF productivity, the company has been sharing its success with shareholders through dividends and share repurchases. Going forward, the company looks eager to focus on its core brands and markets, which will positively affect its margins and portend well for the future top-line growth.
Long Term Organic Sales Growth Formula
In a challenging macro environment, PG has been focusing on innovation in different product lines and has been improving productivity to support its top-line growth. PG's reported net sales grew modestly by 1%, and organic sales grew by 3% year-on-year in FY14, in line with the company's guidance. However, previous quarter divestures weighed on PG's Q4FY14 organic sales growth. In Q4FY14, PG experienced organic sales growth of 2%, as compared to 4% year-over-year growth in the same quarter the previous year. The following chart shows the organic sales growth for the company for the last three years.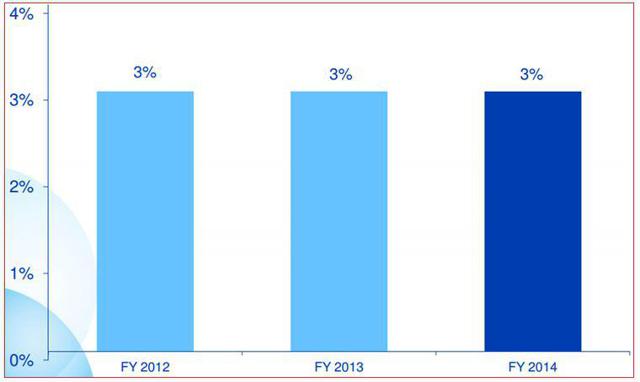 Click to enlarge
Source: Company's Quarterly Earnings Presentation
To fuel its top-line growth, the company has been focusing on important markets and core brands. PG is targeting the growth potentials of emerging markets, which offers high growth due to a growing population and increasing per capita income. PG recently made an investment of $300 million in Africa. International markets, mainly emerging markets, offer attractive growth opportunities; however, the strengthening of the U.S. Dollar remains a drag on top and bottom-line growths.
As the U.S. market has matured and offers limited growth, the company stays focused on introducing more innovations in its branded products like Tide, Gain, Pampers, Luvs and others. Also, to stay competitive in the highly saturated U.S. market, the company is eager to take re-pricing initiatives for its premium products in Fabric care and Home care segments. As the company has been making efforts to expand in international markets and focus of core brands, it will portend well for the company performance in the long term.
Cost Saving Initiatives = Growing Bottom Line
The company has been working on its cost saving initiatives, which positively affected its margins and bottom-line growth. PG is targeting to cut down 10% of non-manufacturing enrollments by June 2016. Also, PG has effectively reduced 15% of its total workforce, and is on track to achieving its total workforce reduction target of 16%-22%. Consistent with its cost savings initiatives, PG lowered its SG&A expenses by 5% for FY14, which helped it expand its operating margin by 100 basis points. Moreover, these cost saving steps also positively affected the company's EPS growth. In Q4FY14, the company reported an earnings beat of 4.40%. As the company's ongoing cost savings program is set to expire in FY2016, the company is expected to introduce another cost savings program to support its EPS growth. Based on the strong growth potentials of the company, analysts are expecting robust five year earnings growth of 8.60% for PG.
Value Creation
The company has been sharing its success with shareholders by returning cash through consistent dividend payments and aggressive share repurchases. In FY14, the company enjoyed a healthy cash flow productivity of 86%. Also, in FY14, PG paid $6.9 billion in dividends and $6 billion in share repurchases, returning a total $12.9 billion in cash to its shareholders. Moreover, with a 7% increase in its recently announced dividend payment, the company marked the 58th consecutive quarter of dividend increases. Based on its strong dividend track record and ongoing strategic initiatives to support growth, I expect PG to continue increasing dividends in the future. Currently, PG offers a dividend yield of 3.1%, which is above its peers', including Colgate Palmolive (NYSE:CL) and Kimberly Clark (NYSE:KMB), dividend yields as shown in the table below.
| | |
| --- | --- |
| Company | Dividend Yield |
| PG | 3.1% |
| CL | 2.2% |
| KMB | 3.1% |
| Industry Average | 3% |
Source: Morningstar
Core Products in Focus = Long Term Growth
Despite the fact that the company has been focusing on innovation, it is targeting it core products to fuel growth. Recently, PG decided to cut down non-core products from its product portfolio and limit its focus to core products only (slashing down almost 90-100 non-core products), which I believe is an intelligent move by PG. The company's sales base may get slightly pressurized in the near term, due to a drop in the number of products. PG expects organic sales growth in the low-to-mid single digit range for FY15. However, in the long run, the company will benefit from focusing on core brands, which will portend well for future performance. Also, focusing away from non-core brands will help the company improve its margins.
Conclusion
Despite the competitive pricing pressures in the U.S. and currency headwinds from international operations, PG is moving ahead nicely with its constant innovations and improvements in productivity. Also, PG's focus on core brands will positively affect its organic sales growth and margins. Also, the company has been consistently sharing its success through dividends and share repurchases, which makes it an attractive investment option for dividend investors. Due to the aforementioned factors, I am bullish on the stock.
Disclosure: The author has no positions in any stocks mentioned, and no plans to initiate any positions within the next 72 hours. The author wrote this article themselves, and it expresses their own opinions. The author is not receiving compensation for it (other than from Seeking Alpha). The author has no business relationship with any company whose stock is mentioned in this article.