Every so often a company emerges from the herd, lauded as the avatar of untapped growth opportunity, and subsequently crucified as a broken growth story when growth decelerates. The vertiginous drop in shares of Whole Foods (NASDAQ:WFM) this year reflects investor's disappointment with fiscal results reported by the company lately. Citing two straight quarters of missed same store sales and management acknowledging the rise in competition, analysts trimmed their growth estimates. Under pressure from investors, management laid out a strategy for countering the rise in competition as well as deceleration in growth. Eclipsed by gross margin decline worries, investors remain oblivious of strong architectural advantage the company gains after executing these powerful strategic initiatives.
Investors remain deeply concerned over the troubles that have dogged the company in the recent years and don't expect them to go away in the foreseeable future. Drawing from the hypercompetitive nature of grocery retailing, analysts view Whole Foods initiatives as ceding to price parallelism to drive store traffic. Company's management remains loath to steep price discounts and is notably confident in extracting operational efficiencies and store productivity to offset the decline in gross margins. However, this belief has not chimed well with the analyst community.
To satiate analyst's relentless desire to understand "How the company will compete," management used a multidimensional approach, offering better visibility to their growth strategy. First step in this direction was sharing company's vision for the revenue growth and store expansion. Over the surface, it appears management opted to accelerate store openings to make up for the slowdown in same- store sales. However, at the heart of this strategy is selectively communicating to its rivals about management's commitment towards expanding store density, gaining unit cost advantage to exploit competition's vulnerable position in the marketplace. In addition, the company will use this growth opportunity to reshape supply-side dynamics such as contracting with local farmers to create a favorable price points for its products.
Investors' skepticism led to an unreasonable conclusion that entry of market behemoths such Wal-Mart (NYSE:WMT), Kroger (NYSE:KRO) or regional rivals such as The Fresh market (NASDAQ:TFM), Sprouts Farmer market (NASDAQ:SFM) could cause its demise. First and foremost, Whole Foods has primarily enjoyed such enormous success by offering a distinguished product category. Before inferring too much from this widely held belief, understanding the markets including consumer demographics is critical. Retailers such as Wal-Mart, Kroger do not have the luxury to make an upmarket switch. Neither do their customers have deep pockets to welcome this transformation. Organic only rivals had been operating with a radically different strategy: regional markets penetration. In the absence of aggressive national expansion plan among its regional rivals, Whole Foods expansion strategy works as a strong deterrent for regional retailers.
Nonetheless, rival organic chains scrupulously took advantage of Whole Food's tarnished "Whole Paycheck" brand. A potential answer to change this would be by repositioning the brand with renewed value proposition for the customers, who continue to applaud the unrivalled product quality. Launching a national marketing campaign this fall, primarily articulating value proposition to the consumer with a differentiated product category should give an uplift to store traffic.
Catalyst
My analysis of company's strategic initiatives to fend off competitive threats suggests that this gross margin erosion is normal, but also that we probably are close to the worst of it. I expect store expansion strategy will aid in resuming upside leverage. A slight uptick in operating margins will drive share price higher and could lead to positive feedback loop as the investment community catches up to revise its margin estimates of the company.
Valuation
Increased store penetration, with stores suited to the local community, provides an excellent opportunity for increasing brand awareness and gain new customers. Nevertheless, I expect gross margins in the near term (next one year) to remain somewhat constrained as company passes through this transitory phase. As a result, I expect gross margins to decline to 34% by fiscal 2015, but assume margins to reverse this decline then after as company's initiatives to stem this decline start paying off. On the operating margin line, exceptional store productivity will continue to generate significant operating leverage, an advantage that remains unmatched in the grocery retailing industry. Specifically in my DCF analysis, I assume the company can grow its revenues at compounded annual growth rate of 8.50 % (8.80 % growth in store count and 3.40 % comp store growth), and it will linearly decline in following five years to 2.50 % growth in perpetuity. Also, I assume modest improvements in working capital and asset turnover from current levels, where the company continues to spend aggressively to generate growth.
The table below highlights my valuation estimate for Whole Foods under varying revenue growth, operating margin and cost of capital assumptions. Even though, secular industry growth creates strong tailwinds for revenue, operating margins will be a key value driver for Whole Foods in the near future.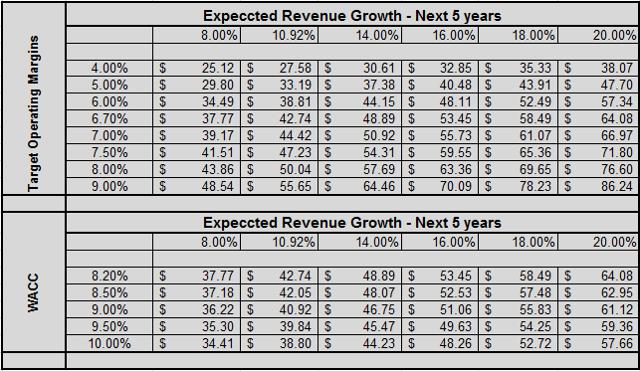 Based on the assumptions and calculations mentioned above, "discounted cash flow implied intrinsic value for Whole Foods is $42.60 / share."
Disclosure: The author has no positions in any stocks mentioned, but may initiate a long position in WFM over the next 72 hours. The author wrote this article themselves, and it expresses their own opinions. The author is not receiving compensation for it (other than from Seeking Alpha). The author has no business relationship with any company whose stock is mentioned in this article.