By Craig Bowles
Overview
Deere & Company (NYSE:DE) is slated to report 3Q 2014 earnings before the opening bell on Wednesday, August 13th. The earnings release is expected at approximately 7:00 a.m. EST with a 10:00 a.m. webcast available through John Deere Investor Relations. The company represents farm and construction machinery on the S&P 500 Index. Late in the business cycle, the size and cyclical nature of the company increases in importance to the overall market and as an economic indicator.

Outliers & Strategy
Key measures:
Adjusted Earnings Per Share: The current Street estimate is $2.21 with a range of $1.97-$2.39. (Source: Yahoo! Finance). The estimate was $2.26 three months ago. Deere has beaten estimates the last four quarters by at least 17c and as much as 39c.
Revenues: Analysts expect a decline of 5.5% y/y to $8.80 bln (range $8.19 bln to $9.58 bln).
Equipment Sales: Company guidance is for down 4% YoY to $8.943 bln.
Net Income Guidance (FY2014): Current net income guidance for FY2014 of $3.3 bln.
Equipment Sales Guidance (FY2014): Current guidance is for down 4% YoY. Zack's removed coverage this qtr.
Deere's P/E on trailing earnings is 9.3 compared to a five-year average of 15.7 and the industry's 13.5. The dividend yield is 2.5% compared to a five-year average of 2.0% and the industry's average of 2.2%, so relative value of the stock is a plus but the three business segments are very cyclical: agriculture/ turf, construction/forestry, & financial services. The outlook for golf courses and new home construction along with falling grain prices probably weigh on valuations.
Insiders bought 79,098 shares over the past year but have sold 9,431 shares the last three months. Deere expanded their share buyback program by $8 Billion in December. Warren Buffett owns close to 4 mln shares.
Analyst ratings for Deere are 3 Buy Ratings, 9 Hold, and 3 Sell Ratings, according to AnalystRatings.net.
Corn prices, which tend to correlate somewhat with Deere. Looking at the Teucrium Corn Fund ETF (NYSEARCA:CORN), prices have weakened since 3Q 2012 and are hitting new lows. Deere's stock has been relatively flat during this period despite the headwind.
Deere is compared other farm and construction machinery companies with quarterly results possibly impacting Caterpillar (NYSE:CAT), Ingersoll-Rand (NYSE:IR), and CNH Industrial (NYSE:CNHI). Other sympathy plays include Joy Global (NYSE:JOY), Monsanto (NYSE:MON), Titan International (NYSE:TWI), Stoneridge Inc. (NYSE:SRI).
Deere shares have a 1-day average price change on earnings over the past eight quarters of 3.54%. Options are pricing in an implied move of 2.99% on earnings.
Recent News
08/08: Fall grain crops see basis deterioration with elevators nearing 100% capacity, so the near-term outlook for grain prices remains unfavorable but low carry costs should provide some support, according to the weekly corn review on FarmFutures.com.
08/06: Russia is a small part of Deere sales, so the Ag products ban impact is limited, according to a post on Reuters.com.
08/06: Agco Corp reported a lower quarterly profit and slashed its full-year earnings outlook as falling farm commodity prices sent sales of its tractors, harvesters and other agricultural equipment sharply lower in almost every region of the world, according to a post on Reuters.com.
07/06: Deere management foresees significant earnings growth from China and India, according to a post on SeekingAlpha.com.
Technical Review
Deere's stock continues to find resistance above $90 since approaching $100 in 2011. Upside potential is increased after being flat for multiple years. Seasonality suggests some 4Q strength, so this is an important test below the 200-day moving average. Below $85 has a large support area just below $82.50. (Chart courtesy of StockCharts.com)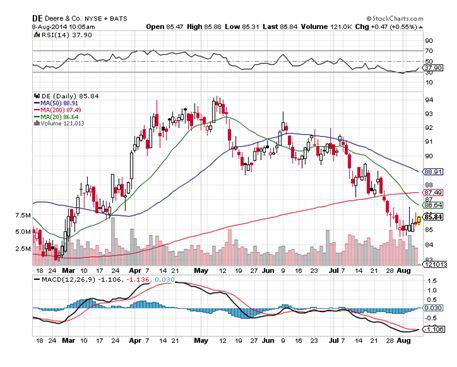 Summary
John Deere has beaten estimates the last four quarters by as little as 17c and as much as 39c. Given a lack of positive sentiment, even a 3c beat with revenue somewhat (at least $8.84 bln) closer to the $8.88 bln analyst midpoint would be a positive. Equipment sales better than down 4% YoY to $8.943 bln would be a positive. Previous Deere earnings that have beat estimates tend to see the stock trade higher before the conference call, and then management talks down prospects.
DISCLAIMER: By using this report, you acknowledge that Selerity, Inc. is in no way liable for losses or gains arising out of commentary, analysis, and or data in this report. Your investment decisions and recommendations are made entirely at your discretion. Selerity does not own securities in companies that they write about, is not an investment adviser, and the content contained herein is not an endorsement to buy or sell any securities. No content published as part of this report constitutes a recommendation that any particular investment, security, portfolio of securities, transaction or investment strategy is suitable for any specific person.
Disclosure: The author has no positions in any stocks mentioned, and no plans to initiate any positions within the next 72 hours. The author wrote this article themselves, and it expresses their own opinions. The author is not receiving compensation for it (other than from Seeking Alpha). The author has no business relationship with any company whose stock is mentioned in this article.