One of the leading laggards of the market over the past two years, miner Barrick Gold (NYSE:ABX), is starting to behave better over the past month. There are myriad reasons for this recent improvement in sentiment on this huge gold miner. If sentiment continues to improve, the stock seems poised to reward contrarian investors.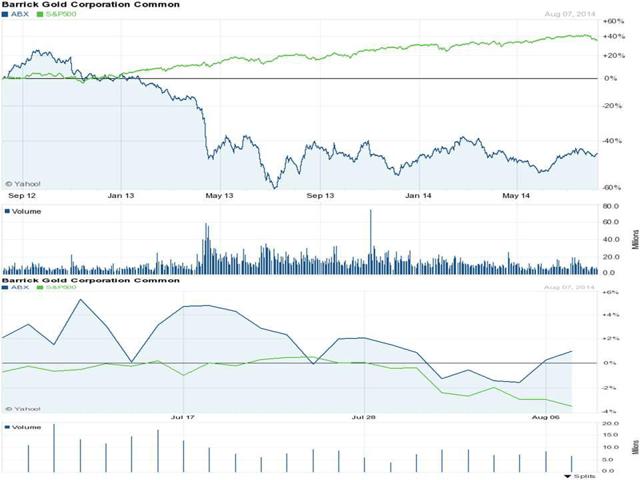 Click to enlarge
The company just fired its CEO. This removes an obstacle to seeing a long awaiting merger between Barrick Gold and Newmont Mining (NYSE:NEM) from occurring. This makes too much sense not to have a likely probability of happening at some point in the future. Both companies get ~40% of their total gold production from Nevada, so the synergies and cost savings would be significant in any merger. This week Newmont's CEO stated announced that he was "open" to resuming discussions.
The company is starting to pick substantial analyst support. Goldman Sachs just added the gold miner to its "Conviction Buy" list. Goldman sees improvement in Barrick's operational profile and lower costs as it starts to get 80% of production from high grade deposits and believes the company can produce some $5B in free cash flow between 2014 and 2018. Yesterday, RBC Capital Markets moved its price target from $23 a share to $25 a share. RBC sees Barrick improving with or without a merger with Newmont and also sees the same reduction in costs and improving free cash flow profile as Goldman.
In addition, although this has not happened yet, the continuing and escalating situations across the globe (Ukraine, Syria, Iraq, Libya, Gaza, etc.) could eventually spark a rally in gold - the traditional beneficiary of fund flows when global events go south. This would be a significant positive for all gold mining shares including Barrick Gold.
Valuation:
Barrick looks expensive based on this year's earnings. The company is tracking towards just 70 to 80 cents a share of profit in 2014. However, the shares trade at less than five times the over $4 a share the world's largest gold miner earned in both FY2010 and FY2011. Revenue growth should return in 2015 and the shares yield a minute 1.1%. However, if Goldman's and RBC's free cash flow projections come to pass, the miner should be able to provide significant dividend increases in the years ahead. This contrarian play may still have significant upside especially if merger talk around Newmont Mining picks up again.
Disclosure: The author is long ABX. The author wrote this article themselves, and it expresses their own opinions. The author is not receiving compensation for it (other than from Seeking Alpha). The author has no business relationship with any company whose stock is mentioned in this article.