As catalysts played out with my positions, my portfolio performed well in November.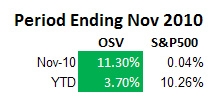 Up 11.3% compared to 0.04% for the SPY fund that tracks the S&P500.
I broke back into positive territory in November and hopefully it can stay that way.
2010 performance won't be anything impressive but I've taken away so many key lessons in 2010-- probably the most I ever have in a single year. I'll post what they are when the year ends.
What Happened in November
No transactions took place in November but lots of things did happen.
General Growth Properties (NYSE:GGP) and Howard Hughes Corp (NYSE:HHC)
GGP finally emerged from bankruptcy and then spun off Howard Hughes Corp (HHC) which is being picked up by institutions. The main catalyst was that many funds were unable to hold GGP during bankruptcy stages. Upon emergence, analysts are back to recommending the company and the exposure throughout the bankruptcy process has helped the share price to increase.
Sun Healthcare Group (NASDAQ:SUNH) and Sabra Healthcare REIT (NASDAQ:SBRA)
Another completed spinoff from November. Funny thing is that the spun off child (SBRA) is much bigger than the parent (SUNH), which brings the potential for both to be good investments.
Now that SUNH is a pure healthcare play, there is the risk of medicare, but the drops in price make it a very interesting and cheap company.
I purchased SUNH before the spin off, but with the 13% drop from the spin off completion, it looks like Greenblatt was right once again about buying companies after their spin off. I'll be looking to add.
Gravity (NASDAQ:GRVY)
As expected, GRVY has announced another delay to the release of its game RO2.
From the video conference the company held in October, this is what I expect the timeline to be.
1st Round CBT complete
2nd Round CBT estimated start: Dec/Jan 2011
2nd Round CBT estimated end: Jan/Feb 2011
Implement and fix things from 2nd CBT
OBT estimated start: Feb/Mar 2011
OBT estimated end: Mar/April 2011
add in X factors
My estimated launch date for RO2: Mid way through 2011. About 7-8 months from now.
What I really like is the fact that a delay was announced but the stock price did not move. This is a sign that all the pessimism has already been built into the stock price.
With all these delays, you would expect the company to be burning cash, but not so. GRVY has been buying the rights to several games and releasing them to the US market-- the latest being Dragon Saga and Freestyle.
On a personal note, I used to play Freestyle myself back in 2004-2005.
Extremely addictive with the multi-player aspect. I was disappointed when I couldn't play it in the US but now that it is here, it looks like it becoming popular rapidly.
Retail Holdings (OTCPK:RHDGF)
Not long after I purchased RHDGF, the company announced that it will be selling a majority stake of its Bangladesh subsidiary, which prompted a 30% jump in price.
Still worth about $25 though. Plenty of upside remaining. I'm happy to just wait.
Bolt Technology (NASDAQ:BOLT)
Bolt has come a long way since the Gulf oil mess. Up about 53% since then and has recovered much quicker than I thought.
Fundamentals are still great and there hasn't been any news for the price increases, but the price is right around my intrinsic value of $15ish, so I will be looking to sell soon.
Disclosure: Long GGP, HHC, SUNH, SBRA, GRVY, RHDGF, BOLT