By Chris McKhann
UBS has a new volatility fund that seems to address the shortcomings of the other products currently in the market.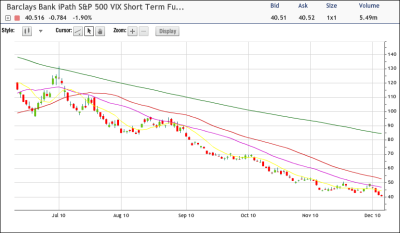 Its E-Tracs Daily Long-Short VIX ETN (NYSEARCA:XVIX) is a truly interesting product. It has a 100 percent long position in the iPath S&P 500 VIX Medium Term Futures ETN (NYSEARCA:VXZ) and a 50 percent short position in iPath S&P 500 VIX Short-Term Futures ETN (NYSEARCA:VXX), following a trade that has been very profitable over the last five years. It takes advantage of the normal term structure of the VIX futures, something that plagues the performance of the VXX.
The product essentially sells the front month futures and buying the later. The index on which the fund is based has gained 24 percent annually for the five years from the end of 2005 to the present and even managed a positive performance in 2008. But more detailed returns I will have to create myself, as UBS is really just giving yearly returns and a little chart. Neither is overly helpful in figuring out what happened during the crisis of September 2008. And of course the VXX and VXZ didn't exist back then. But the worst performance since that start looks like the last couple of months, as it appears to have fallen 20 percent.
XVIX is likely to do poorly when the market tumbles, which makes sense given that it is short the front end of volatility. That means this product won't "hedge" your portfolio in the way that long volatility will. But that is not its purpose. As a stand-alone product it is very interesting and in the right conditions will likely outperform everything else out there.

Disclosure: No position