If one wants a high-quality pipeline partnership, then one should look no further than Enterprise Product Partners (NYSE:EPD). Enterprise's approach, deemed a bit too conservative several years ago, is now the model for all other pipelines to follow: A simple ownership structure with just one ticker and a cushy distribution coverage ratio. Most midstream MLPs have at least a general partner and a limited partner, and therefore at least two ticker symbols. And while most pipeline MLPs carry distribution coverage ratios of between 1.0 and 1.1, Enterprise typically carries a coverage ratio of 1.2 to 1.4. The result? Over the last couple years, the market has rewarded Enterprise with outsized gains and one of the lowest costs of capital in the industry.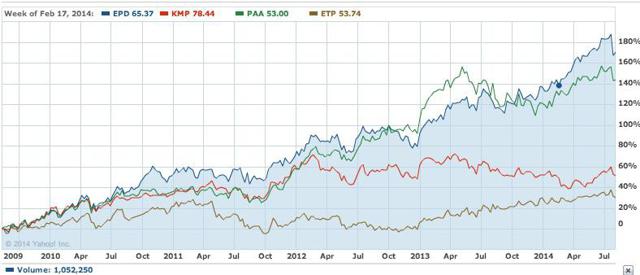 Click to enlarge
This is no trifling matter either. In this time of domestic energy infrastructure build out, pipeline MLPs occasionally go to equity markets to raise capital for expansion projects. A premium valuation can put a pipeline partnership above all its peers. With Enterprise, this is certainly the case: Enterprise trades at 26 times DCF, while Kinder Morgan Partners (NYSE:KMP) is at only 14.5 times, Plains All-American (NYSE:PAA) sits at 22 times and Energy Transfer Partners (NYSE:ETP) trades at 14.8 times.
How has Enterprise taken advantage of its premium? By building out multiple new transportation, processing and storage systems. This includes crude oil, NGLs, refined products (for the prospering petrochemical industry) and natural gas.
In the second quarter of this year Enterprise managed to grow DCF by another 9% year-over-year. While this growth may not be as impressive as when Enterprise was a smaller partnership, 9% DCF growth is still enough to make the partnership an appealing one vis-a-vis its large peers. This, of course, makes investors want to invest in the partnership more, which begets a lower cost of capital, which is beneficial to growth. One might call this a virtuous cycle.
Project outlook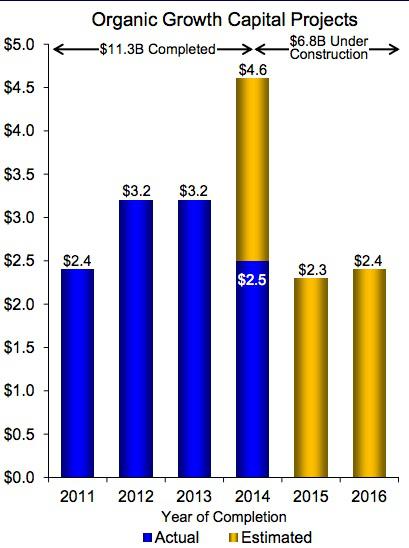 Enterprise Investor Relations
As the above chart shows, Enterprise has a lot on its plate. I would expect the partnership to add at least a few more projects to the 2015 and 2016 list before those years come and go. These capital projects will provide Enterprise with continued, high-visibility cash flow growth over the next few years.
Lately, Enterprise has shifted its capital focus from supply-oriented systems to demand-oriented systems. In other words, these days the impetus for Enterprise's new projects are coming increasingly from the consumption side rather than from the well bore.
This includes delivering refined products from the prospering Gulf Coast petrochemical industry. It also involves delivering natural gas inputs to the petrochemical industry, which then turns that input into refined products. One of the biggest challenges ahead is how to deal with increasing supply of light, sweet crude in the United States, and Enterprise sees good opportunity in building terminals and pipeline systems for water exports in the coming years. The US has also recently become the biggest exporter of propane, a Natural Gas Liquid. Enterprise sees good future opportunity in NGL export terminals.
Currently Enterprise has a few big projects underway. The most high-profile of which are the AEGIS system, which delivers ethane to six different petrochemical customers along the Gulf Coast, and the ATEX system, which is a pipeline from the northeast to the Gulf Coast.
Valuation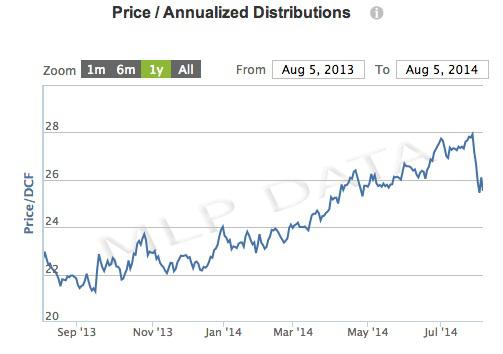 Chart by MLP Data
This recent pullback in stocks has put forth some good deals, but most pipeline MLPs are not yet attractively valued. Remember, pipeline MLPs have enjoyed a long, sustained run-up in value, and this latest correction has only brought Enterprise back down to the level it was on back in June.
While Enterprise is certainly more attractively valued than it was last month, at some 26 times trailing twelve-month DCF. A much better entry point would be at 22 times DCF or lower. As you can see, Enterprise has bounced off of 22 times DCF a couple of times over the last twelve months. In addition, 22 times DCF is also the lowest valuation year-to-date. That would represent a friendlier entry point, although even that is still somewhat expensive.
Furthermore, at 22 times DCF, Enterprise would sit at $62.50 per share. The distribution yield would be a generous 4.6%, significantly better than where it sits today at 3.90%. Buying at $62.50 would mean at least some kind of margin of safety, and a higher distribution yield that will protect from additional downside.
Conclusion
Enterprise is definitely a the best of breed pipeline MLP, and valuations couldn't reflect that more clearly. While I believe the partnership does deserve to trade at some premium to its peers, 26 times DCF, in general, is a high valuation. The best thing for an investor to do here is continue to hold off and wait for a better time to buy.
If Enterprise comes down to a buyable level, I recommend giving this pipeline partnership some serious thought. If it doesn't, there are always good deals elsewhere.
Disclosure: The author has no positions in any stocks mentioned, and no plans to initiate any positions within the next 72 hours. The author wrote this article themselves, and it expresses their own opinions. The author is not receiving compensation for it (other than from Seeking Alpha). The author has no business relationship with any company whose stock is mentioned in this article.