As I write this, shares of General Electric (NYSE:GE) are rising by roughly 2%, primarily due to an upgrade from Bernstein's. Look at its performance year-to-date, however, and a different story emerges.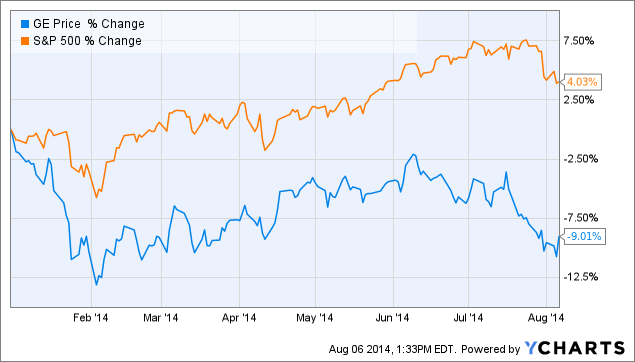 Despite this underperformance, I am becoming increasingly bullish on this industrial conglomerate.
Solid backlog bodes well for future prospects
GE reported on July 18, announcing operating earnings per share of $0.39, an increase of 8%. GAAP earnings from continuing operations came in at $3.6 billion. This amounted to EPS of $0.35, or an increase of 13%.
Perhaps the most encouraging aspect of the quarter was the record backlog of $246 billion. This was an increase of $23 billion year-over-year, and indicates a strong second half to the year may very well be in the cards.
CEO Jeff Immelt also thought the company had a solid quarter, highlighting GE's "double-digit industrial segment profit growth, 30 basis points of margin expansion, and nearly $6 billion returned to shareholders." Overall revenues increased 3%, totaling $36.2 billion.
Cutting out the non-core
After GE's quarterly results, shares of its recent spin-out Synchrony Financial (NYSE:SYF) debuted on July 30th, although to a relatively lukewarm response. Even though it was priced at the low-end of what was expected, it was still the largest IPO this year. It is also the largest issuer of private-label, store-branded credit cards.
GE still retains roughly 85% of Synchrony, after raising $2.87 billion by selling the initial 125 million shares. During GE's Q2 conference call, the company's CFO, Jeff Bornstein explained that the rest of Synchrony would also be spun off due to "real value creation versus selling the business outright."
As GE moves more towards its more industrial businesses and away from non-core ones such as consumer finance, there's a good chance the market will assign it a higher multiple over time.
The addition of Alstom furthers industrial focus
Steve Bolze, GE's VP of power and water, spoke about the recent Alstom (OTCPK:ALSMY) acquisition during the conference call, saying that the "Alstom Power and Grid are businesses we know and like and are being acquired at a good time in the cycle." He also noted that these businesses compliment the company in technology and geography.
Bolze also said that GE "will still own close to 100% of Alstom's gas and steam equipment and service businesses. About 86% of our synergies are in these businesses." He then continued on about upcoming joint ventures.
Regarding joint ventures, GE will generally have operational control, and Alstom will remain as an investor. Joint ventures will include:
Renewables, which will consist of Alstom's offshore wind, hydro business, and some newer renewable technologies. This is a 50/50 JV, but according to Bolze, "onshore wind from Alstom will go directly into GE at 100%."
Combo of GE's digital energy business and Alstom's grid business. This is also a 50/50 endeavor.
Global nuclear and French steam, which will include Alstom's steam turbine equipment and servicing applications for France. According to Bolze, "GE will own 80% of the economics and Alstom 20%. But Alstom will still have 50% of the voting interests."
GE will appoint the CEO for each JV, and also expects to consolidate, while Alstom will have "standard minority governance rights." Bolze also said that his company agreed to sell its signaling business (which is a part of GE transportation), to Alstom at "a good price rate."
Impact of synergies
The Alstom deal is expected to close in 2015, adding around $0.06 to $0.09 to EPS by 2016, according to CEO Immelt. GE is expecting roughly $300 million in synergies during the first year, which are expected to grow to $1.2 billion by year five.
Bolze clarified that GE expects to realize 80% of the $1.2 billion of synergies by the third year. He defined four different areas of synergies going forward during the conference call:
We estimate roughly 400 million of our savings here over the period. Second, leveraging the combined sourcing by to increase, productivity we have approximately 5 billion in common spend that we believe we can realize about 5% savings on. This is very consistent with our experience when we bought EGT from Alstom in 1999. The third area is combining our R&D efforts across the product lines, then lastly by consolidating supporting functions across SG&A we see the ability to get about 10% synergy here across the combined businesses.
Assuming a close in mid-2015, there is also an expectation for modest revenue synergies. All in all, the Alstom deal will likely be a key piece in helping GE achieve its goal of having 75% of its earnings coming from industrial.
Future streams of growth through technology
The Internet of Things, or IoT, has been a buzzword for awhile now. I see General Electric as a major player in the IoT going forward, however, with its Industrial Internet concept. GE wants to converge big, intelligent data with machines to improve efficiency and operations globally.
GE's Industrial Internet will essentially link equipment and machinery to a network with sophisticated sensors. Along with Frost Data Capital, the company has even launched an incubator to incentivize Industrial Internet-related start-ups. GE will invest up to 20% in each of the start-ups, and its incubator wants to create more than 30 start-ups over the next three years, according to The Wall Street Journal.
The company currently estimates that $150 billion in waste can be eliminated by the Industrial Internet, with 46% of the global economy benefiting from it. The value generated from efficiency savings alone could be enormous, as indicated by the company itself: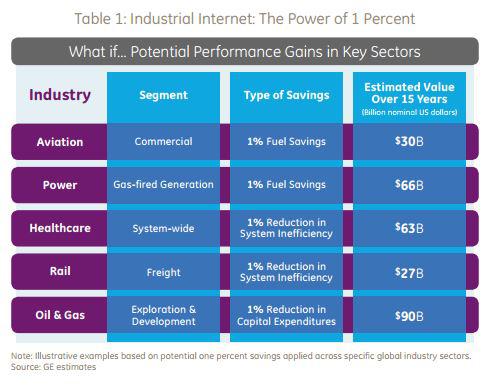 The Industrial Internet is a premise that would work best with a conglomerate such as GE, as it is involved in everything from jet engines, to oil and gas, to healthcare. This gives it a vast reach over many sectors of the global economy through an advanced ecosystem, one that will inevitably be glued together with machine-to-machine communications.
GE products in infrastructure, transportation, oil and gas, etc will be especially useful going forward for things like "smart cities," and I presume this might help partially explain what Bolze meant when he indicated that Alstom "compliments" GE in technology.
Valuations and fundamentals
| | | | | |
| --- | --- | --- | --- | --- |
| | P/E | Forward P/E | Dividend | Yield |
| GE | 20.92 | 13.90 | $0.88 | 3.45% |
| HON | 18.15 | 14.7 | $1.80 | 1.90% |
| EMR | 22.18 | 14.76 | $1.72 | 2.50% |
GE looks relatively cheap when looking at forward earnings, and sports a superior dividend yield. The record backlog indicates that forward earnings estimates should be relatively stable in my opinion as well.
Many spurn GE because of its dividend cut during the financial crisis, but since then, it has been a great dividend growth stock: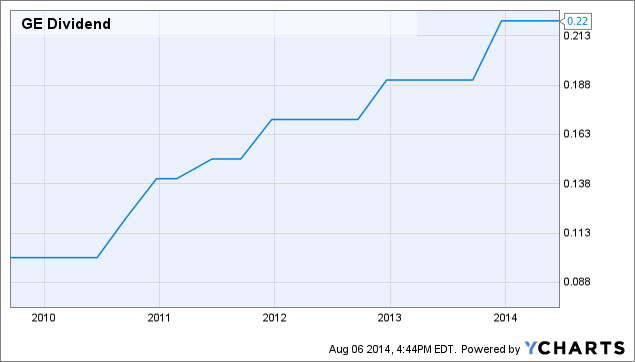 GE Dividend data by YCharts
The most recent increase was an impressive 15.8%, and dividend growth should continue going forward, minus much of the pre-financial crisis risk that's being systemically eliminated as shares of Synchrony are spun off. It's a classic case of "the past doesn't predict the future."
The bottom line
GE has emerged from its financial crisis mishaps to become an industrial-focused juggernaut. It's involved in everything from oil and gas to healthcare, and with the oncoming of the Industrial Internet, there's a good chance it will be able to better leverage its diversified segments; further integrating them and collecting data along the way.
In the nearer term, spinning off the former GE capital slowly while focusing solely on its core industrial business appears to be a smart move for the long term. When the synergies from the Alstom deal begin to kick in, the company should be firing on all cylinders.
I will be adding to my existing position in GE as the global economy recovers and the company continues to increase earnings. I suspect capital appreciation will come knocking soon. In the mean time, I will be "paid to wait" with an increasing dividend, yielding well over 3%.
Disclosure: The author is long GE. The author wrote this article themselves, and it expresses their own opinions. The author is not receiving compensation for it (other than from Seeking Alpha). The author has no business relationship with any company whose stock is mentioned in this article.
Additional disclosure: Articles I write for Seeking Alpha represent my own personal opinion and should not be taken as professional investment advice. I am not a registered financial adviser. Due diligence and/or consultation with your investment adviser should be undertaken before making any financial decisions, as these decisions are an individual's personal responsibility
Editor's Note: This article discusses one or more securities that do not trade on a major U.S. exchange. Please be aware of the risks associated with these stocks.