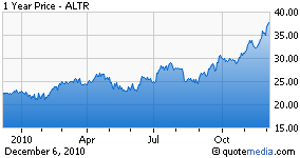 Click to enlargeLast week, Altera Corporation (NASDAQ:ALTR) updated its guidance for the fourth quarter and provided guidance for 2011. The guidance was in line with expectations and hence estimate revisions were more or less muted.
Altera expects revenues in the fourth quarter to grow around 3% – 6% sequentially, same as the earlier forecast. The guidance implies a revenue guidance of $543.3 – $559.2 million, in line with the Zacks consensus of $546 million.
Altera also provided preliminary guidance for 2011. Although the company did not provide guidance for revenues but it stated that gross margin should come around 70%, +/- 1%.
Earnings Estimate Revisions - Overview
As the guidance for 2010 provided by Altera was roughly in line with expectations, there has not been much movement in earnings estimates. However, the same cannot be said for 2011 as most analysts have cut down their estimates.
Agreement of Estimate Revisions
Out of the 24 analysts covering the stock, only 3 analysts have upped their estimates for 2010 in the last seven days. For the fourth quarter as well, just three out of twenty-five analysts have increased their estimates.
Altera expects growth rates to moderate from the highs of 2010 in 2011 and beyond. In the long run, Altera expects its largest vertical – telecom and wireless to continue growing but, industrial, military and automotive will grow faster than other end-markets. Altera expects gross margin to gradually decline to 65% by 2012 – 2015. The company targets an operating margin around 36%.
The guidance for 2011 and beyond was met with mixed reactions. For 2011, 6 out of the 25 analysts covering the stock, have upped their estimates in the last seven days. However, 12 analysts have moved in the opposite direction and trimmed their forecasts in the last seven days, thereby creating a downward pressure on estimates.
Magnitude of Estimate Revisions
As the estimate revisions lacked any directional pull, estimates have been more or less static in the last seven days.
The current Zacks Consensus estimate for 2010 is $2.48, without any movement in the last seven days. The current Zacks Consensus estimate for the fourth quarter is 71 cents, without any movement in the last seven days.
The estimates in the current Zacks Consensus for fourth-quarter 2010 range from a low of 55 cents to a high of 74 cents. For 2010, the estimates range from $2.32 to $2.51.
The current Zacks Consensus estimate for 2011 is $2.40, down by a cent in the last seven days. The estimates in the current Zacks Consensus for 2011 range from a low of $1.70 to a high of $2.82.
Our Take
The guidance provided for the fourth quarter assumes an element of inventory accumulation by some customers. In terms of end-markets, communications should continue to grow as China and India upgrade to 3G and U.S. and Japan deploy 4G networks.
Networking, computer and storage should increase driven by networking. The automotive, industrial, military and the other markets are forecasted to be flat to slightly down.
Altera stated that although design wins at 40-nm node continue to grow, 2011 will be the year of 28-nm. Altera will start to ship 28-nm Stratix V FPGAs in the first quarter of 2011 and introduce other 28-nm families which address a broad range of markets and applications. Altera plans to have more products at 28-nm than in any previous process generation.
However, 40-nm will be a major contributor to the total revenue growth over the next several years and 28-nm revenues will take a while to become meaningful. Altera nudged past prime rival Xilinx Inc. (XLNX) at the 40-nm node and gained market share in 2010. The company also seems to have an edge over Xilinx for the 28-nm node.
Due to the near-term pressure on the stock, we currently have a Neutralrecommendation on Altera. This is supported by a Zacks #3 Rank, which translates into a short-term rating of Hold.
Disclosure: No position