Kinder Morgan Energy Partners L.P. (NYSE:KMP) has had big plans to expand export capacity into Mexico, as Mexico converts coal powered manufacturing and power generation to natural gas.
Back in the Q1 2014 conference call, Bradley Olsen, of Tudor Pickering & Holt, asked Richard Kinder to share more color on growing Mexican demand for natural gas and how this may impact the company. Mr. Kinder said:
...we believe that over the next 10 years demand will more than double from the present throughput that goes into Mexico today, and the reason is very simple. They are converting electric generation at industrial use from oil to natural gas, the opening of the energy business in Mexico we believe will concentrate primarily on oil not on natural gas and the only alternative as we switch to natural gas is to import.
With such a huge demand, it's not like management is reaching for high hanging fruit. Current Mexican demand is running at about 2.1 Mcf/d for 2014, and is forecasted to increase 80% to 3.8 Mcf/d by 2019, then to 4.6 Mcf/d by 2024. All said and done, demand is said to have a CAGR of 8% through the next 10 years according to these projections given by management in the latest presentation: enlarge)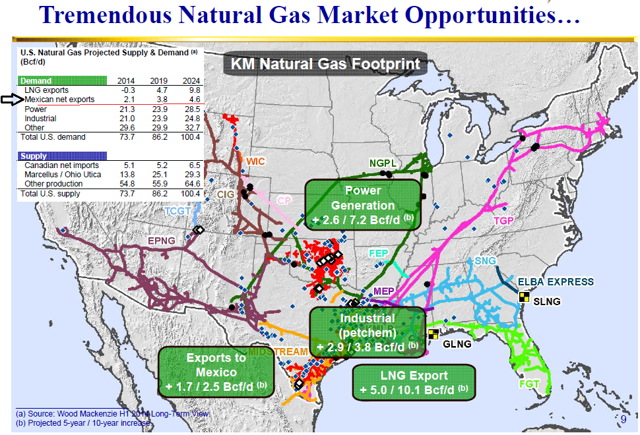 In this same Q1 conference call, Kinder mentioned that the El Paso Natural Gas (EPNG) will be expanding the system later this decade to capture this growing demand.
EPNG Backround:
EPNG is a 10,200-mile NG pipeline system that transports natural gas from the San Juan and the Permian and Anadarko basins to California, its single largest market. More importantly, EPNG moves product to northern Mexico.
Within EPNG, the Sierrita Pipeline project will provide approximately 200 Mcf/d capacity through a 36" pipeline that extends approximately 60 miles from EPNG's existing south mainlines, near Tucson, Ariz., to the U.S.-Mexico border. This pipe will interconnect via a new international border crossing with a new 36-inch diameter natural gas pipeline to be built in Mexico.
Now for the Mexican side of the boarder, CFE awarded two contracts to Sempra International's Mexican business unit to construct, own and operate an approximately 500-mile $1 B pipeline network connecting the northwestern states of Sonora and Sinaloa. This Mexican network will connect to the Sierrita Pipeline.
EPNG/Mexican Progress Confirmed:
Management has talked a big game for a long time and has been building out the Sierrita network, however most importantly perhaps is contract confirmation. A recent press release from July 31, 2014 seems to confirm expansion these plans for the EPNG network, as EPNG signed a 21 year agreement with Mexico's Comisión Federal de Electricidad (CFE) which detail specific volumes for this system. The contract will provide 163,000 dekatherms per day (Dth/d) of firm transportation capacity by October 2014, then ramping up to 200,000 Dth/d by October 2017 and then 550,000 Dth/d by October 2020, nearly 2.4x original volumes. Capital spending on the project is estimated at $529 M, and is reportedly already included in the company's backlog projections, however from a recent presentation, Kinder Morgan explains the future demand scheduled to increase from Mexico: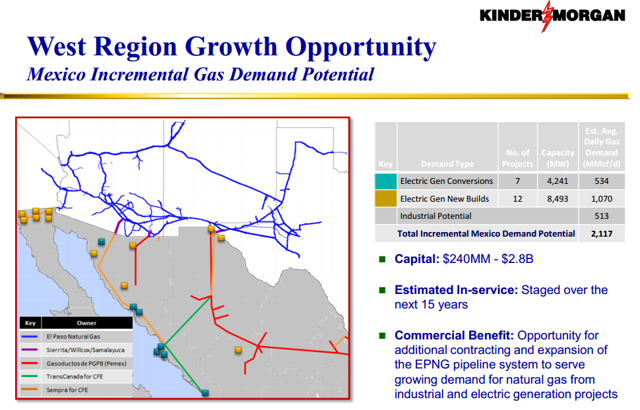 In this slide, we can see the EPNG network will function as more of an upstream pipeline system which will feed south into the CFE's Transcanada/Sempra systems and Pemex systems, then ultimately to ~19 electric power systems. These plants are scheduled to come online progressively over the next 15 years, which correlates to the contract mentioned earlier. Again, the details called for a 2.4x increase in supply through this period.
I feel this highly visible source of demand will drive EPNG volumes and new expansions, and quite possibly even lead to additional feed contracts from their highly valuable customer, CFE, the government run entity which controls electric power all through Mexico.
Kinder estimates $2.8 B in new capital investment will be needed to keep up with CFE's needs, and considering today's ~$17 B backlog level, these almost definite expansions needed by the Mexican government will be quite meaningful going forward for shareholders.
Summary:
There's no denying Mexican demand is outpacing US demand, and Kinder Morgan management is following through on their projections for increased demand by signing very long term, highly visible and reliable contracts with Mexico's CFE, which calls for developing the EPNG network.
Through its Sierrita Pipeline, Kinder will link its EPNG system with multiple Mexican systems to feed a growing NG power plant system south of the border.
Additional investments running to Mexico are expected to approach $3B over the next 15 years, and offer a promising growth prospect for unitholders for years to come. But the best part is not only are these expansions pretty large even considering Kinder's size; they are highly visible and as close to "locked in" as you can get.
Disclosure: The author is long KMI, KMR. The author wrote this article themselves, and it expresses their own opinions. The author is not receiving compensation for it (other than from Seeking Alpha). The author has no business relationship with any company whose stock is mentioned in this article.