One of the companies we have been following for some time is Ellie Mae (NYSEMKT:ELLI). We were enthusiastic at $15 a couple of years ago, but thought that when the shares approached $30, we argued they were getting expensive and consolidation would set in.
This indeed happened, the stock basically floated between $20 and $30 for a couple of years, despite a general stock rally. Despite valuation concerns, there were other reasons to be less enthusiastic about the prospects for the stock, or so we thought:
A declining speed in the housing recovery

A decline in refinancing business due to interest rates bottoming out

An increasing market share of ELLI

A tapering off of the migration from the Encompass package to Encompass online (SAAS)
The increasing market share argument might sound strange, but the bigger Ellie's market share, the less room there is to grow at the expense of others.
As it happens, the mortgage market has actually been really bad, declining a whopping 42% the first half of this year compared to last year. Further declines are predicted for the second half and Ellie is adjusting its own scenario a further 5% for the second half as a result.
This sounds pretty bad but as it happens, it hasn't stopped Ellie from gaining momentum again. The shares have broken out decisively following Q2 results, and it's not hard to see why. Here is CEO Sig Anderman during the CC:
Our second quarter results were just terrific across the Board. Revenues were a record $40 million, adjusted EBITDA was $13.2 million and we booked forward 10,400 seats; the second best quarter we have ever had. And we did this all in the face of a 50% decline in mortgage volume in the first half compared to last year and an approximately 40% decline year-over-year for the second quarter alone.
Indeed. But how has Ellie pulled this off in the face of such strong headwinds? Well, it is important to keep the following in mind:
Our first half results even in the face of massive industry volume headwinds once again confirm that we are not a mortgage company. We are a SaaS technology company with ever increasing recurring revenues [CC]
The important competitive advantages we described in an earlier article still manifest themselves. By using Encompass, the whole mortgage origination process is streamlined and up to date with the latest regulatory changes, cutting costs, saving time and preventing error and duplication.
Even more importantly, to a considerable extent, these advantages increasingly manifest themselves independently of the state of the mortgage market, as the shift to the SaaS business model produces recurring (rather than one-off) revenues and they are deeply ingrained in customer business processes, solving problems, taking a great deal of complexity out of their core business processes, and improving quality at the same time.
And they keep innovating. They keep on adding functionality to Encompas, like the CRM (Customer Relationship Management) features.
The TQL (Total Quality Loan) program already exists for quite some time. It's important to note that it improves the loan quality, not just the process (although readers familiar with the TQM literature will recognize that improving the process is the way to achieve the goal, improving the end product).
While initially TQL was focused on big mortgage providers, the offering is now more broad based and growing really well, according to COO Jonathan Corr on the CC:
This is eventually going to become the standard way that everybody does loans.It is just the -- in a world in which lenders have to worry about loans being compliant at high quality and doing it cost effective way, I mean TQL is the answer there. And it really is this umbrella best practices approach and whether it is a couple of few years from now, somewhere more than that. I think every loan ends up going this way.
Ellie Mae continues to spend significant amounts of money on R&D (15% of revenue), and they again have stuff to show for it as they have a new product out, Encompass Consumer Direct.
This is a self-service website where borrowers can research loan products and rates, apply for a loan and upload and electronically sign documents. This is a rather interesting strategic development that could potentially:
Disintermediate the mortgage origination process (cutting out agents, middlemen)

Thereby cheapening the process

Function as an internet aggregator that could commoditize the mortgage market
While reading about it we thought for a moment that the latter could have serious implications, as it could be a direct and serious threat to their existing users of Encompass. However, it's actually designed for them, lenders can configure Encompass Consumer Direct to fit their own business models and identity.
That is, lenders can tailor it to function as a direct internet channel to their own customers, letting them do part of the work themselves and thereby lowering customer acquisition cost. Once again, it's based on a subscription model with recurring revenues (per month or year) with additional revenues (an application fee) kicking in on a certain volume.
In case you'll worry that it would cannibalize existing Encompass revenues, these revenues will still materialize, so the company is getting paid twice, as it happens. The Encompass Consumer Direct simply lowers customer acquisition cost for lenders, and Elli is getting a cut of that without affecting other income from the same mortgage processing.
The company is also already investing heavily in the next iteration of Encompass, ingraining it even deeper into clients processes and value networks and focusing more on mobile use.
Valuation
Despite all the headwinds from the mortgage market this year, Ellie is actually maintaining their guidance for the year, revenue will be $150-$153.5M while adjusted net income is projected to be between $28.9 and $30.2M (or $0.98-$1 per diluted share).
No, at $34, that is, 34x this years earnings, the shares are certainly not cheap. But one has to realize a few things:
Ellie is a company with a near unassailable market position

Ellie has a proven track record of growing earnings even under very tough market conditions, like this year.

The mortgage market is expected to turn around next year.

Ellie has a proven track record of introducing new product and services that offer compelling. value to customers and is cementing it's market leading position further.

The company is financially very sound (it has over $142M in cash).

It has a three year $75M share buyback program in place (not used yet). That's 7% of it's present market cap.
Basically, if this is what they do in a bad market, wait until next year when the mortgage market turns around.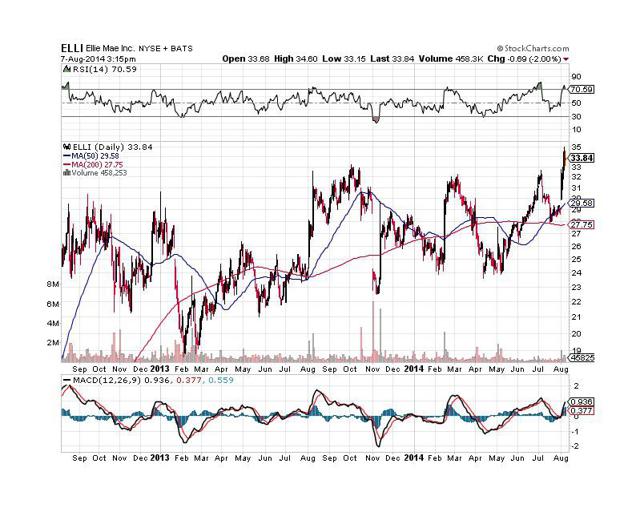 Click to enlarge
What to do with the stock which has already rallied considerably, and has finally and, seemingly decisively broken out of it's multi-year resistance level around $32? Well, we think the former resistance is going to function as a new support, so we'll wait until the shares have fallen back to that level and we would take the risk that this might not happen (or that they fall back further).
Disclosure: The author has no positions in any stocks mentioned, but may initiate a long position in ELLI over the next 72 hours. The author wrote this article themselves, and it expresses their own opinions. The author is not receiving compensation for it (other than from Seeking Alpha). The author has no business relationship with any company whose stock is mentioned in this article.