I reiterate my neutral stance on Sprint Corporation (NYSE:S). The company recently reported 2Q14 results, which highlight that the company's strategic initiatives to address competition in the sector are slowly but steadily improving its operating metrics. Although S is moderating the subscriber loss trend by ramping up its pricing discount offers, these offers are weighing on its revenue and ARPU. Moreover, the company's efforts to improve customer services will positively impact the churn rate in the future. Also, as S continues to execute cost reduction initiatives, the company's EBITDA margin is improving.
Subscriber Base Struggle
In the saturated wireless segment of the North American telecom sector, carriers are constantly fighting to increase their shares in the postpaid subscriber base. Currently, S is facing intense competition from telecom sector giants AT&T (NYSE:T) and Verizon (NYSE:VZ). Moreover, T-Mobile's (NASDAQ:TMUS) consistent and aggressive pricing moves and innovative launches pose a challenge to the company's subscriber base. The four major telecom carriers in North America are now focused on attracting subscribers by constantly upgrading their equipment installment plans. The EIPs (equipment installment plan) of the leading carriers, including T's NEXT, VZ's EDGE and TMUS's JUMP, have been more successful in attracting postpaid subscribers than the company's Easy pay program.
In its attempt to grow its postpaid subscriber base, S introduced discounted pricing offers under its Framily plan, which has kept he company's top line under pressure in recent quarters. In 2Q14, the company's wireless service revenues were down 3.7% year-over-year, which decreased its wireless ARPU by 3.4% year-over-year. The following table shows the wireless service revenue and postpaid ARPU for S in the last five quarters.
2Q13

3Q13

4Q13

1Q14

2Q14

Wireless Service Revenue

(Y-O-Y Growth)

0.6%

0.2%

0.8%

(0.4%)

(3.7%)

ARPU

(Y-O-Y Growth)

4.5%

4.1%

3.2%

(1.6%)

(3.4%)
Source: Company's Quarterly Earnings Reports
The competitive environment in the telecom industry has been intense. Pricing competition intensified as TMUS recently started promoting its new family plan offerings, a 10GB four line shared plan for $100/month, being $60 less than the other two large carriers T and VZ. To cater to this pricing competition pressure, S is planning to cut down its prices, which will support its subscriber base, but pressurize top line growth. CEO Dan Hesse said in a recent conference call:
"We are currently testing a number of new price plans, so that we can choose price structures which could be the most effective for possible future rate plan refresh."
As the company recently announced its 2Q14 results, the company's struggling subscriber base seems to be improving slowly. In 2Q14, the company reported 245,000 total retail postpaid net subscriber losses, less than the 1,045,000 total retail postpaid net subscriber loss for the same quarter the previous year. The primary factor behind this moderating subscriber loss trend is the fact that S is on track in its 4G-LTE network deployment plan. As for now, S has rolled out its 4G-LTE to 254 million POPs, moving ahead of its mid-year target to cover 250 million POPs.
Going forward, the company's LTE roll out plan will focus on strengthening LTE services by enhancing the coverage of its 800MHZ LTE. Also, S will be delivering the highest speeds among its peers, with the enhanced capacity of its 2.5GHZ LTE builds. Moreover, the company has planned to launch VoLTE services by mid-2015 to facilitate customers with better voice quality. Based on the potential of the combined effect of S' pricing initiatives and network improvements in the near future, I believe the company's subscriber base will be positively affected.
Network upgrades has been a major backdrop for S, which has adversely affected its churn rate in recent quarters. Due to the network upgrades, S experienced network quality issues. However, the company is consistently trying to improve the network experience for its customers.
The ongoing network improvements helped the company slightly improve its postpaid churn to 2.05% for 2Q14, as compared to 2.11% in 1Q14. However, given the low postpaid churn rates of T (0.86%) and VZ (0.94%) for 2Q14, I believe S needs to ramp up its network upgrades efforts, which will positively affect its churn rate.
Cost Reduction Initiatives to Stabilize EBITDA Margins
As S is ramping up its efforts to reduce costs in key areas like selling expenses, customer care and roaming expenses, the company's EBITDA margin is displaying an improvement. Due to the cost saving initiatives, the company's operating expenses were down by 15% year-over-year and S reported an EBITDA margin of 23.8%, up 40 basis points year-over-year in 2Q14. As the company remains committed to lowering costs, it will portend well to expand its EBITDA margins. The following chart shows the gradual improvement in the company's EBITDA margins in recent quarters.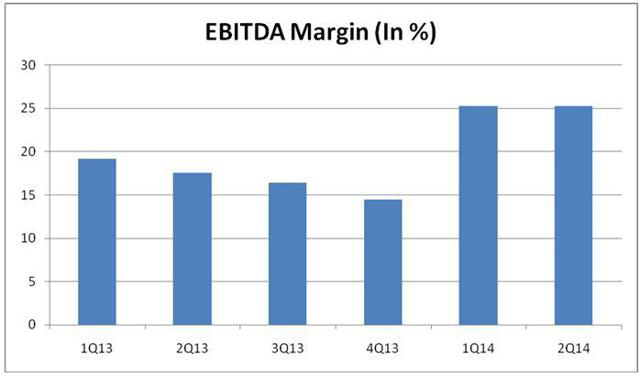 Source: Company's Quarterly Earnings Report
Conclusion
As the industry environment remains competitive, S has been experiencing a gradual improvement in its operating metrics through its strategic initiatives. The company's competitive pricing policies have been helping moderate the postpaid subscriber loss, which will also portend well for its long-term subscriber base growth. Also, an improvement of network quality and expansion of LTE services will positively impact the company's performance. Moreover, the company's cost control efforts will positively affect its margins. I believe the company has been taking the right measures to improve its performance, which will benefit it in the long term. However, in the short term, competitive issues in the industry could pressurize the company's bottom line results.
Disclosure: The author has no positions in any stocks mentioned, and no plans to initiate any positions within the next 72 hours. The author wrote this article themselves, and it expresses their own opinions. The author is not receiving compensation for it (other than from Seeking Alpha). The author has no business relationship with any company whose stock is mentioned in this article.