The market continues to underrate Kinross Gold (NYSE:KGC) despite its offer of apparently tantalizing details on the Tasiast project in Mauritania. Tasiast is the all-or-nothing bet made by Kinross when it paid $7.8 billion via an all-scrip deal to acquire the shares in Red Back Mining that it did not already own.
Red Back's shareholders welcomed the takeover, but Kinross investors did not offer resounding approval, and that is showing up in wilting ratings (see scatter chart below). The results are a little better over the last six months, but only barely, thanks to Newmont (NYSE:NEM) suddenly going off the boil whilst the likes of Barrick Gold (NYSE:ABX) and Gold Fields (NYSE:GFI) have been ripping higher.
Kinross has been hammered for reasons that pre-date the Red Back deal, but the promise and premise of the acquisition should have addressed that.
Gambling to sway uncertain shareholders and flirting with regulatory constraints on mineral resource reporting, Kinross released a "conceptual estimate" for the Tasiast project. Until then, the market assumption was that Tasiast would top out at around 10 million mineable ounces. At that level, Kinross was badly overpaying for Red Back. The conceptual estimate set an expected range of mineable ounces at between 17-25 million ounces grading between 1.5-1.8 grams per tonne.
That was sufficient to tilt the deal economics, and probably convinced hold-outs to support the takeover.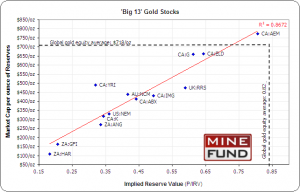 Click on charts for expanded images
Click on above chart to see comparative reserve valuations
Kinross' conceptual estimate sets Tasiast up to be the seventh or eighth largest gold deposit in the world in competition with Newcrest's Lihir Island (29Moz @ 2.7g/t) and Newmont's Boddington (21Moz @ 0.7g/t). If the estimate holds up, Tasiast will be the largest gold discovery since the South Deep mine. In 2006, the South African project suffered an embarrassing reduction from 56 million reserve ounces when it was the largest gold deposit in the world.
Following a leak from the Mauritanian government, Kinross has confirmed an "order-of-magnitude" budget of $1.5 billion for Tasiast to raise it to a 1 million ounce per year producer. At that production rate it would be one of only a handful of gold mines of that size, and possibly one of the longest lived.
Kinross Media spokesman Steve Mitchell told us that a detailed capex estimate for Tasiast will only be released when the scoping and feasibility studies are completed. A scoping study is due in February next year.
Kinross has also commenced its social licensing process with a $10 million, three-year commitment to a mining school in Mauritania.
Meanwhile, Kinross CEO Tye Burt recently told a London conference that Tasiast is adding resources at the rate of half a million ounces a month. At that pace, it would take 24-36 months for Kinross to prove up its conceptual estimate, although it is expected to add more drill rigs to the site to accelerate resource definition.
The new details provide additional scope to assess the long-term prospects for Kinross to prove that Tasiast will not just pay for the Red Back transaction, but scoop a handy return on top of that.
For now, though, the market seems to be almost entirely discounting Tasiast's expansion. Indeed, Kinross has to hit its numbers or it's entirely over for the Board and senior managers, if not the company itself. Yet, if they do prove up Tasiast, it would be a humiliating outcome for Newmont, since it sold the project which was tucked into the acquired portfolio of Normandy Mining.

Click to enlarge
Kinross shareholders are expected to foot a final bill of $10.1 billion for Red Back (see table 1), including the capital being committed for the expansion of Tasiast.
Assuming Kinross achieves the mid-point - 20 million ounces - of its conceptual estimate for Tasiast, then it will have some 25 million reserves ounces counted from its Red Back purchase. That translates to an All-in Purchase Price (AIPP) per reserve ounce of around $860, and based on projected cash costs of $450/oz.
AIPP is derived from adding cash costs per ounce to the total transaction price divided by the total reserve ounces. It's a simple way of determining the actual cost of a transaction to shareholders, whose costs must be paid down before claiming any return for shareholders.
With current gold prices near $1,400/oz, the AIPP of $860/oz leaves a "basic operating margin" of $441/oz.
That's a handsome number, but it is entirely dependent on maintaining a high gold price for the next two decades. A trailing 5-year monthly average gold price of $858/oz nullifies the putative AIPP margin. It is hardly more comforting at the 3-year average of $1,005/oz.
The tables below show the AIPP margin curve based on changes in the gold price and cash costs.
Obviously, it's too early to assign a net asset value without knowing more details about the project timing and engineering for Tasiast. However, a rough estimate based on a discount rate of 10%, a life-of-mine average gold price of $1,000/oz, cash costs of $450/oz, average annual production of 675koz, and project duration of 26 years, returns almost $1 billion in NPV on the basic operating cash flow.
There's reasonable sensitivity if the overall reserve base grows to 30 million ounces and cash costs can be kept low. But at even slightly higher cash costs of $500/oz, a 5 Moz increase in reserves would be largely negated. Given the extraordinary rate of mining inflation, it would be unwise for investors to assume costs can be kept low, even at much greater scale.
So, there isn't a lot of room for error considering that sustaining capex, taxes, G&A, royalties and other costs must still be settled net of DD&A.
The likelihood is that the sell-side will eventually dissolve the sunk transaction costs, and price Red Back's assets tabula rasa. Whether the buy-side goes along is another question. It hasn't happened yet, which is why Kinross isn't seeing any benefit to its ratings from an otherwise world leading gold asset.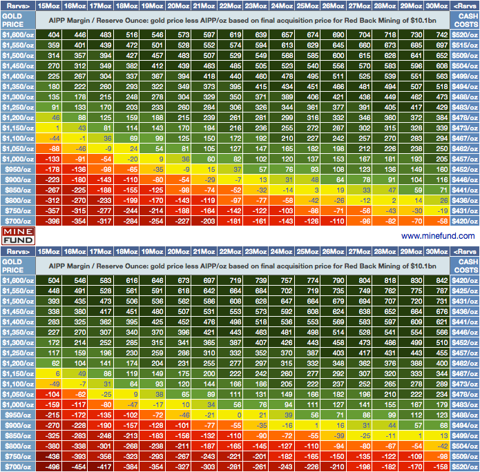 Click to enlarge
Disclosure: No positions