Background: J. C. Penney Company, Inc., (NYSE:JCP) was founded in 1902 and is based in Plano, Texas. The market cap is $2.8 billion, and about 12 million J. C. Penney shares change hands on an average day.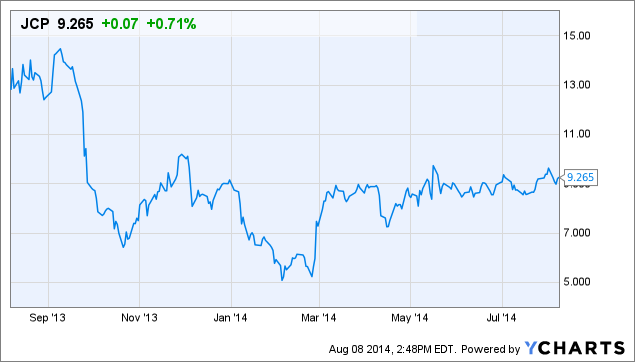 J. C. Penney is anticipated to report modest second quarter earnings after the market closes on August 14, 2014.
The consensus estimates are currently a loss of 94 to 99 cents a share, depending on which site you're looking at. While stomach-turning for most companies, it's an enormous $1.26 improvement from a loss of $2.20 a share during the same period last year.
The lowest analyst estimate this report is a loss of $1.17 per share, and the highest is calling for a loss of "only" 65 cents per share. Things are so dire at the iconic retailer that even next year is expected to bleed red ink. In the previous reported quarter, J. C. Penney delivered a loss of $1.16 per share. Still a loss, but at least the trajectory is pointed in the right direction again.
Compared to J. C. Penney's losing forward price-to-earnings ratio, Wal-Mart (NYSE:WMT) has a P/E of 13.24, Amazon (NASDAQ:AMZN) is 162, and Target (NYSE:TGT) is only 14. Sears (NASDAQ:SHLD) isn't in the same boat as J.C. Penney, but it is sailing on a nearby ship with a negative forward earnings expectation.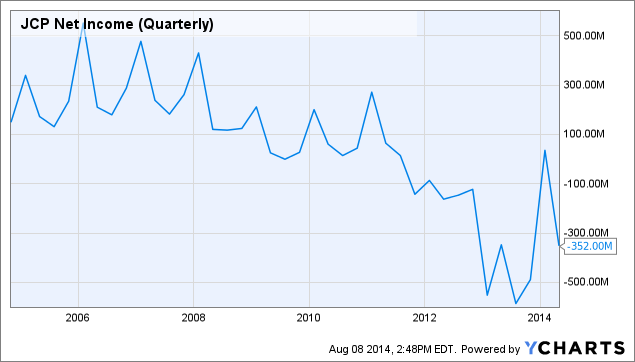 JCP Net Income (Quarterly) data by YCharts
The P/E ratio is the amount of time in years for the company's earnings to pay for one share of stock. A forward P/E represents estimated future earnings during the next 12 months and is often highly speculative.
I want to give a bullish outlook for J.C. Penney, but I can't. Its stock is a strong buy below $8, but below $9 I can't get excited about it. That said, as I wrote a few months ago, if the company can drive home a significant beat and guide higher than expected, the shares can rocket higher.
Potentially fueling the rocket is the massive short interest in excess of 25%. The fuel is useless without an ignition, and that requires the company to shift opinion. No easy task considering Wal-Mart, Sears, Macy's (NYSE:M), Target, Amazon and a long list of others are circling the retailer like sharks eyeing wounded prey.
Analyst opinion is mixed with this company. Most of the analysts surveyed don't believe a buy or a sell is currently warranted. Right now, J. C. Penney has 4 buy recommendations out of 26 analysts covering the company, 15 holds, and 7 recommend selling.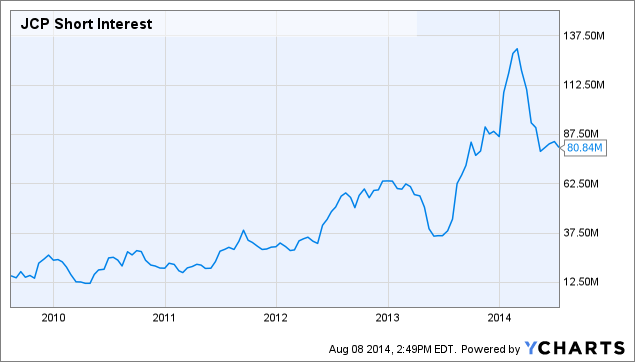 JCP Short Interest data by YCharts
Perhaps the best thing I can say is that there is a serious disconnect between short sellers and analysts. In my opinion, the short sellers are the smart money and when in doubt, it's wise to think carefully before betting against them. As stated though, when shorts crowd into a room, and they're wrong, it gets ugly for them quickly as they scramble to exit.
Investors haven't made progress this year. Shares in the company have fallen 28% from a year ago. The average analyst target price for J. C. Penney is $9.33. The price target is curious because it's right where the price is at. Normally, as a stock moves above targets, analysts will guide higher, but the last action was by Wells Fargo (NYSE:WFC), and it was a downgrade from market Perform to Underperform.
Wells Fargo also lowered its price target from $6 to $5. I don't agree and at the current pace of the turnaround, it's reasonable to expect the company to return to profitability before it runs out of cash. There is one wild card that investors need to consider though.
Alibaba (NYSE:BABA) is moving into North America and to gain an idea of how big of a deal it is, think about Amazon and eBay (NASDAQ:EBAY) combining and you're still not as large as Alibaba. You probably don't know about it because its consumer sales channel is mostly in China.
That's changing though, and while I think it's going to hurt Amazon shareholders the most, J.C. Penney can ill afford to have one more dominating competitor enter the online space.
JCP Revenue (Quarterly) data by YCharts
Based on current option premium, investors and traders are wagering on a 12%, or about $1.14 move in the next 8 days.
That means, as a shareholder or potential investor, you should anticipate J. C. Penney to trade as low as $8.06, or appreciate higher to $10.34, and still remain within one standard deviation. If you're not already prepared for such a broad move (and there's no guarantee it won't move beyond the expected range), you want to make the necessary adjustments.
From J. C. Penney's close before last quarter's results, until the time of writing, the shares increased a humble 6.9%, or 59 cents.
Longer term, without a competitive advantage of proprietary products (i.e. Sears with Craftsmen etc.), the retailer needs to compete on price, and that's not an inviting scenario when the competition is tough and likely to get tougher.
Buy on dips and flip the shares for a quick gain, but if you're hoping to hang on for $35 or more again, I don't think you'll live long enough to see it.
Disclosure: The author has no positions in any stocks mentioned, and no plans to initiate any positions within the next 72 hours. The author wrote this article themselves, and it expresses their own opinions. The author is not receiving compensation for it (other than from Seeking Alpha). The author has no business relationship with any company whose stock is mentioned in this article.