Looking to get in on some of the heavy M&A action in 2014? Investing in this activist stock, Icahn Enterprises LP, (NYSE:IEP), not only offers you a dividend yield approaching 6%, but also a chance to profit indirectly from Carl Icahn's savvy acquisitions.
Profile: IEP, a master limited partnership, is a diversified holding company engaged in nine primary business segments: Investment, Automotive, Energy, Gaming, Railcar, Food Packaging, Metals, Real Estate and Home Fashion.
IEP has multiple income streams - dividends and income from its subsidiaries...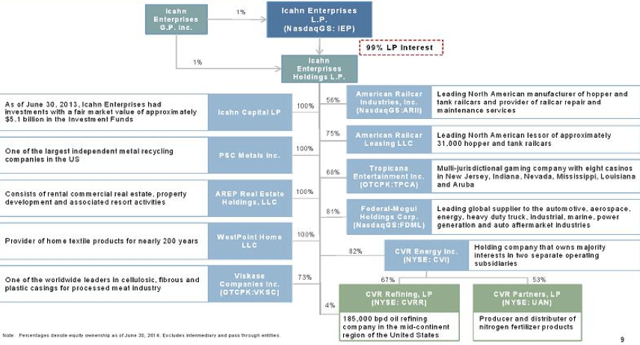 ...and gains from its investment holdings. Here are some of IEP's larger current holdings:

(Source: IEP website)
Carl Icahn was in the news again this week, after it was revealed that IEP was a big winner in the Family Dollar (NYSE:FDO) takeover deal. IEP has already pocketed over $100M in this deal, after having sold 6.6 million of its 10.7 million shares at a hefty profit/share, ranging from $16.97 to $17.77. This translates to an approximate $.97/share profit for IEP shareholders, which will boost IEP's third quarter results. IEP still owns around 4.1 million shares, which should translate to an additional $.57/share gain for IEP shareholders, when the buyout is completed.
Dividends/Distributions: As with most of the stocks in our recent articles, IEP is listed in our High Dividend Stocks By Sectors Tables, (in the Financials section).
On 8/5/14, IEP declared a $1.50/share distribution, which goes ex-dividend on 8/14/14. The company has an impressive 35%-plus dividend growth rate:
Options: In addition to buying and holding for dividend income and price appreciation, two other ways that you can profit from IEP are by selling covered calls or cash secured puts.
This December covered call trade has a $105.00 strike price, and pays $3.60. The strike price was $3.25 above IEP's price/share at the time of this writing, which would amply compensate you for any loss of dividend income, should your shares be assigned/sold away, prior to either of the next 2 ex-dividend dates.
You can see more details for this and many other covered call trades, in our Covered Calls Table.

Here are the three main income scenarios for this call trade:

Selling Put Options: If you want to achieve an even lower breakeven cost, you could sell cash secured puts below IEP's price/share. The December $100 put pays $6.20, which gives you a $93.80 breakeven, nearly 8% below IEP's price/share. As with selling covered calls, you'd receive the option premium money right away vs. waiting for quarterly dividends. However, unlike covered call sellers, put sellers don't receive dividends, or price gain participation.

You can learn about more details for this and many other cash secured put trades in our Cash Secured Puts Table.
Undervalued Earnings Growth: Analysts are forecasting over 41% earnings growth for IEP in 2015, which makes it look very undervalued on a 2015 PEG basis. Growth forecasts for 2014 are much more muted, only 3.75%, but this may improve, given IEP's profits from the Family Dollar deal.

Quarterly Earnings and Revenue Growth: Here's how IEP's revenue and EPS has played out over the past four quarters. In Q1 2014, IEP chose to extinguish $121M worth of debt, which cost $1.01/unit, resulting in a -$.24/share loss. Factoring out this cost results in a Q1 2014 gain of $.77/unit, vs. $2.49/unit in Q1 2013. Even with the Q1 loss, IEP has averaged nearly 160% in EPS gains over the past four quarters.
Indeed, in Q2 2014, IEP blew out its EPS, registering $4.06/unit, vs. only $.48/unit in Q2 2014. Q2 2014 Revenue was $6.4B, vs. $4.7B in Q2 2013. Adjusted EBITDA was up 220% for Q2 2014, at $880M.

So, how does IEP make the bulk of its earnings? Here's a breakdown of revenues and EBITDA by segment, which shows that the Investment Segment, although accounting for only around 13% of revenues, has generated 62% of IEP's profits over the past four quarters.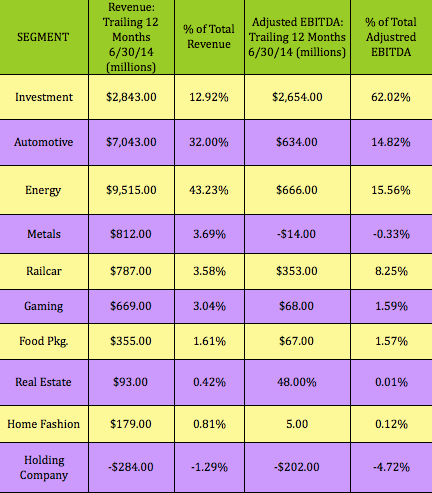 Valuations: IEP also looks undervalued on a P/E and Price/Sales basis.

Historically, IEP stacks up well vs. its closest peers, and the major indexes for ROI:

(Source: IEP website)
Financials: Although it carries more debt, IEP's management effectiveness ratios and operating margin are superior to industry averages.

Performance: Although it's up 37% over the past year, and has outperformed Berkshire Hathaway, Leucadia and Loews, IEP is well off of its $149.77 high. The market has definitely not favored IEP, Leucadia or Loews year-to-date either, all of which are down, leaving only Berkshire in the black so far, with an 8.76% 2014 price gain.

All tables furnished by DoubleDividendStocks.com, unless otherwise noted.
Disclaimer: This article was written for informational purposes only.
Disclosure: The author is long IEP. The author wrote this article themselves, and it expresses their own opinions. The author is not receiving compensation for it (other than from Seeking Alpha). The author has no business relationship with any company whose stock is mentioned in this article.
Additional disclosure: The author is long IEP, via being short IEP put options.