In a reversal of the opinion expressed in my June 19 article (GM's Woes Too Quickly Discounted ), I'm now recommending General Motors (NYSE:GM), as I believe it has greater potential and upside than its major competitor and closest comp, Ford (NYSE:F). I plan on putting my money where my mouth is, swapping 50% of my F for GM (previously I sold all of my GM and added to my F position).
What Changed?
My previous thesis was GM's stock had prematurely rebounded, did not properly discount all of the problems and costs associated with the recall, and would negatively react to not-yet-released bad news. While I do not believe GM is out of the woods, during the last 50 days a lot of "new" bad news has been announced and assimilated into the stock price, especially with respect to reserves, (moderated) sales expectations and (more realistic) out-year earnings forecasts. At this point, I believe the market still somewhat understates the impact of recalls on future sales, but it certainly more closely reflects reality than it did in June.
Price Adjustment
Beyond a more realistic appraisal of the future, my change in opinion is largely based on valuation. Since my article, GM has dropped 8%, while F has increased 1%, a net change of almost 10% (9.5%).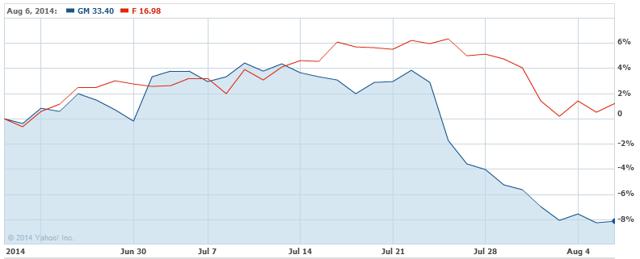 Click to enlarge
Source: Yahoo
Favorable Metrics
GM is currently trading for only 7.3x forward earnings, has a PEG (PE/Growth) of only 0.45 and pays a 3.6% dividend. These metrics compare favorably, in all areas, with F.

Click to enlarge
Source: TDAmeritrade for earnings forecast and Yahoo for a five-year forecast (used for PEG).
Future Catalysts - Macro Economy
Notwithstanding the recent stock market correction, the underlying drivers of the economy (especially the US economy) are increasingly positive. Unemployment is down, banks are relaxing borrowing standards, interest rates are forecast to stay historically low (even after the much anticipated increase) and the backlog in the vehicle replacement cycle, especially in trucks, has not fully played out.
Future Catalysts - GM Specific
F will introduce its innovative new F150 pick-up trucks this fall. While the aluminum truck is much anticipated and may be a long-term success, in the short-term, F will suffer as buyers avoid buying the "old" truck (NOW) and production ramps up slowly (new model and new production techniques). GM should pick-up incremental sales over the next year, until F150 production stabilizes. It is too early to tell whether the F150 will be a game changer (or even positively received) and longer term to tell if GM risks losing market share. Call this a short-term positive and longer term neutral (GM is not standing still on its pick-up programs).
Recent events created an "opportunity" for GM to take a "kitchen sink" approach with respect to recall-related reserves (discussed in my July 24 article) and warranty programs. The company even went as far as taking $900 million for "additional warranty costs over the next ten years." There is a good possibility that some of these costs may be "released" in future quarters, providing an upside to earnings. While this is purely "optics," it can be a positive catalyst for the stock as myopic analysts focus overly on the "number" (EPS).
This last item is not really a catalyst, but a low-water risk-reward metric. By dropping over 8% in the last 50 days, GM's valuation, on a forward multiple basis, is extremely low (7x forward). It is hard to envision GM trading for much below 7x in an expanding economy. Unlike high multiple stocks like Amazon (NASDAQ:AMZN) or Tesla (NASDAQ:TSLA), where a decline of even 10% of market value still leaves a richly (by traditional measures) valued security, a similar loss by a low PE stock like an automotive stock pushes the bounds of minimal valuation. In other words, it is a lot more likely GM will trade between 8x-10x (I use a mid-point of 9x for my gauge of "fair value"), than 6x.
Summary
GM, on a valuation basis (7x forward), is a good value and a "Buy" in my opinion. I'm reversing my previous "Sell" based on the recent decline in GM's stock price, the release of almost all of the bad news and its fully reserved status. Metrics compared to its closest comp, F, are favorable in every area, including dividend (3.6%). Over the short run, it is possible the security will experience further price declines, especially if the market continues to correct. However, the risk-return ratio appears to be heavily in favor of "return."
This article reflects the author's personal opinion and should not be relied upon by investors in making a buy or sell decision. All investors should conduct their own due diligence and rely solely on their own research.
Disclosure: The author has no positions in any stocks mentioned, but may initiate a long position in GM over the next 72 hours. The author wrote this article themselves, and it expresses their own opinions. The author is not receiving compensation for it (other than from Seeking Alpha). The author has no business relationship with any company whose stock is mentioned in this article.